We started out our day a little late on Monday. We had a private tour of the Vatican Museum, Sistine Chapel and St. Peter's Basilica with a family friendly tour guide scheduled from 2:00-5:00, so I didn't want to start out too early in the day. We left the hotel mid-morning of what would be a drizzly, overcast day and took the bus to the stop nearest the Trevi Fountain. The plan was to just slowly make our way over to Vatican City where we would get lunch and sit in a cafe for awhile before our tour.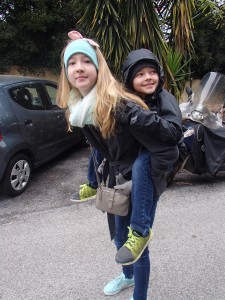 Wouldn't you know it, they had the water shut off for cleaning.

Workers in yellow rain suits were crawling all over it. We managed to get a couple of photos without them in the background. We planned on coming back on Wednesday anyway, so we didn't linger.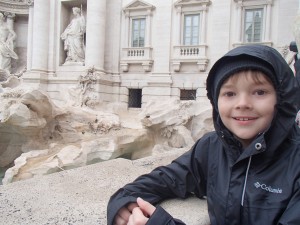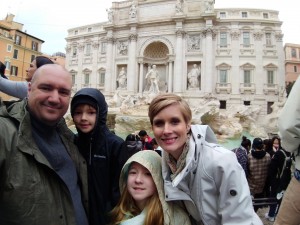 We popped into some of the shops in the streets around the fountain. Clara was dying to buy a warm hat, so she got a cheap hat in a souvenir shop and was a happy camper from there on out. We walked the short distance to the Spanish Steps and only got turned around once.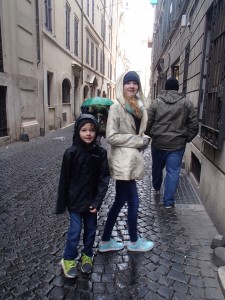 The rain had picked up a bit by the time we got to the Piazza di Spagna, but we still managed to make our way up to the top of the steps. We went all the way up thinking the subway station was up top. There was an entrance, but it was closed. Someone pointed us back down a side way which took us down a windy, fairly hidden away passage. For a minute I thought we were being scammed and his friends were going to be waiting to mug us, but eventually we found the entrance and hopped on to the next stop, which was the Piazza del Popolo.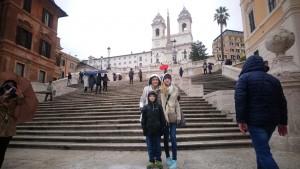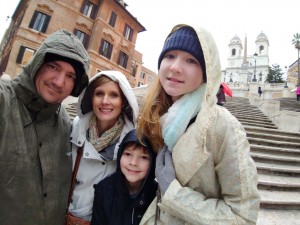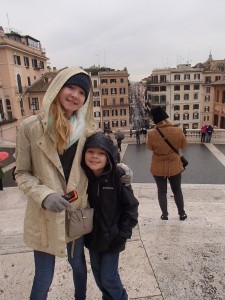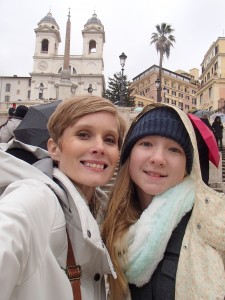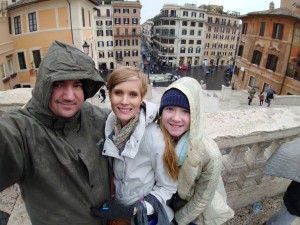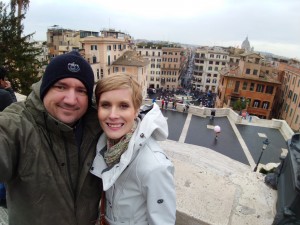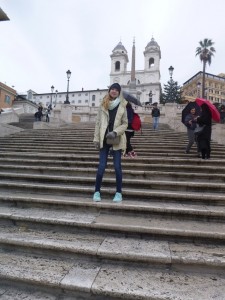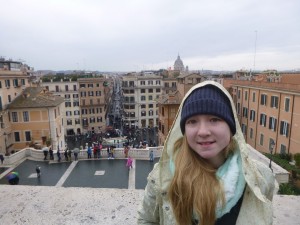 We just walked around for a few minutes and checked out the fountains, the obelisk and some surrounding shops. Clara was our resident Roman god and goddess expert, so she filled us in on who we were looking at each time we came across a statue.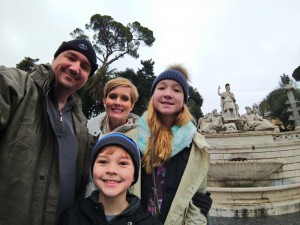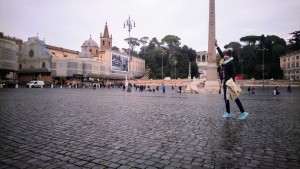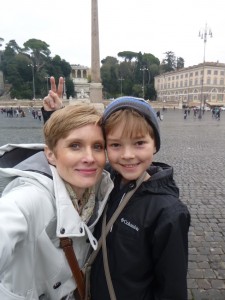 Back on the subway to the next stop, which was near Vatican City. For blocks around the Vatican you are bombarded by people trying to sell you on their tours. They are so annoying and even though we were ignoring them, they kept yelling at us that we were going the wrong way. Dude! How do you know where I'm going?!
We had lunch between the metro station and Vatican City, at a busy little pizzeria called Ottavio's. We sat for as long as we could because the rain was supposed to get heavier at any time and we still had a few minutes before we were to meet our guide. I went to the restroom which had a sink in a tiny room with two doors to a men's and women's toilet, each no bigger than a typical bathroom stall. As I was washing my hands, a couple had come in to change their baby's diaper. It was comical to watch. They were behind me, just about touching me. He had stepped back into the women's room, holding the baby against his chest facing out. Mom was stripping the baby's bottoms off and just doing the change mid-air. They all had their winter hats and coats on, bags in tow. Oh my goodness, no. Just no. I could not handle changing a kid in an Italian public restroom. What if it was a dirty diaper? I don't think I saw a single diaper change station in a public restroom, aside from the airport.
Just a short walk and we were at the city walls. Our guide Simone met us at the entrance to the Vatican Museums and walked us quickly through security and right up to the window to get our tickets.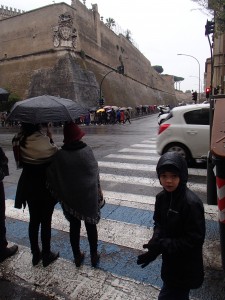 This tour agency is geared towards kids, so we were going on a scavenger hunt around the museum. We decided to be on the same team (good thing because there's a ton of Roman mythology contained inside those walls and Clara would've kicked our tails). Simone would show us things on her tablet. Each time it was something done by Michaelangelo, first she'd show a pic of the ninja turtle and then the real Michaelangelo. You can see Mikey on her screen in this next pic.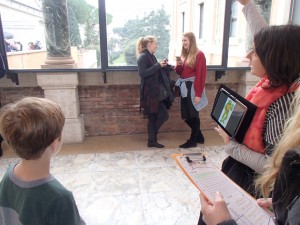 I thought the tour was very informative and she was very nice. We saw areas that I didn't get to see last year. Tour guides have to talk about the Sistine Chapel before you go in since there is no talking allowed. She tried to let the kids sit on some stairs while she explained what they were about to see, but security shooed us away. She was trying to get them to make an exception for the kids, but they weren't having it and the bench that she said all of the guides fight over was occupied, so we got to stand.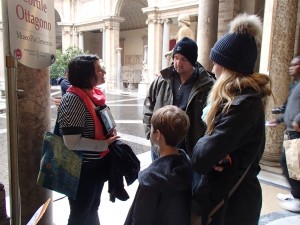 Here we are with the dome of St. Peter's Basilica in the background.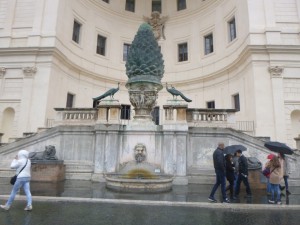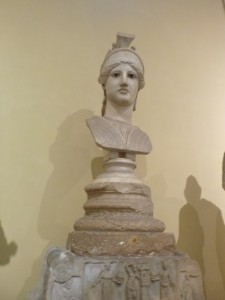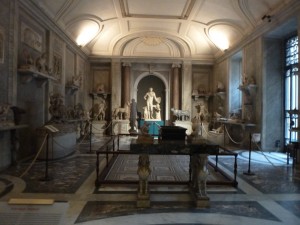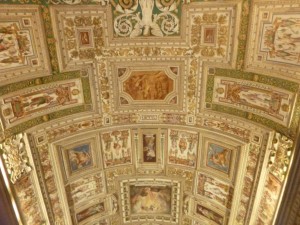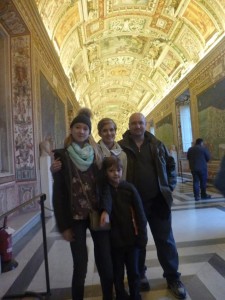 And outside of the Basilica before going in.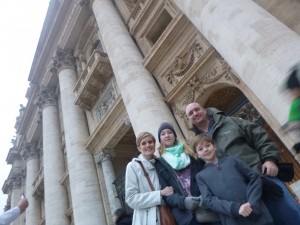 We couldn't get good pictures from inside. It is amazing. Upon entering, all Robert could say was "Wooow!" I kind of wish our tour had been earlier, because I think the kids would have loved to go to the top of the dome.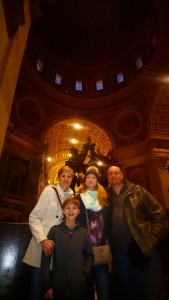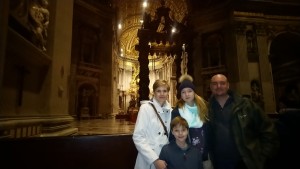 It was dark out when we finished with the tour, so we didn't get good pictures. I kept thinking it's ok, we can swing by on Wednesday after going to the Castel San't Angelo next door and get some good pictures from outside.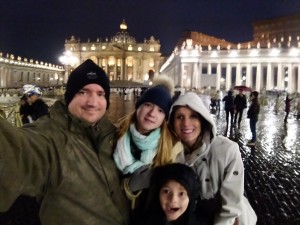 We walked to the subway and took it and then a bus back to the hotel, so it took close to an hour total to get back. We were pretty tired from a full day of walking so we stopped in at a burger restaurant near the hotel. They had some interesting burger toppings. Their fries and onion rings were pretty good after several days of nothing but pizza and pasta.