In my last post, I mentioned the beginning of Chris' illness. Well, he got worse and started running a fever and ended up missing work on Monday and Tuesday. Robert started up with a dry cough around the same time. He felt fine and the cough was mainly bad at night, so I decided to send him to school after a dose of cough medicine and a note to send him home if he got worse on Monday and Tuesday. On Tuesday, he came home from school coughing pretty bad (which made me feel bad for sending him) and by that night he started running a fever. His fever broke in the middle of the night on Wednesday night and he had to have a change of pjs and sheets he was so sweaty. I was happy that it broke when it did, because that meant he was able to go back to school for their last half day before the holiday break! I didn't mind him missing two days of instruction so much, but I hated to see him miss Polar Express Day

On Polar Express Day, they have a sing-a-long in the gym and watch Polar Express in their classrooms while enjoying hot cocoa and cookies. Then it's pretty much time for lunch and dismissal. In other words, heaven for all the kids. Robert insisted on wearing his elf pajamas. They're actually Clara's old hand-me-downs and the bottoms are way too big for him, but that wasn't a battle I wanted to fight.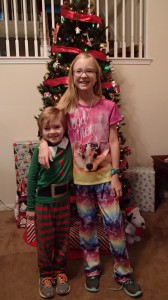 Chris had quite a bit of vacation time left, so he's been off since the 17th and won't go back until next week. It's been fun having him home. We went and enjoyed a kid-free breakfast at Panera on their last day of school. Then we split up that afternoon and took each kid to buy the other's gift. Here is Robert finishing up his wrapping.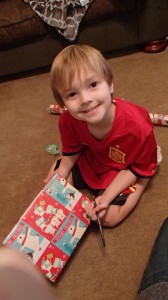 That night, some friends from church invited us over for pizza and movie night. The kids watched Elf while the adults visited in the kitchen. They had invited the kids to have a sleepover, but we had an early morning planned so we decided it was best not to add more to our plate.
The next morning, we surprised the kids with an early showing of Star Wars. They have watched the three original Star Wars and some of the Clone War cartoons, so they are familiar with the storyline. I don't know if it was the late night or the excitement of Christmas vacation or what, but they acted terrible throughout the movie. They were whiny and clingy and were just plain annoying the entire time.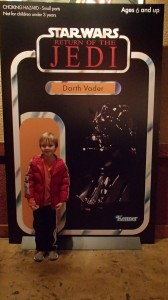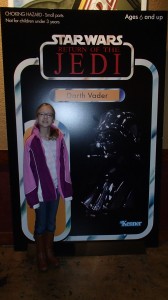 So other than that, we've spent our vacation time hanging out, watching movies, playing video games, playing outside, raking leaves and pine needles and getting ready for company.