It's been so long since I've blogged that I forgot my username. We're just going to pretend I haven't slacked off for half the year.
The kids' last day of school was today. It's been a busy, busy couple of weeks around here as the school year has been wrapping up. Anyone that's read my blog for any length of time knows how much I've loathed the end of year celebrations at the kids' school because no one actually receives an award and it's such a waste of time. Well, I'm happy to report that fifth graders get an actual, real life awards assembly. I can get behind an end-of-elementary awards assembly. The 5th grade pep squad members performed and the choir came onstage to lead the entire grade in a couple of songs. They also had a performance by the "Cha Cha Roaches" (an elite group of 5 boys in the Orff ensemble that basically put together (and obviously named) their own group, wrote their own music and bugged the crud out of the music teacher all year long by never leaving her room. Ha!) They've been featured all spring at various events. The principal is so proper and old fashioned though, that she could never bring herself to introduce them as the "Cha Cha roaches". A group of four girls wanted in on the attention and convinced the assistant principal to let them sing a quartet as well.
For most of the awards, the kids' names were called and they just stood at their seat and faced the parents to be recognized. The one award that the kids came up front to receive was the Presidential Award. Six of them received it this year, including Clara. I'm so proud of how hard she works. The rigor definitely ramped up this year as the state has pushed standards down to lower grade levels and she struggled here and there. I'm a wee bit nervous about her keeping up in junior high. She will be in Pre-AP reading, language and math. Pre-AP math does work above grade level so that the kids can take algebra in 8th grade. Good thing she has a live-in math tutor

The other two subjects cover the same grade level standards as the regular classes, just different reading requirements, instruction and assignments I think. She'll have no problem keeping up with required reading. She decided against Pre-AP science and social studies, so hopefully that will keep her from burning out. Sorry, got off topic there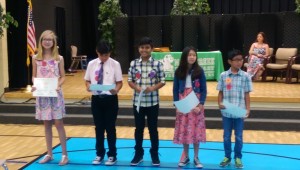 Two students from each class were awarded best girl and boy student in art, music and PE. I guess the teachers had a tough time choosing in a few classes, so an extra student or two was named a few times. Clara got the music and art one for her class. I was a bit surprised she got the art one but not at all surprised she didn't get it for PE

She got hit in the face with balls and went to the nurses' office probably a dozen times or more this year, once by the coach during dodge ball. Hey, we all have our strengths. She also had perfect attendance, all S's for behavior and all As this year. That one surprised me because she brought home a couple of Bs on her report cards this year. Maybe they average the grades for the year? She was also recognized for being in choir, being a Leader in the Library and being one of three students from their school that were in the district-wide elementary honor choir. They still did the call-every-students'-name-to-walk-across-the-stage thing, but I didn't mind so much this time. It just takes for-ever and people start getting restless and start talking by the fourth or fifth class when their student's already gone.
At the end, the choir kids came onstage to lead everyone in singing "Possibilities". Clara was at a microphone front and center with her friends Ivonne and Ivette. They were doing hand movements and I looked around and saw that they were the only ones doing them. I thought they had just made them up and was a little embarrassed that Clara was just doing her own thang up there. I asked her afterwards and she said everyone was supposed to do them. Ha! I love that they had absolutely no qualms about being the only ones. They were smiling at each other, enjoying every minute. After that song, they sang their school song, complete with hand movements. (Everyone joined in on that one.) They were all looking around at all of their friends, smiles plastered across their faces. You guys know me. I'm not normally a sentimental person, but that one hit me in the feels. I may have had a tear in my eye. Their last time to sing their school song together. Sigh.
We had a few minutes to take pictures after the assembly was over. The principal announced her retirement about a month ago after being in education for 45 years. Every time she's mentioned her retirement in front of a group, she's gotten choked up. Her final awards assembly was no different and she held back tears as she started the assembly. I've really enjoyed getting to know the assistant principal on the left, so I was sad to hear last week that she is moving to a different position in another school next year

There's going to be lots of changes around here next year.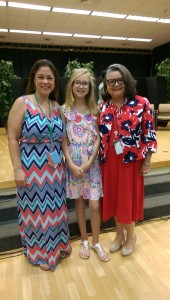 Here she is with Ivonne and Ivette. Don't ask me which is which. They still dress alike and wear their hair the same. Clara says you can tell them apart because one has pink on the inside of her glasses and the other one doesn't, like it's that simple. I just call them "Ivonne or Ivette".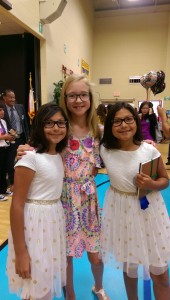 Here she is with her ELA teacher. She had tears streaming down her face at the end of the assembly, sad to see her students moving on. She is so sweet and has been wonderful. She has lived all over the world and brings so much passion into the classroom. Clara's writing assignments would come home with long critiques about ways to improve her writing, but she also included a great deal of positive feedback. She's convinced Clara that she should publish a book someday and the students have been excitedly working together on puppet shows the last couple of months, performing them for the younger grades. She really does try her best to work around all of the constraints that have been placed on her due to standardized testing.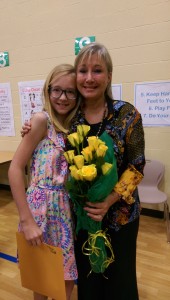 This is one of her best friends, Kaneeze. She's from Pakistan and is very sweet and reserved. They became close last year when they were in class together.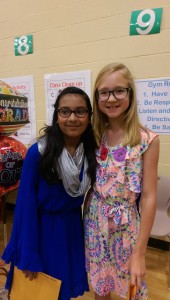 And this is Phi. He was in Clara's class and was also in the honor choir. He's a cutie and so is his mom. They're Vietnamese and his mom is not very fluent in English, but she wanted to get a picture of them together. They look so awkward. I love it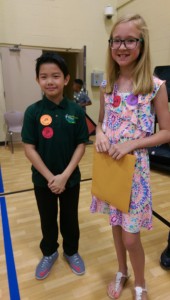 This is her homeroom/math and science teacher.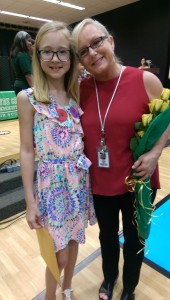 Here she is with Lauren and their friend Emily. They made up half of the quartet that sang during the assembly. Clara and Lauren have become really good friends since her family lives right around the corner from us. But not for long. They're moving

I really want Clara to have strong friendships with kind, confident girls in junior high, and Lauren is a sweetheart, so I'm sad to see her go.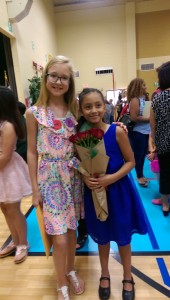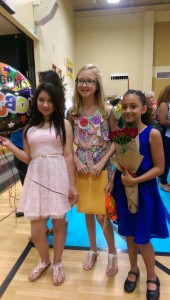 It's hard to believe I have a kid in junior high! I can already tell I'm going to be a mess at high school graduation here in a few years. How did this happen so quickly? Wasn't the first day of kindergarten just yesterday? I want my babies back!