A few weeks ago Chris and I decided to get Robert a bed for his birthday. Clara got her bunk beds for her 6th birthday, so I  thought now would be a good time for Robert to get one too. As I was searching for the perfect bed, I came across a video for an IKEA hack for their kids loft bed. We made some changes to what that guy did (his had a slide), but we did keep the hidden door to the secret hideout element.
We were a little late in figuring out what all we needed to complete the project and I figured we wouldn't get around to it because Chris had a trip to Rio scheduled for last week. He was set on building it though, so I picked up all the IKEA parts about a week ago. Chris got back from Rio at 6 a.m. this Saturday and then he and Kelly spent all day yesterday building it to surprise Robert. A friend from church was supposed to keep the kids after church but they ended up getting sick so we didn't have the whole afternoon uninterrupted as we had hoped. I took the kids to lunch and the used book store after church and then to see The Peanuts Movie and then I really didn't want to figure out something else to do with them, so we came home before it was completed. It was far enough along for Robert to see it and decide that he loved it.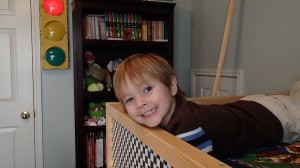 I covered the plain white panels in checkered flag contact paper. The toy storage doubles as his stairs up to his bed and the book that's sitting on the shelf will eventually be rigged to unlock the door when you pull on it. But shhhhh, that's a secret.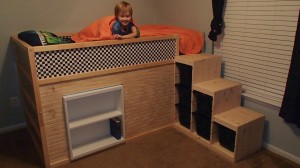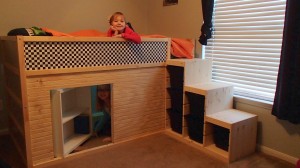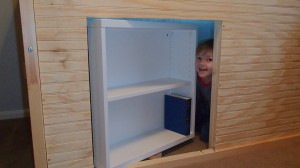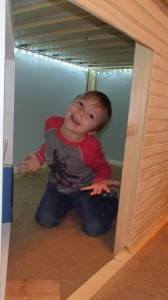 There's still a few details Chris has to complete but in the meantime, these two are already putting the hideout to good use.