I bought a Teenage Mutant Ninja Turtle dvd a month ago and introduced the foursome to Robert. I did it in part to see if he'd like a TMNT birthday party. I was really just going for anything besides cars. He loved them, so was gung ho when I presented him with a ninja turtle birthday party.
We got him a bike for his birthday and he was thrilled. Nah, he does like it, but I don't think he's quite ready for it yet. I just didn't want to wait until next Christmas or birthday because I do think he'll be ready for it before then. It was a yucky, rainy day today so he hasn't gotten to try it out yet.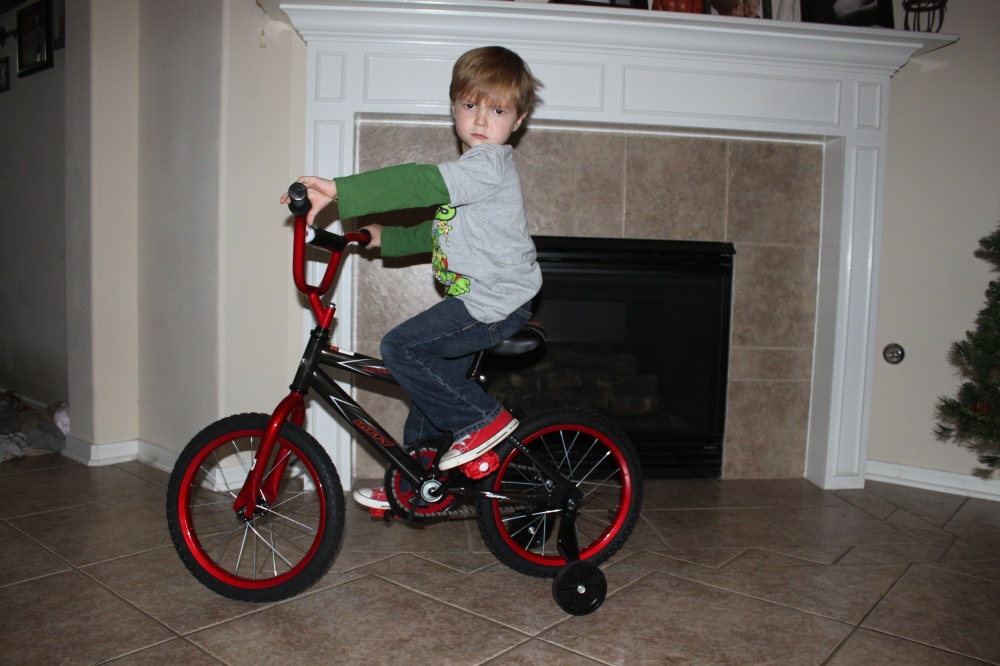 The birthday boy got to choose breakfast so we had donuts and kolaches and then we went to a matinee showing of Free Birds.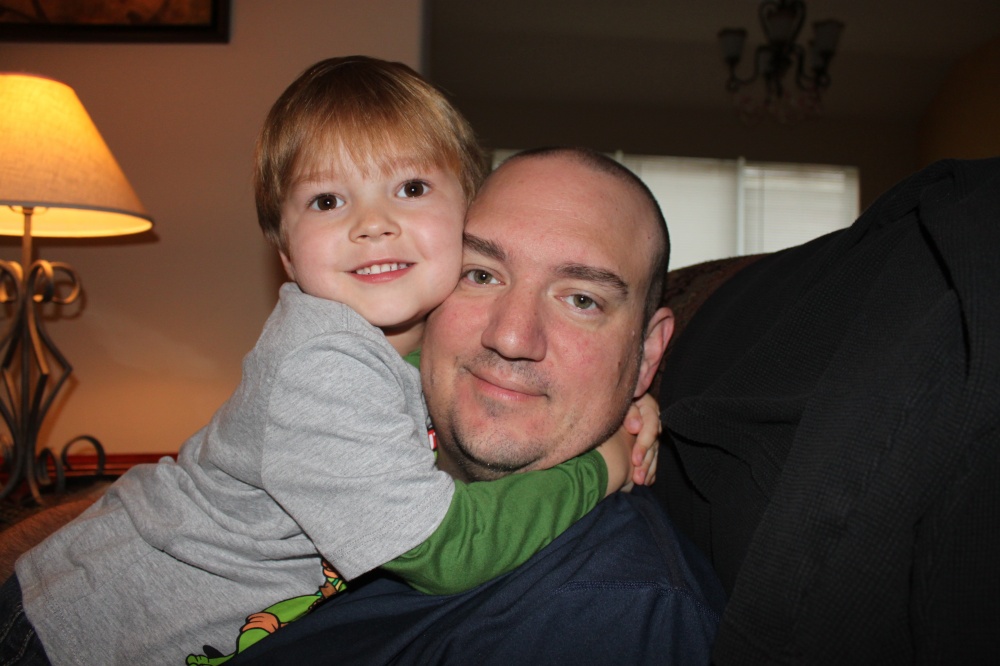 We traveled up to Spring to have Robert's birthday party since we don't really have any friends here yet. We had it at Double Dave's, the same pizza shop that Clara had her 4th birthday at.
Here's the cake. I'm pretty proud of this one. They don't make Ninja Turtle cake pans anymore, so I free-handed this bad boy. He didn't turn out half bad. I also made a "fruit pizza". He really wanted one since the turtles eat them. I just pressed rice crispie treats in the bottom of a round pan added marshmallow creme "sauce" and topped with cut up fruit. It worked great and allowed our wheat-free friend to enjoy a treat too.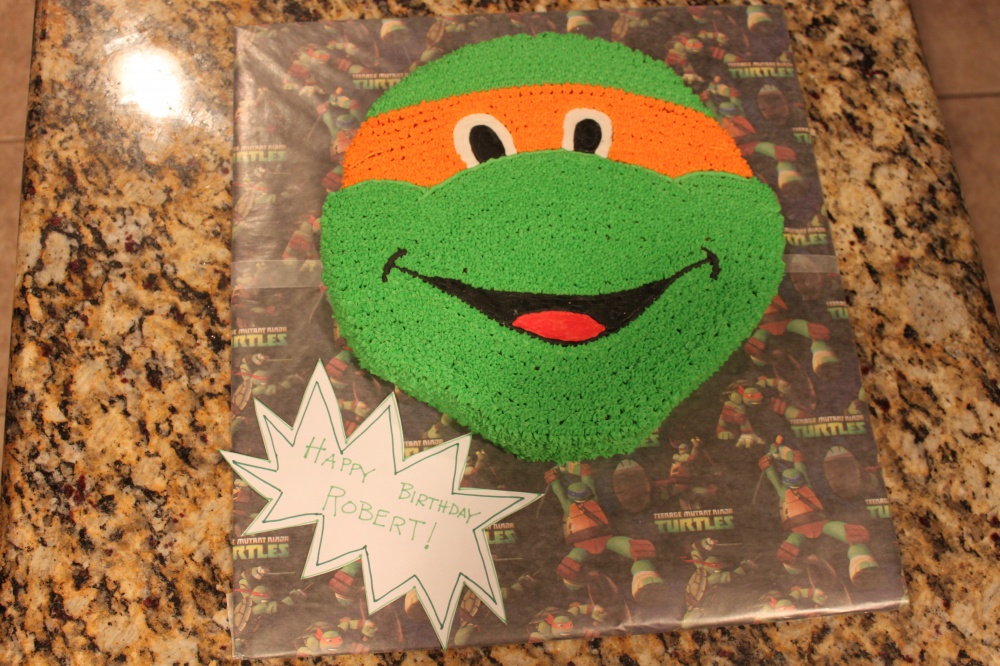 I made masks for all the kids out of old t-shirts but they thought they were itchy, so they didn't stay on long. I had to take a few quick pictures before they ditched them. You'll see they all ended up as headbands eventually.
The plan was to give the kids lots of quarters and let them loose playing the games and buying cheap toys from the machines and they had favor bags to put their stuff in. Yeah, the change machine was out of quarters and we had to wait a long time to get some from the cash register, so the kids were going kinda crazy as we waited for our pizza.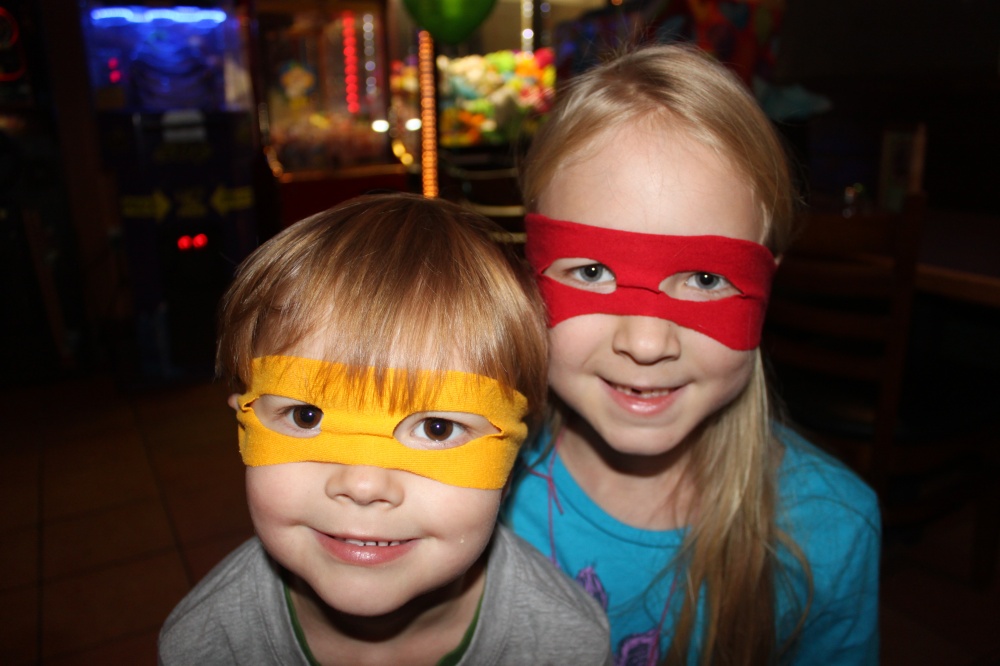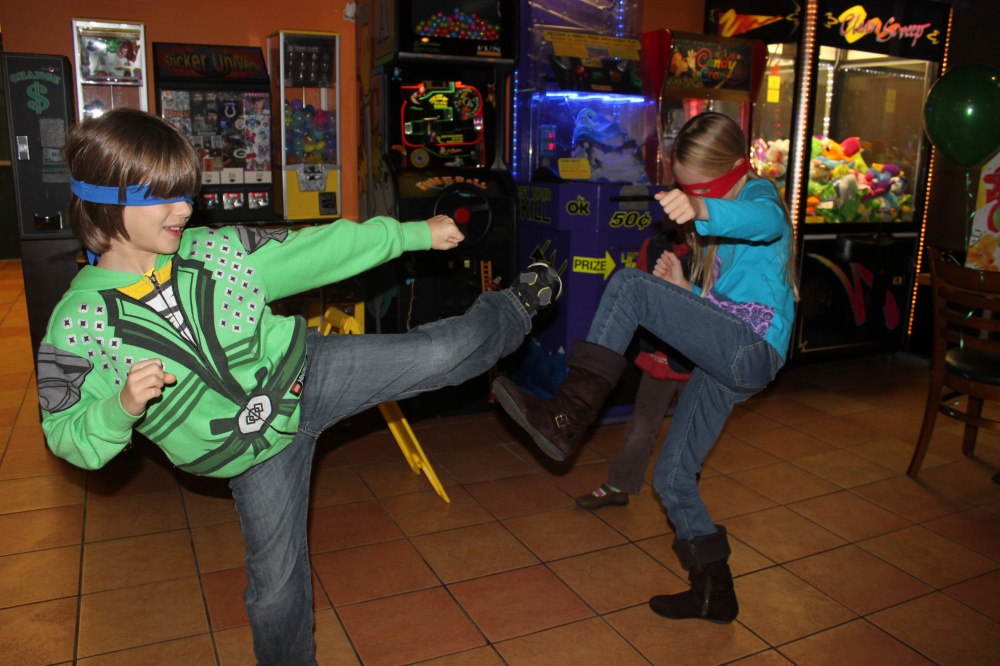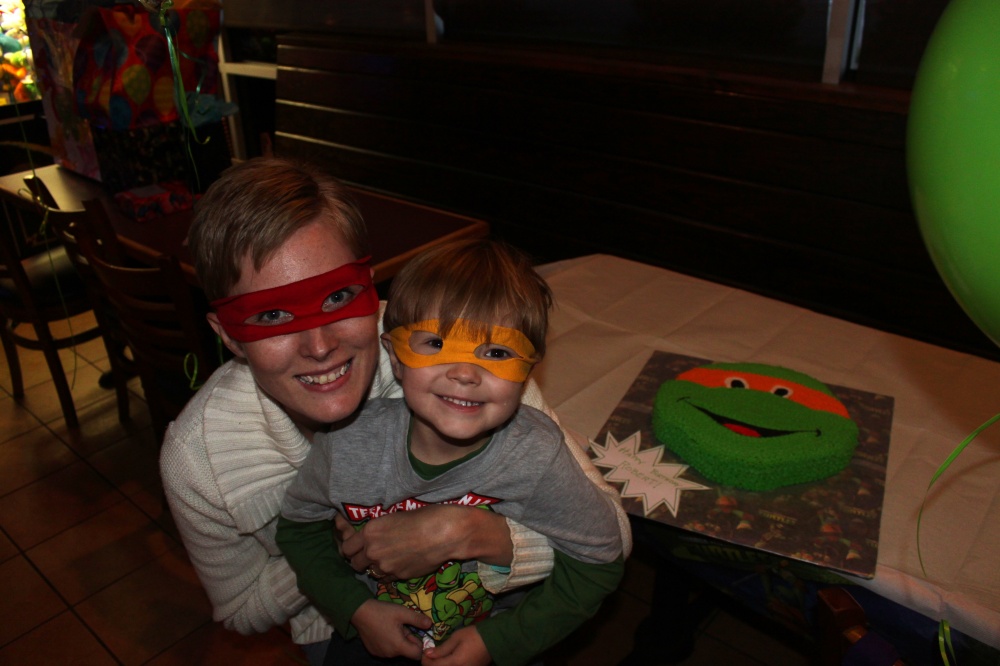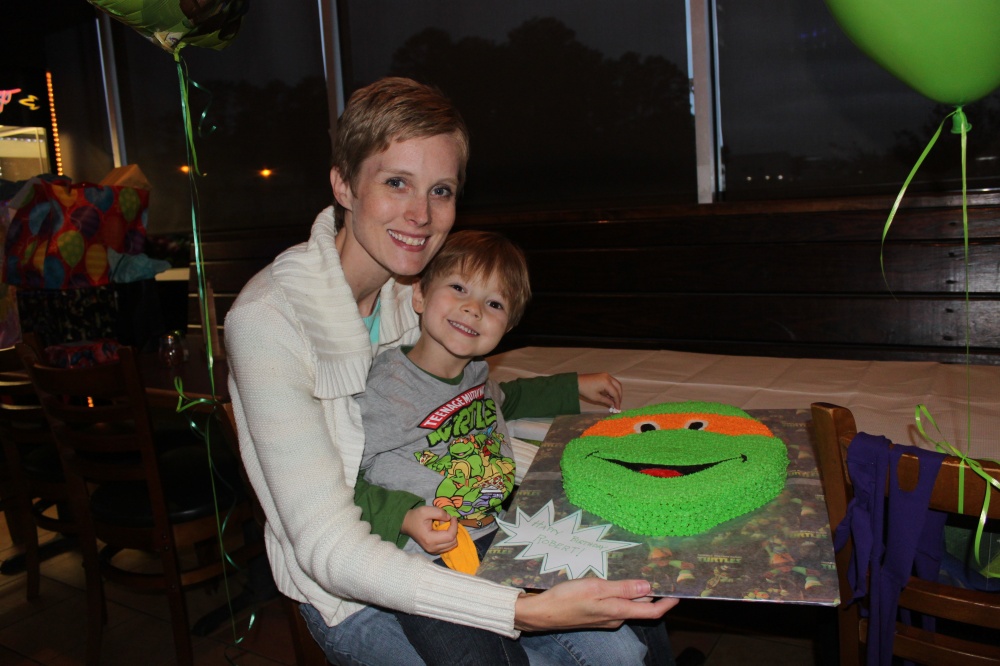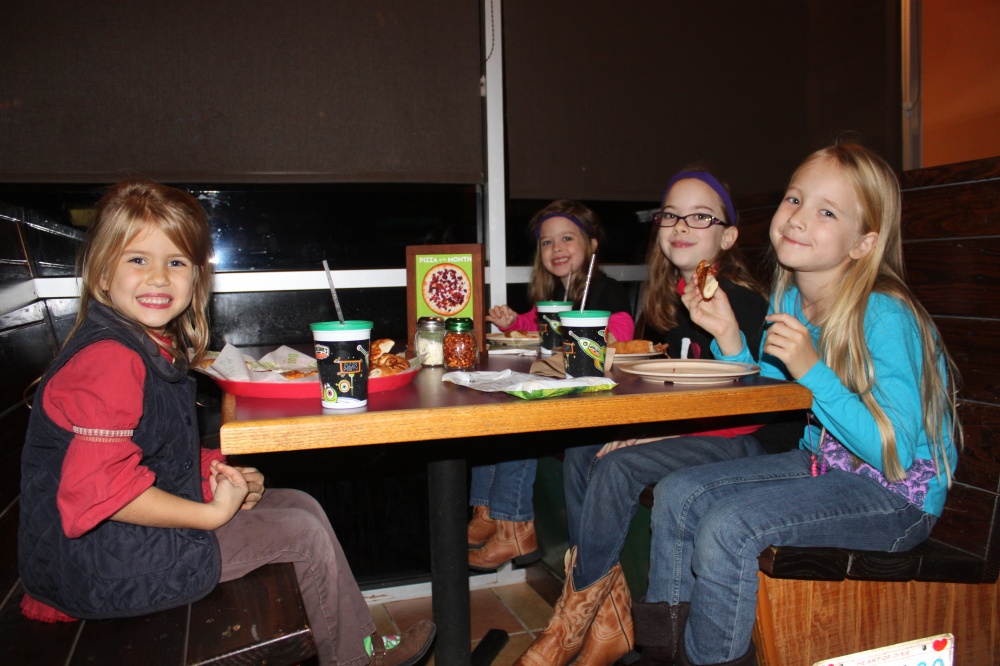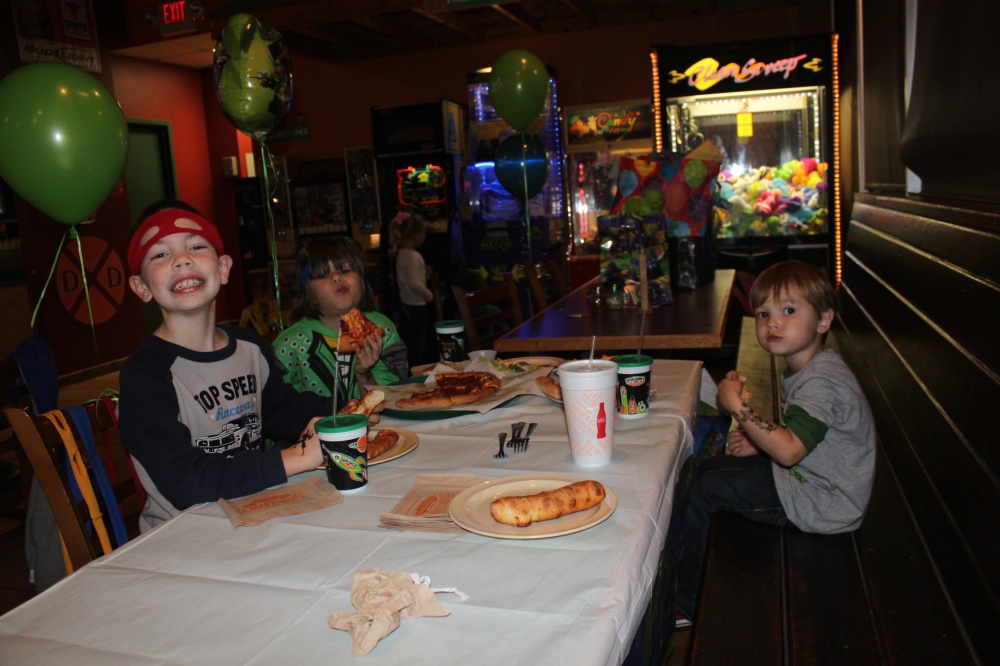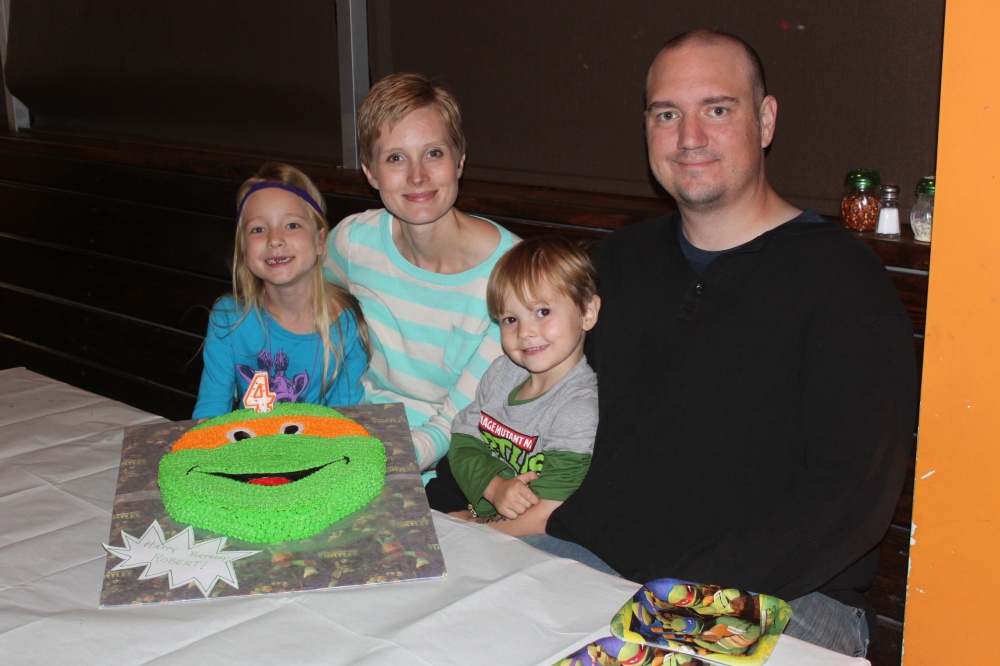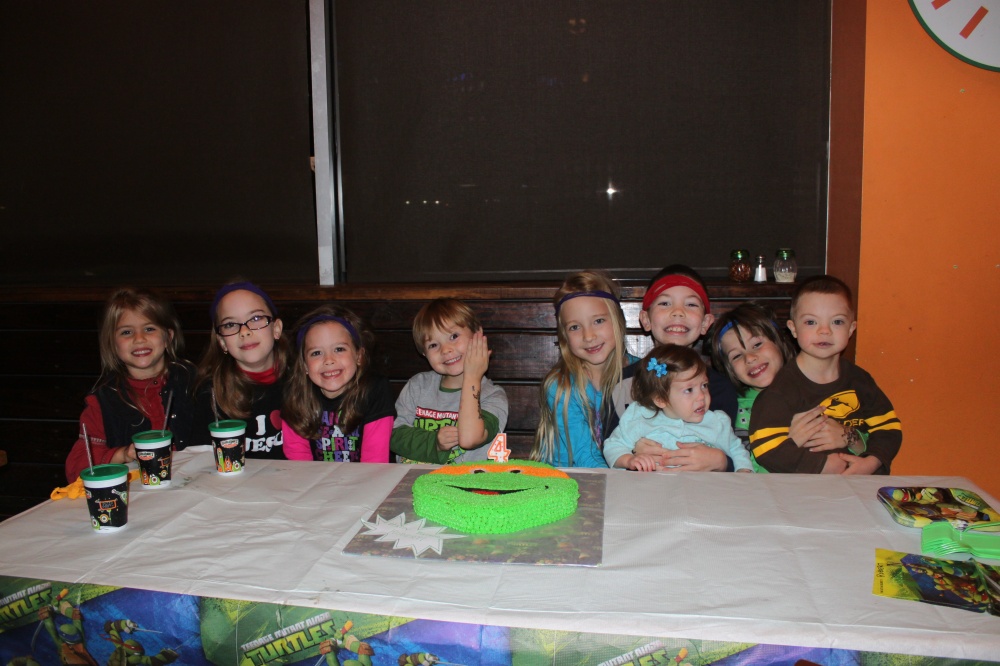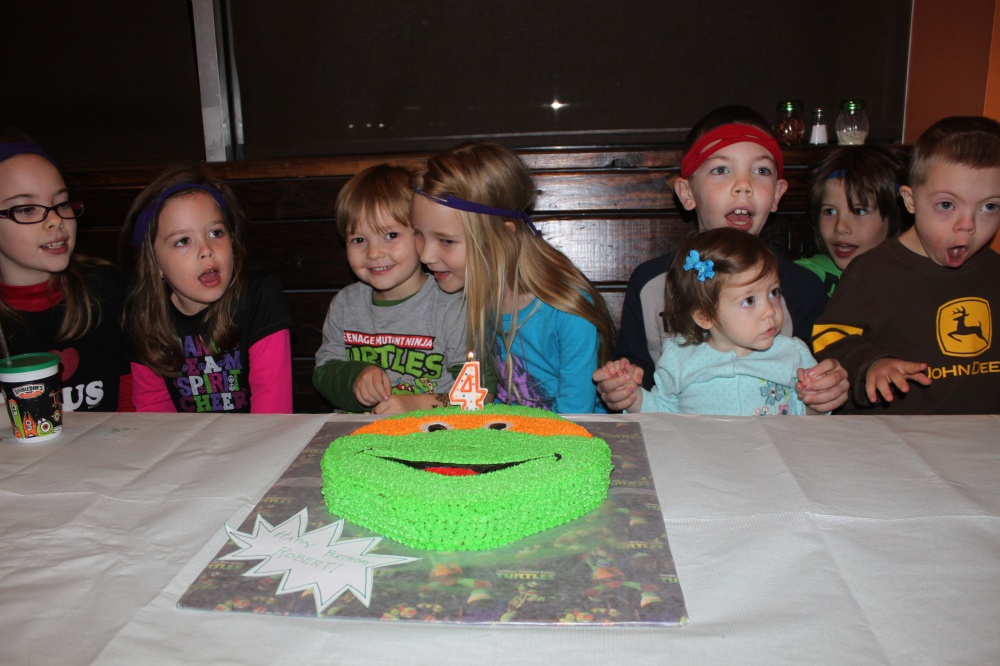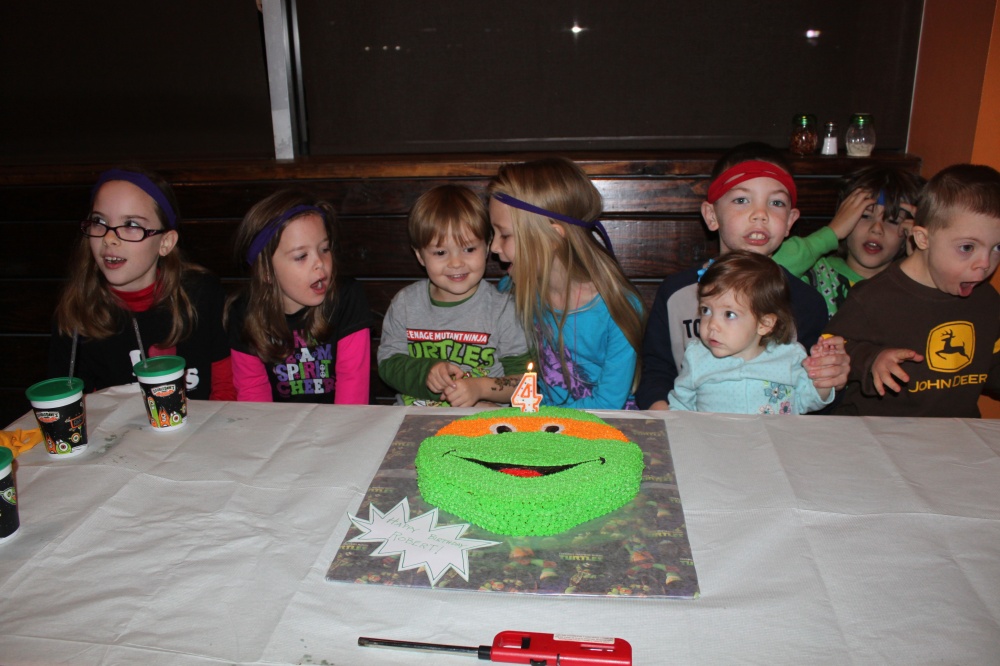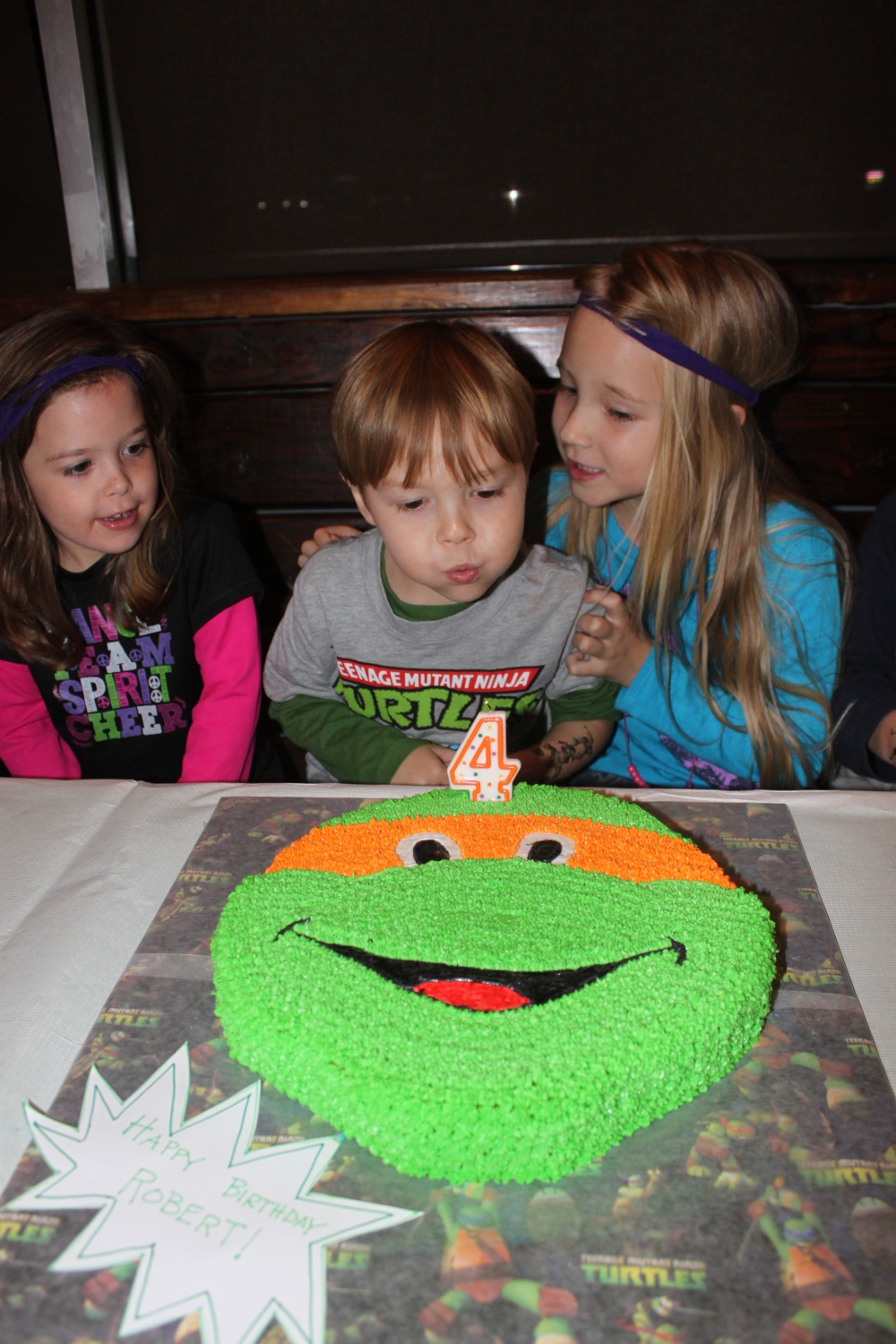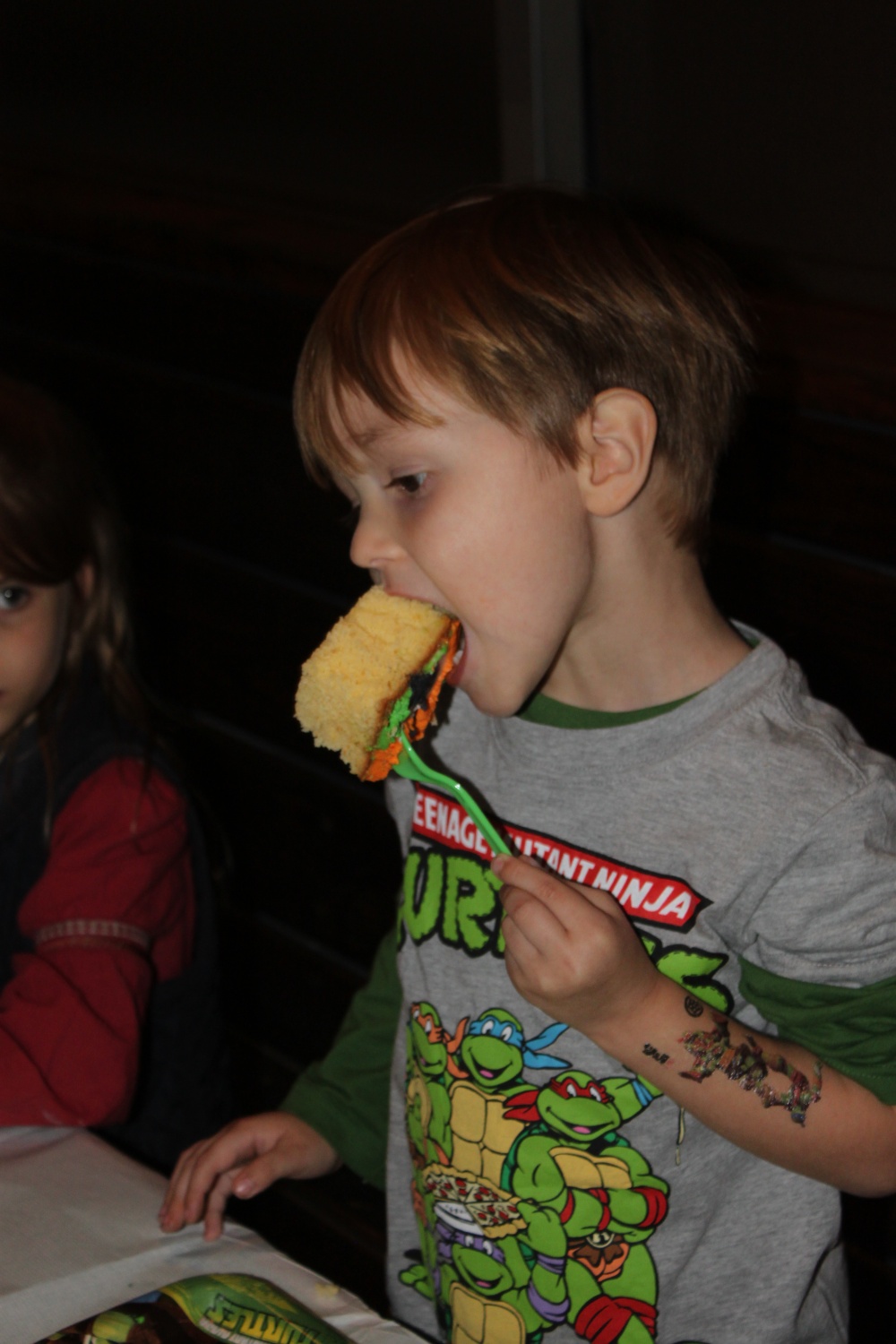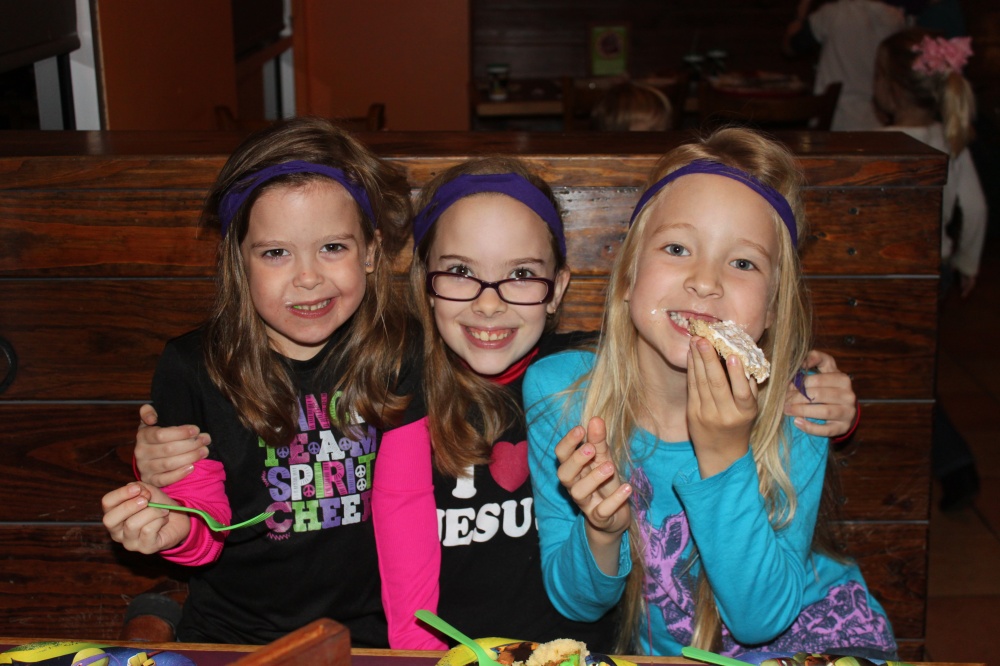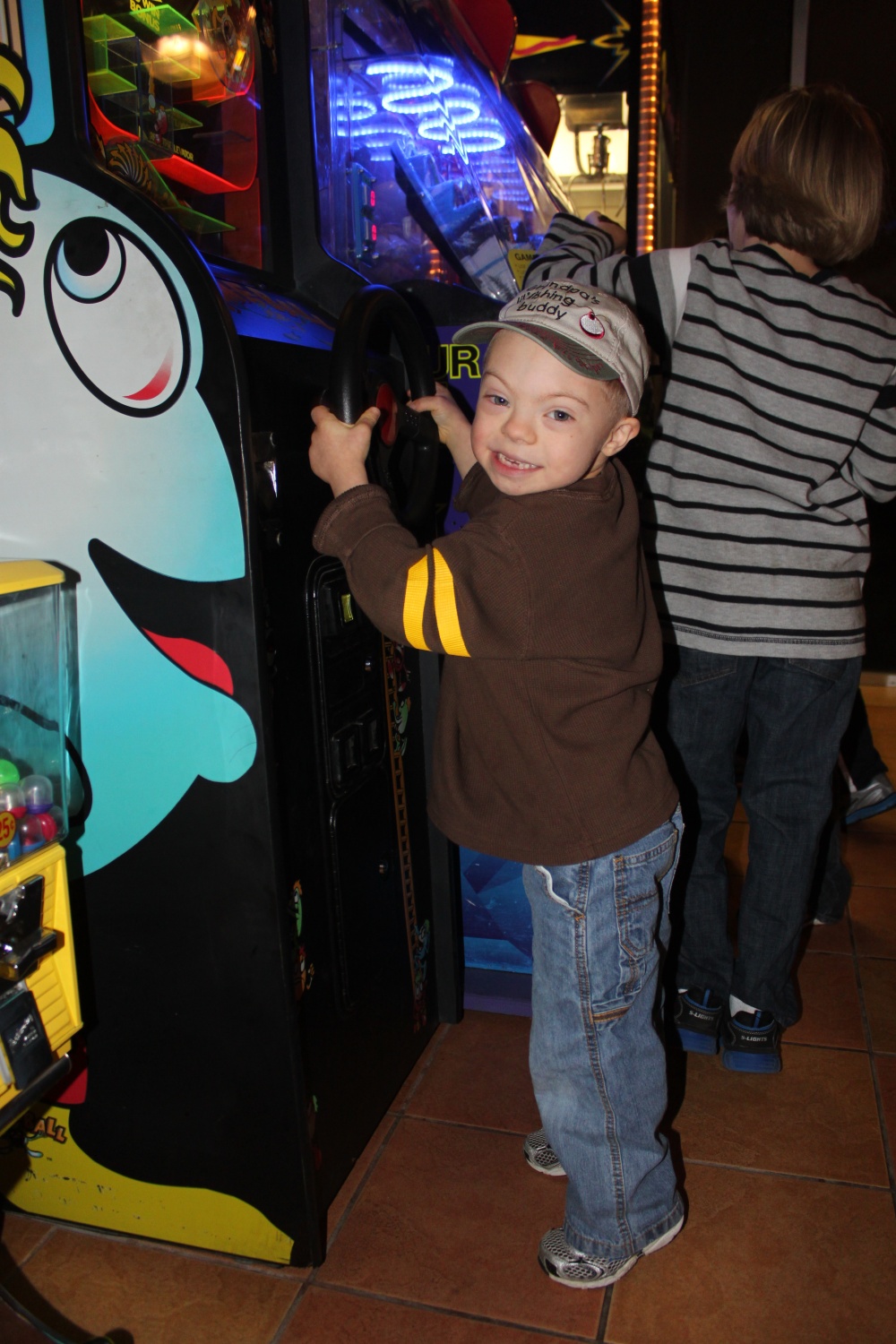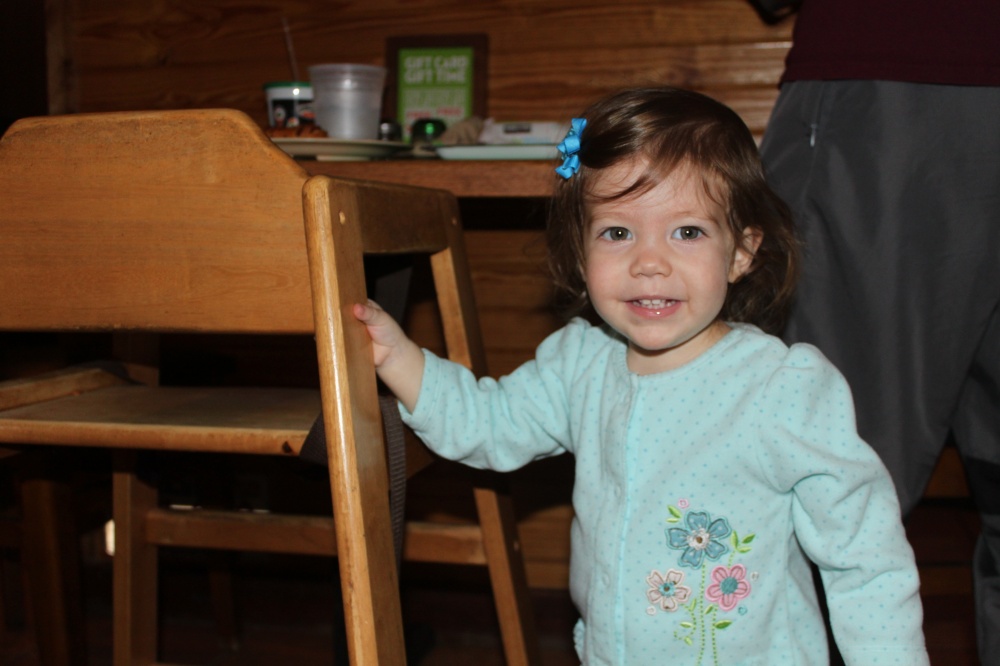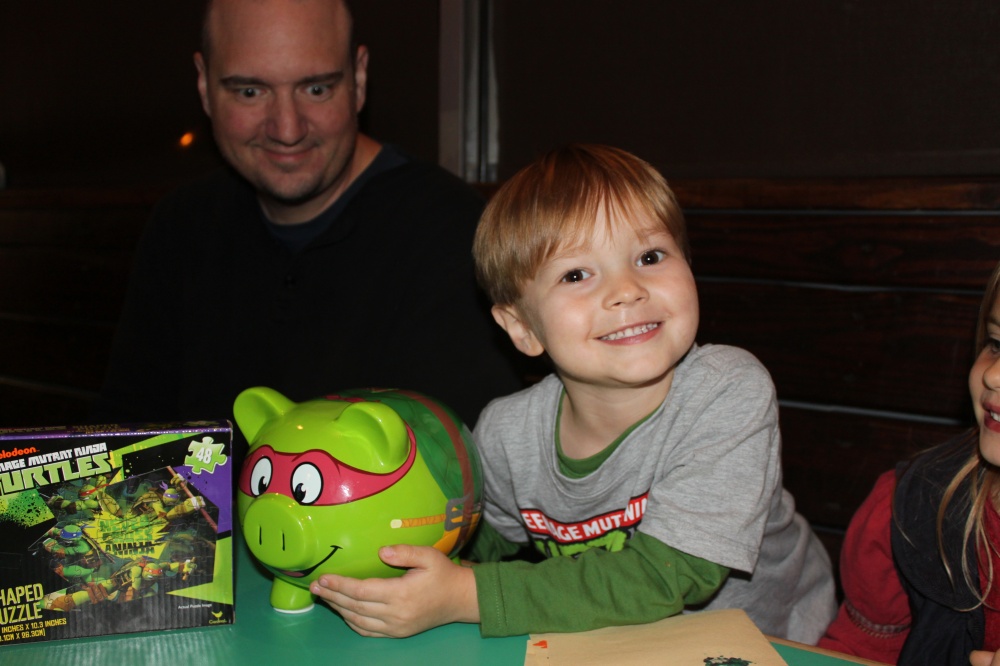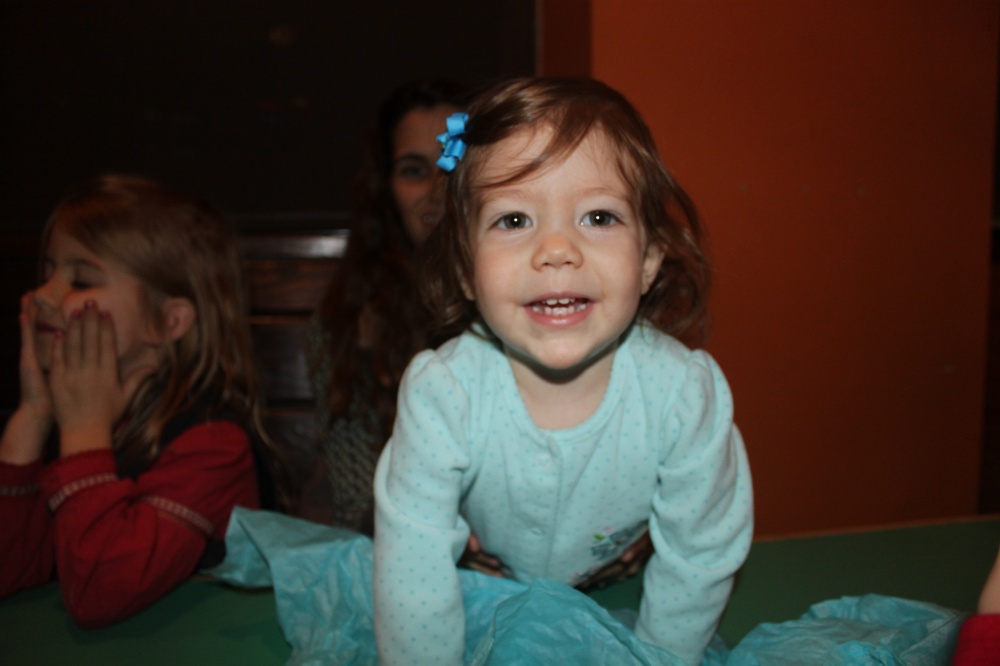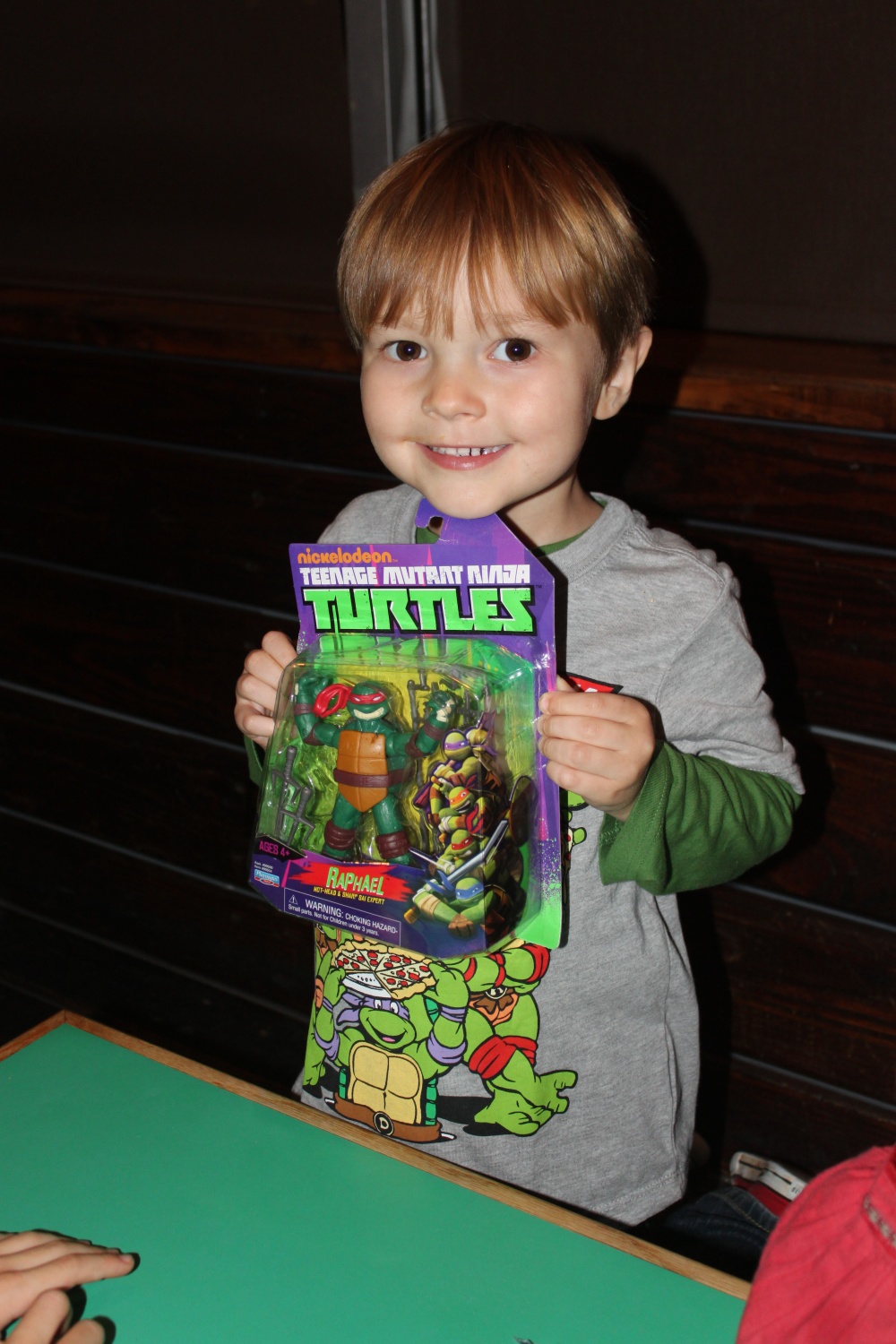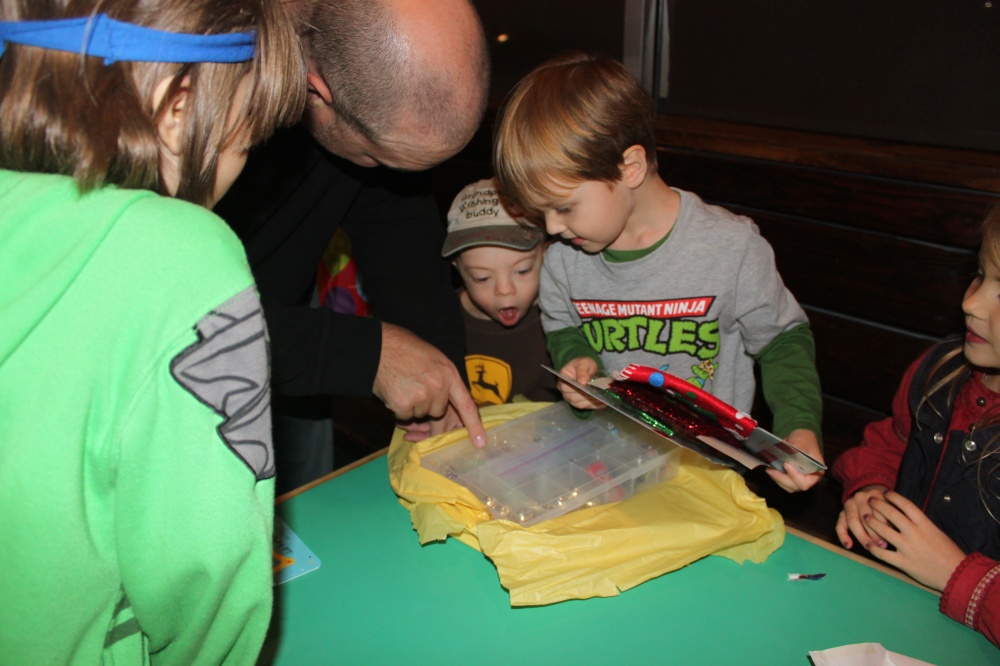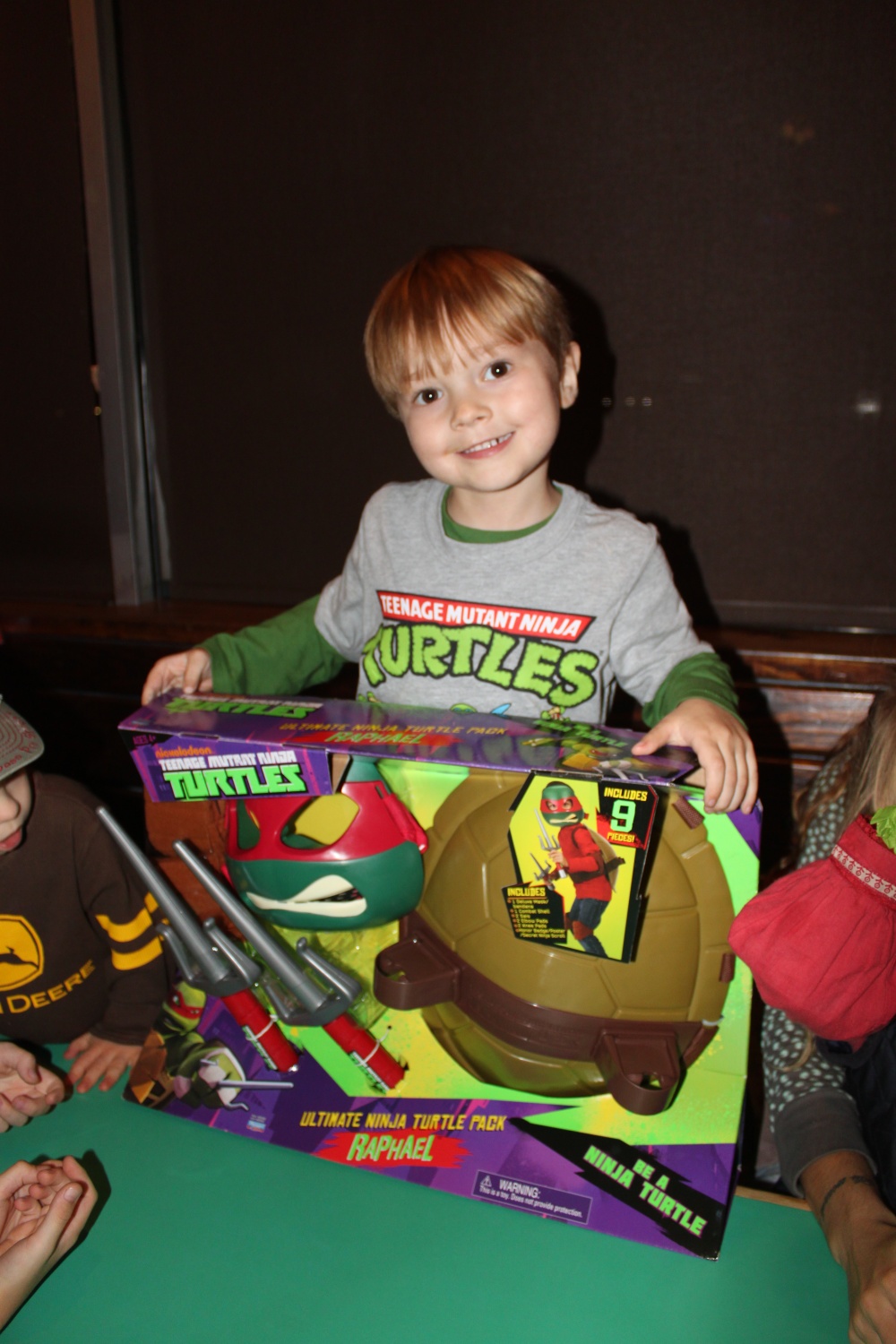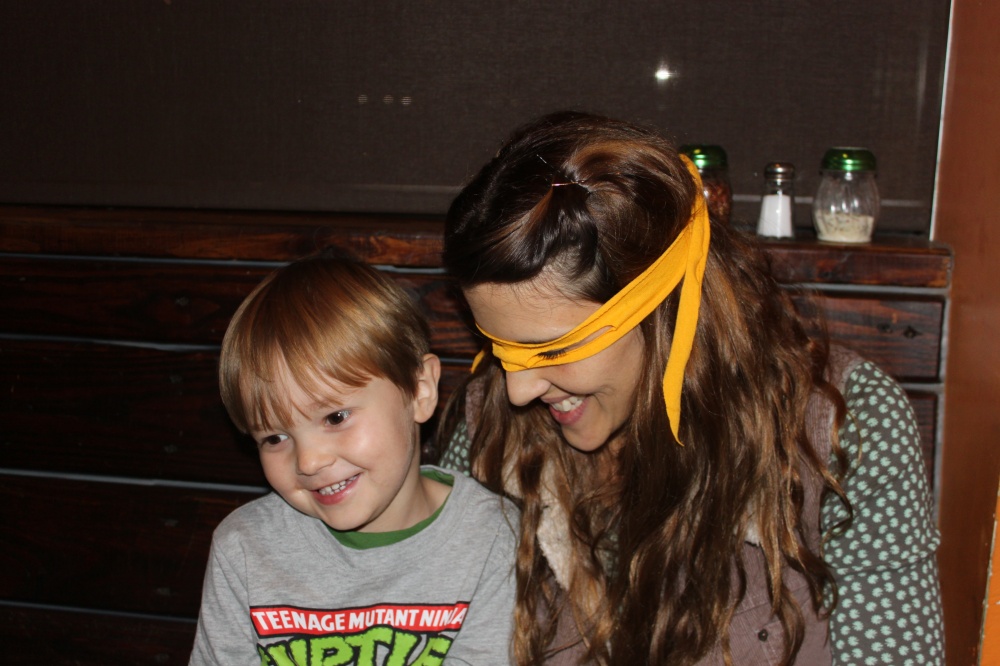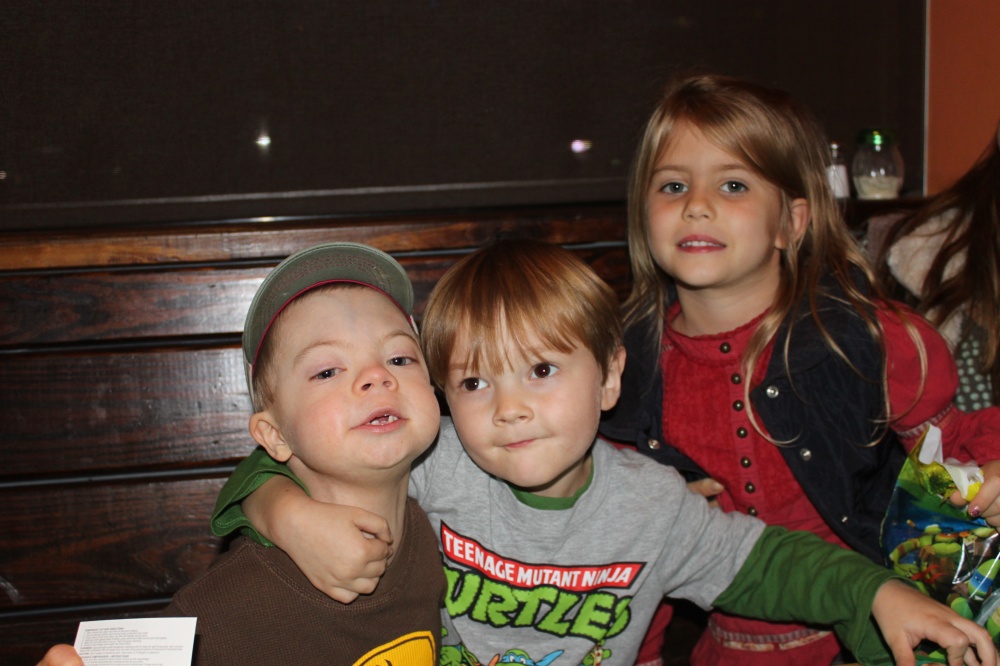 Robert had a lot of fun and loved seeing his old friends. On the way home he said "that was the bestest birthday ever!" Robert got a quick bath and then got to play with his new toys for a few minutes before bed. I think he needs practice.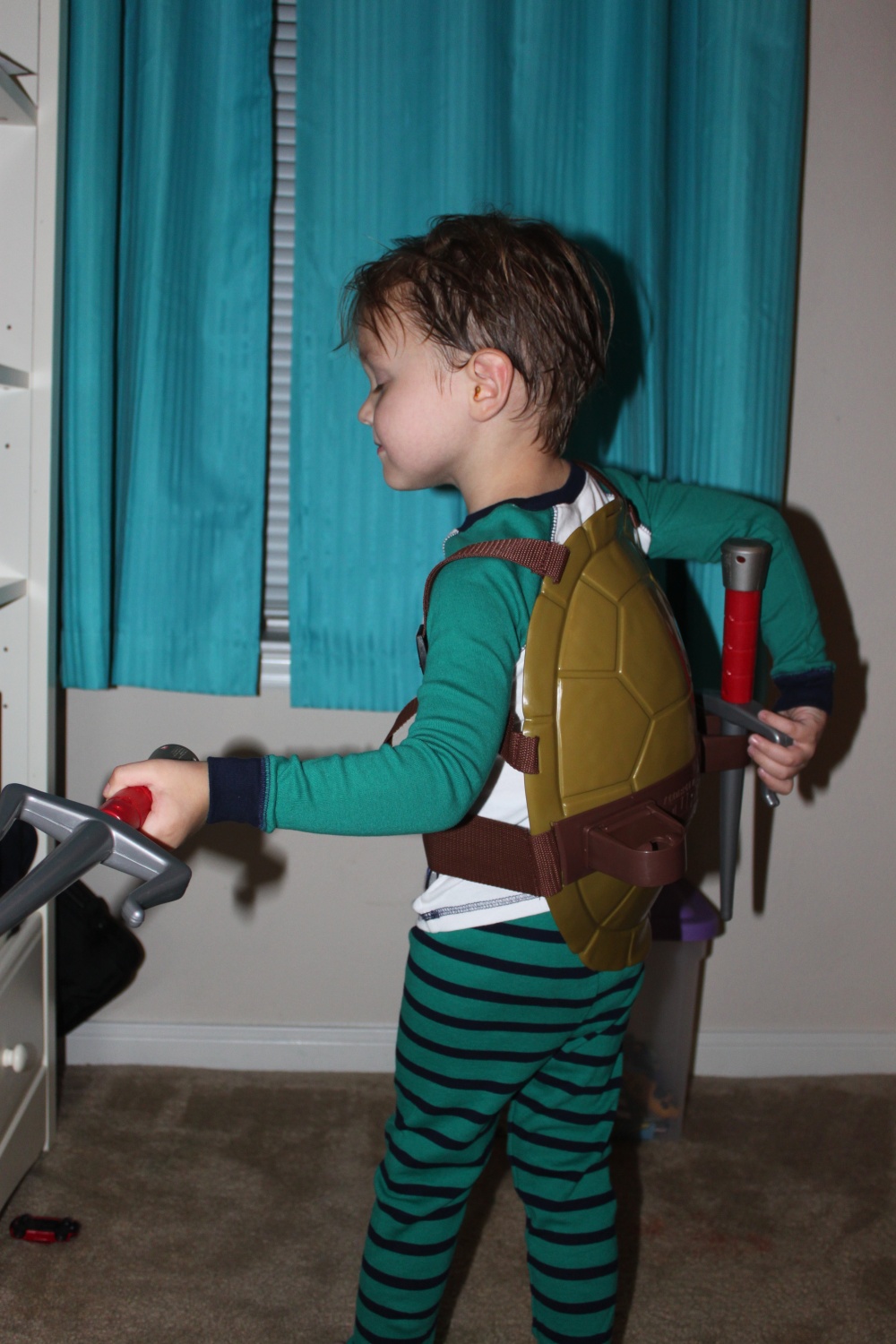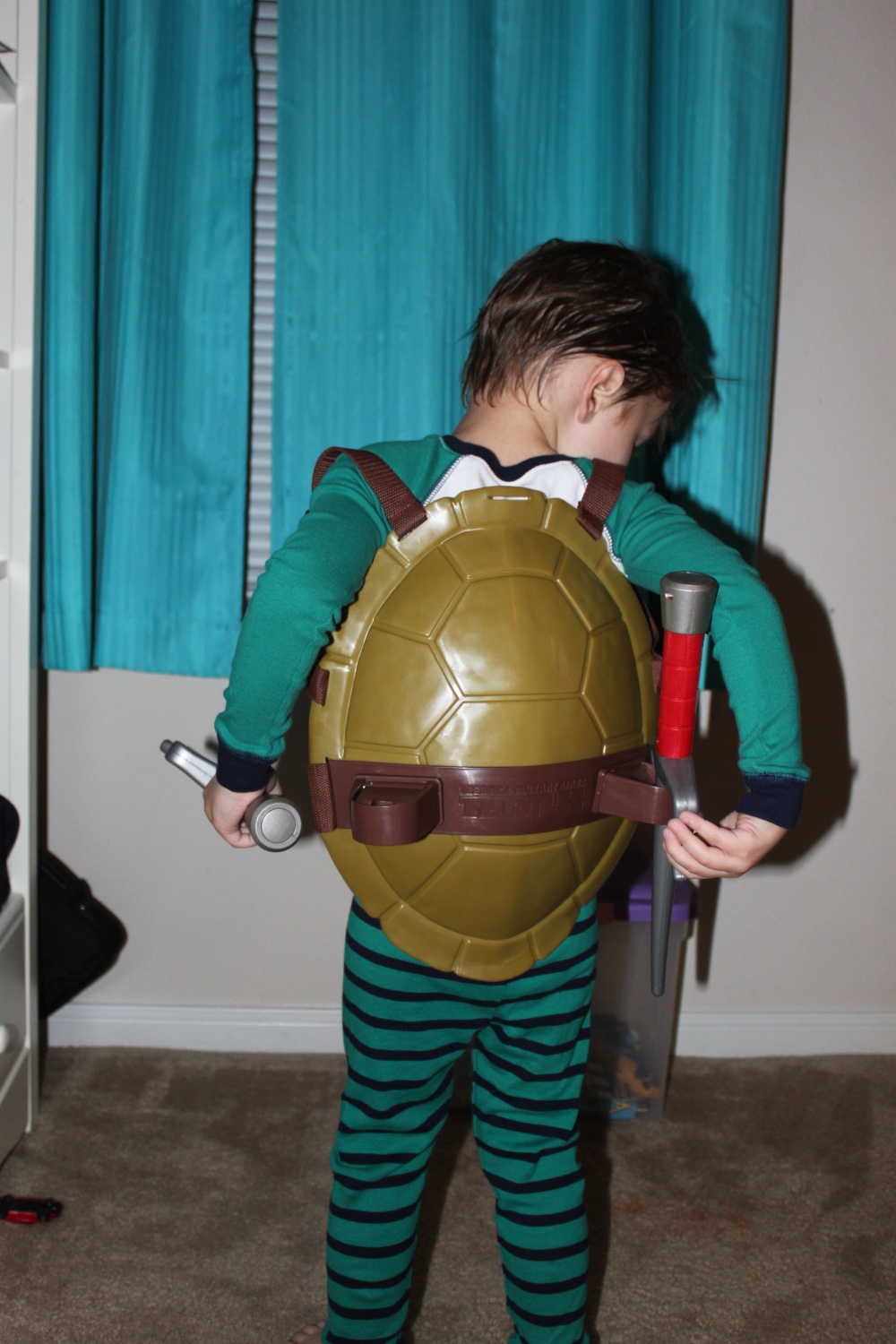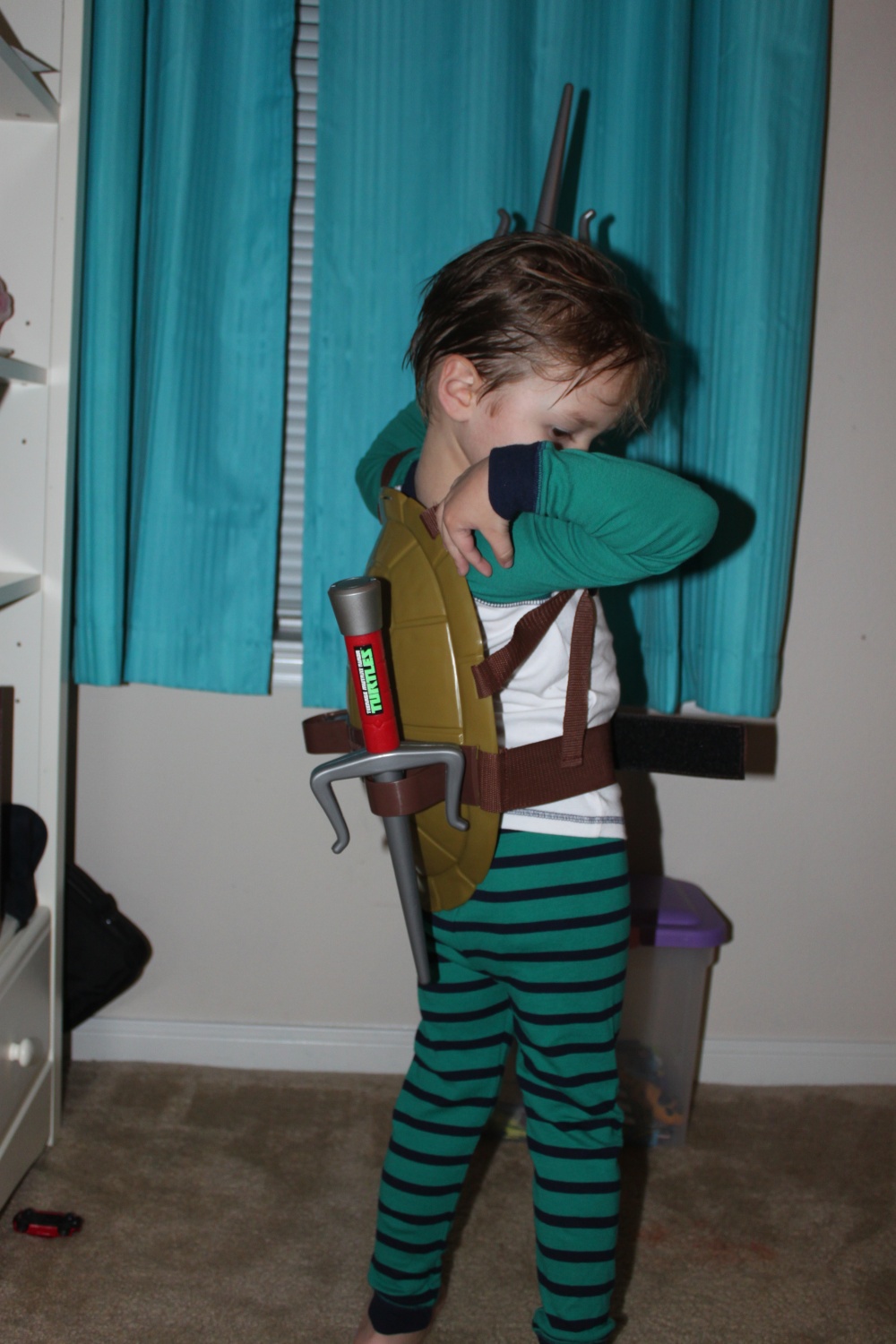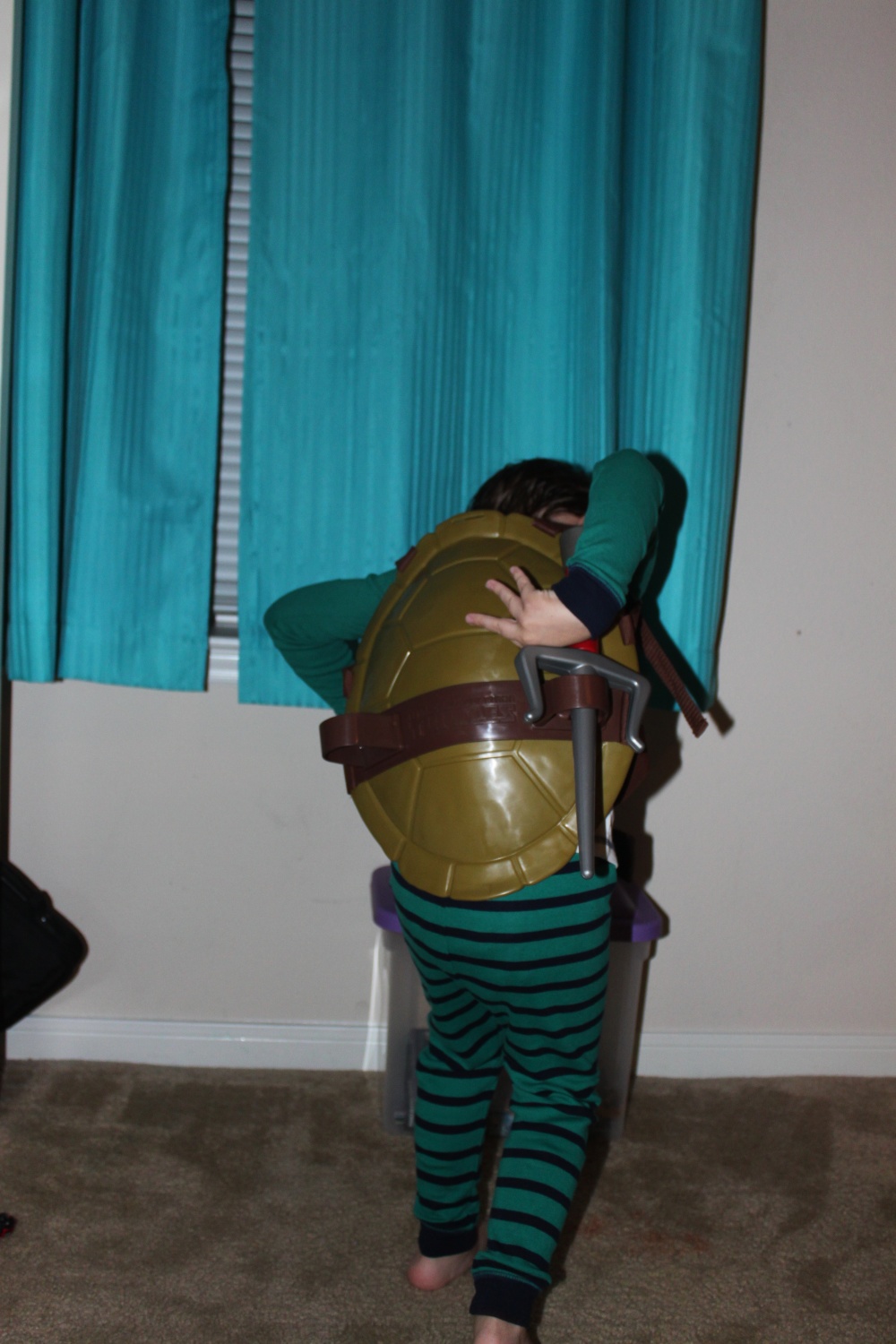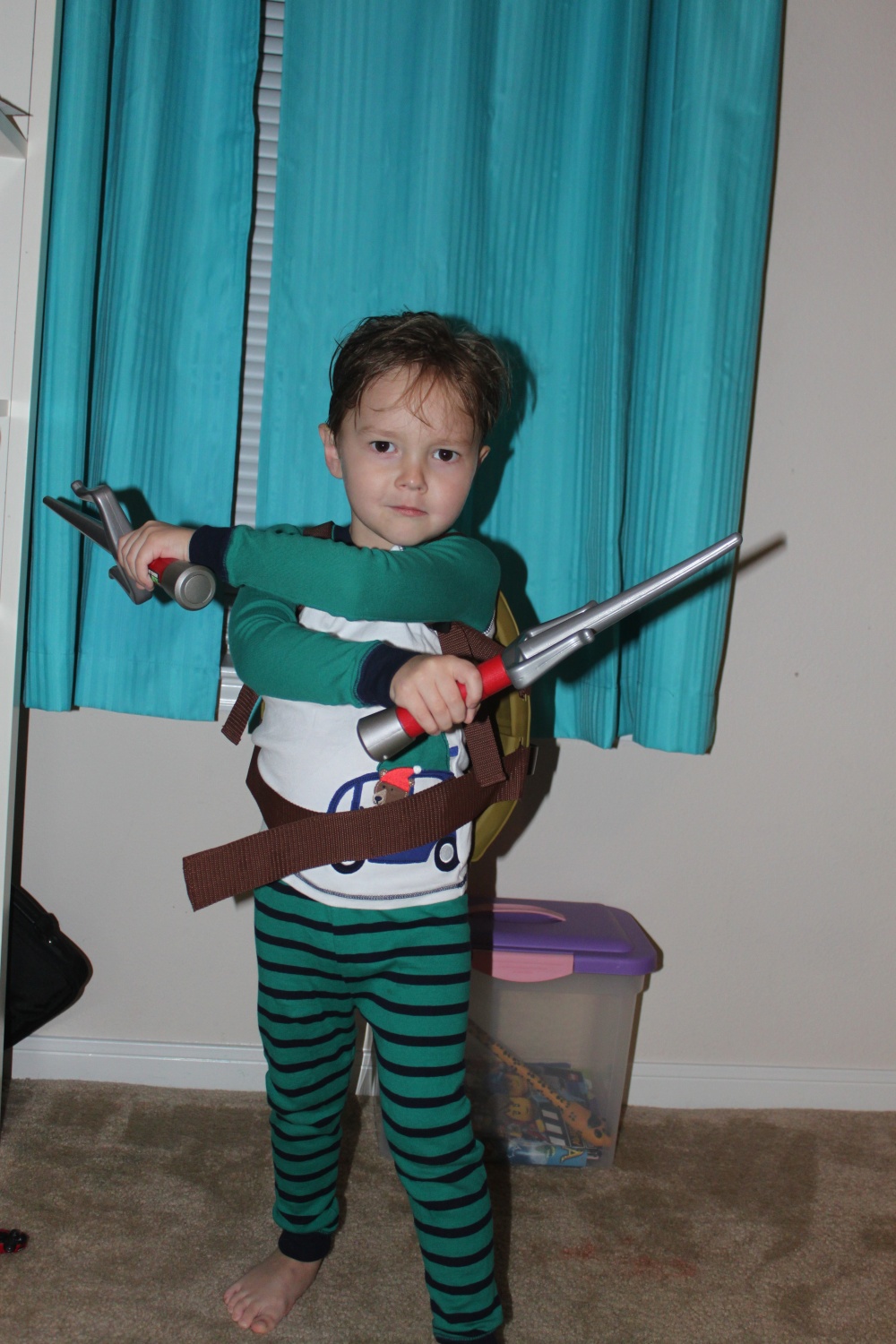 And one last special gift before bed. I sing Puff the Magic Dragon to Robert before bed every night, so I hope this stuffed Puff will be a very special toy for many years to come. If his reaction is any indication, I think I needn't worry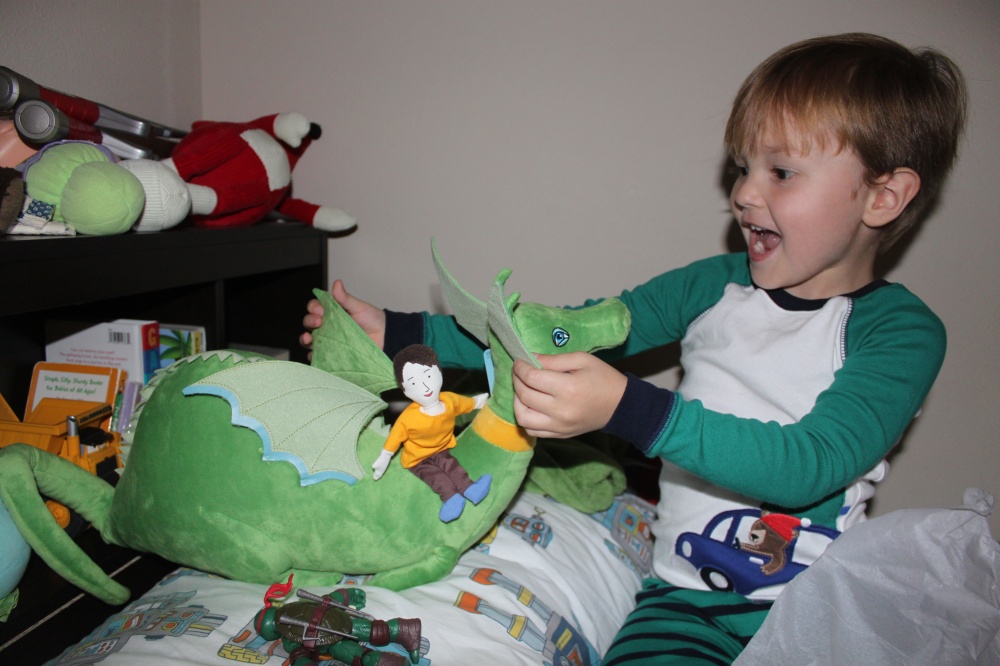 I still can't believe this sweet boy is 4! His big sister was just as excited as he was today. She could not contain herself all day and was told continually to calm down. Robert's a lucky boy to have such a loving sister. She gave him a card that read, "You can come into my room for one week." So giving