I had been planning to take Clara to see Matilda the Musical since I found out it was coming to town months ago. We invited her friend Cianna to join us as a gift for her birthday. She had never been to a live performance, so it was a real treat for her. We had dinner at Chili's with Chris and Robert before we headed downtown.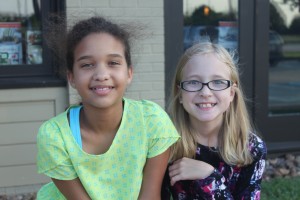 I gave myself ample time to get to the theater. By my calculations, we should have been arriving 45 minutes prior to the start of the show. As it turns out, we sat down with about 1.5 minutes to spare! I'm not real familiar with downtown, but I can get to the theater which is right off of the interstate. As luck would have it, my exit ramp was closed so it added several minutes to get turned around. No biggie, still doing ok on time. At this point I was slightly turned around, but was pretty sure the direction I needed to go. I got going the right way and saw streets blocked off near the theater. ALL THE STREETS are blocked off! They were breaking down a festival of some sorts that was very near the theater and had so many streets blocked off. So I'd go a block and see an entrance to a parking garage, but it would be on a one way street and I couldn't get to it. So I figured I'd go up a block and come back around. Only to find the next street blocked off! I was soooo mad! I circled around those few blocks for 30 minutes. I couldn't tell where I could park on the street and was afraid of getting towed. I eventually found a parking garage and got parked up on the 8th floor and started walking. I eventually called Chris to give me directions to the theater. We were like 6 blocks away! We had to walk through the closed off streets where they were packing up the festival. The sidewalk all around the theater is also torn up due to construction so we had figure out how to get to the door. When we got up to our seats I asked if we had time to use the restroom. She said if we hurried. Thank goodness because I couldn't have made it until intermission. We got sat down and the lights went down. Oh man, I was a mess. I couldn't even enjoy the show because of how stressed out I was. I'm guessing we weren't the only ones completely blindsided by the downtown mess. They were allowing people to be seated for the first few minutes after the show started.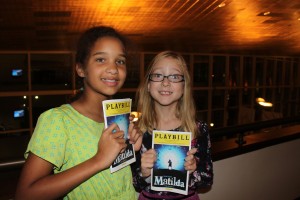 Part of the reason I couldn't shake my distraction was because I was worried about getting back to the parking garage. The way we had walked it was just getting dark and we didn't pass anyone except one security guard until we got to the festival area. The parking garage was vacant and was reserved below the 8th floor, so I knew I would be uneasy going back by ourselves after 10:00 p.m. I talked to Chris during intermission and he gave me directions to get back to the garage quicker (it was actually only a couple of blocks away; we had just taken the scenic route), so that eased my fears a little and allowed me to enjoy the second half more. I kept telling him, "That's it; I'm getting a smart phone!" He knows me though and knew I didn't mean it. He just needed to talk me down

And buy me a map to downtown Houston.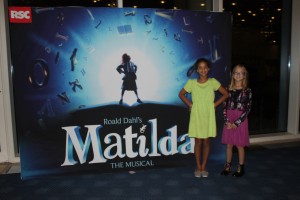 So our walk back was much quicker. There were still several police officers at street corners because there was a little festival cleanup still going on, so their presence was a big relief for me. The garage wasn't too bad either and we just quickly made our way to the car. There was a sigh of relief when the car came into view. Then I had to call Chris again to get me back on the interstate because there were so many detours due to construction and I was so turned around. Oy. Let me tell you, I was so glad when I finally got on that ramp. For the first time all evening, I could finally relax.
As for the show, it was okay. I guess I may have enjoyed it more if I had been in a different state of mind. The kids spoke with such heavy English accents that it was tough to understand them. There were a couple of fun parts, but there just wasn't anything too memorable about the show. The songs were just so-so and I could've done without Matilda's mom's competitive dance partner Rudolpho and all the innuendo surrounding that. I'm pretty sure that character wasn't even in the book or movie. The only saving grace was Miss Trunchbull. She was played by a man and he was outstanding. All in all though, I don't think I would recommend it. I had high hopes for it given the fact that it's been touted as the best musical since The Lion King. Oh well, they can't all be amazing.
But, the girls enjoyed it, we made it to the theater in time and I successfully managed to get us all home safely, so I'm gonna call it a win.