Linda came to stay with us the last weekend in September while Chris and Dan were working a race. Robert had been working on his first loose tooth for several weeks and it was starting to hurt whenever he ate. During breakfast Sunday morning it had started bleeding, so it needed to come out. But I don't do teeth and Chris was gone! I folded up a paper towel for him and told him to grab hold of his tooth but I couldn't watch. And I had to cover my ears. I don't think he even had to pull it; it just popped right out like it wasn't even attached. Yay!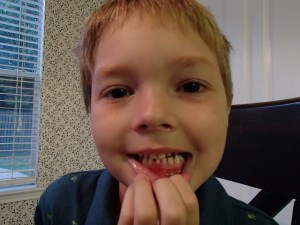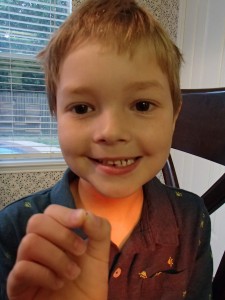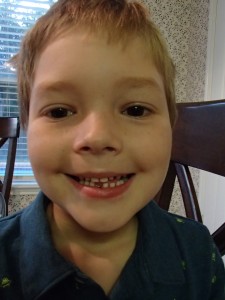 He went upstairs to finish getting ready for church as I started cleaning up after breakfast. He came back down a few minutes later and asked where his tooth was. Uh-oh. It dawned on me that it was probably laying on the paper towel that had just been deposited into the mostly full trashcan. Underneath a layer of uneaten oatmeal. What kind of mother am I?!
Turns out I'm the kind of mother that digs through the trash to retrieve her child's first tooth. Steel cut oatmeal looks a lot like baby teeth. So Linda started smashing a plateful of oatmeal. I was going through yucky trash from the day before and when I was about ready to give up, I spied it stuck in some oatmeal to the side of the trash bag!
So I cleaned it up and got it all ready for the tooth fairy. Robert is the second child, therefore he does not own a tooth fairy pillow. We placed his tiny tooth in a Ziploc bag and put it next to his bed. When I went to wake Robert the next morning, I told him to check and see if the tooth fairy had come. He groggily turned over in bed and told me that he had already checked and she had left $25 for him. Ummm, say what? I asked him if he was sure about that and he said, "Yes. She left 2 tens, 2 twos and a 1." I told him he must have dreamt it because the tooth fairy doesn't leave such large sums of money. He was becoming irritated with me so he grabbed his Ziploc to prove it to me.
The poor guy was so confused when he saw 8 measly quarters in his baggy. He was angry and started crying, sure that someone had broken in and stolen his money. There was no convincing him otherwise. He eventually cheered up when I told him that the tooth fairy doesn't visit ungrateful children. When he finally looked at all his quarters, he was pleasantly surprised to find that they were from all different states. He decided they weren't so bad after all and excitedly told anyone who would listen about his quarters that came from all over the United States.