These pictures are terrible, but I had to jump at the chance to get a few pics while their rooms were clean. As you can see, I caved and put stuff on the walls. It just doesn't feel like your own place until you slap your things on the walls. We've decided to forgo a playroom in this house and I'm loving it! Both kids have walk in closets, so there is plenty of room for toys in their rooms although we did have to downsize a bit. I think having stuff shut up in the closet has made it much cleaner. They don't just drag everything out and leave it; they seem to be more intentional about what they want to play with. Clara's new room is a little bigger than her old so her bunkbeds fit better here.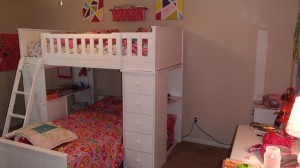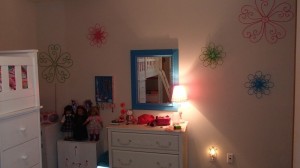 And Robert's room is a little smaller than his old room, though not by much.  I'm considering doing away with his dresser and putting his clothes in the 3 drawers under his bed. Two of the drawers on his dresser are almost impossible to open anyway. I'd like to put his train table on that wall. Right now it's in a corner of the living room.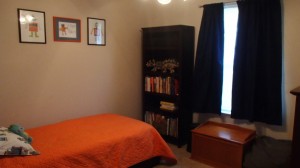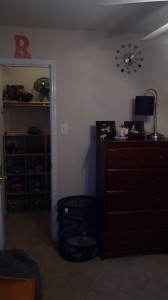 I love having 1 less toilet to clean

Although, I do have to keep this one a little cleaner than their old bathroom since I don't have a powder room for our guests.  The guest bath is good size with double sinks and lots of storage underneath, which was lacking in the old house.