The office was closed when we got to the park but they had our reservation and a site assigned for us to pull into. A gray foxed crossed the road as we were pulling in to our spot. We woke the next morning to a family of javelinas rooting around right outside our door. There was so much wildlife at this park. Poop everywhere.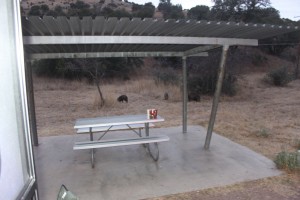 Here they are with our tree complete with the ornaments we made at Garner. They kept calling it our Charlie Brown christmas tree.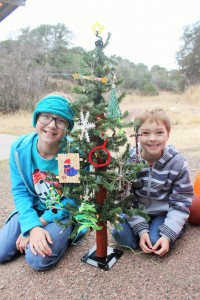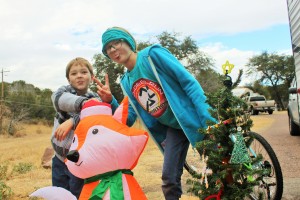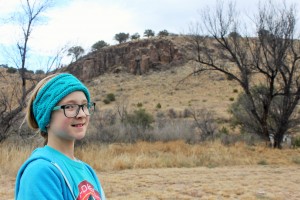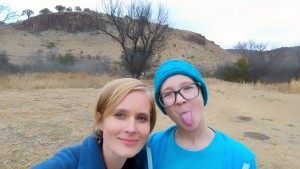 That first morning we spent some time at the interpretive center watching birds feeding at a station they had set up and tried identifying them. The cacti outside the center were all decked out for the holidays.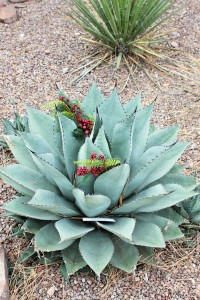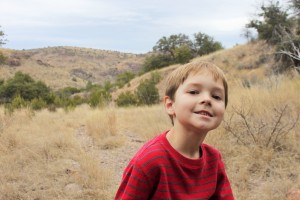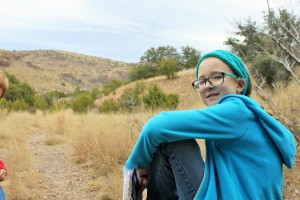 Later on we drove up Skyline Drive in the park to this observation point which also happens to be one of the only places you can get a cell signal in the park. We decided to drive it because it was a loooong several mile hike up to the top and I'm not sure we would've made it.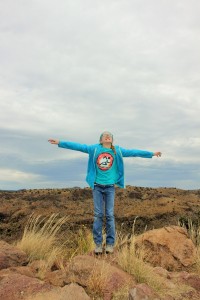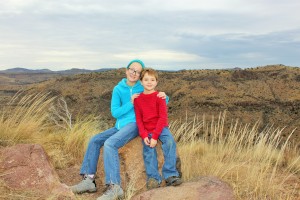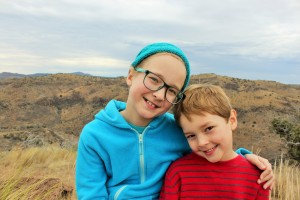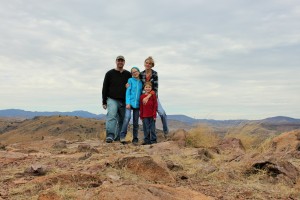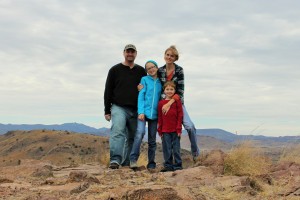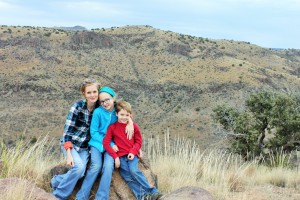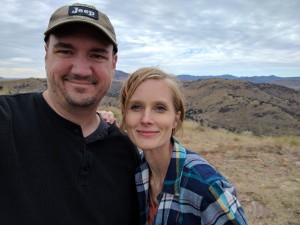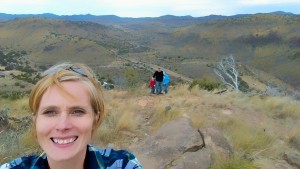 Afterwards, we had some lunch and then left the park in search of letterboxes. We found two on the highway out to the park and another in a cemetery. One of the boxes was just placed last month and we were the first to find it, so that was fun. We looked for another that was placed by the same person that same day and unfortunately, something had gotten ahold of it before us

 It was in a duct-taped ziploc with magnets attaching it to the back of a fence post. We were letting Robert retrieve it all by himself and keep the little prize for the first finder, so he was upset that it was all torn up. I searched around in the tall grass, but couldn't locate the stamp.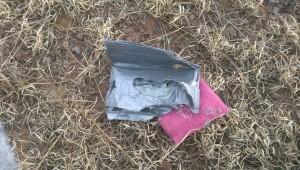 We walked around downtown for a bit and then had ice cream in the drugstore since it had warmed up by then.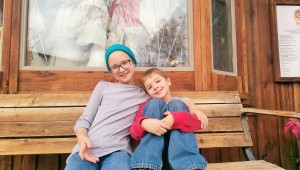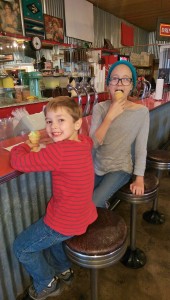 And then cocoa and popcorn that night. Robert was about done with my incessant picture taking by this point.
The next day we visited the Fort Davis National Historic Site. I was kind of expecting the kids to be bored, but as it turned out, they loved it! We spent two hours walking around and they didn't even notice that it was past lunch time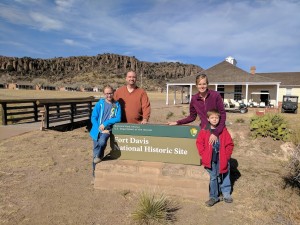 I couldn't get the kids to pose with this buffalo soldier in the museum, so I took a selfie with him.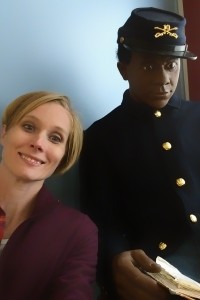 The visitor center is attached to the museum and the kids received an activity page to complete as they walk around the fort. They could turn it in at the end of our visit and become a Junior Ranger and receive a badge. They each had to find things around the fort and note where they found it. Clara's was a little more in depth and she had to answer questions based on things she read. Chris and the kids had gone on into the museum portion of the building as I was talking to a park employee up front. I looked over to see that Robert had come back into the room, sat himself at the computer, and had proceeded to click on different pages that explained some of the things you would see at the fort. That booger was checking off all of his scavenger hunt items in one fell swoop! I convinced him that while that may not technically be cheating, it wasn't exactly in the spirit of the activity

There were a lot of interactive things all around the fort to keep things interesting. It not only insured that the kids remained engaged, but I too found it very helpful to have those visuals. There was a sign not far from the hospital that gave short snippets and drawings of 5 actual patients and what was wrong with them. The kids were like, "eh". But then it said, go to the post hospital to find out who survived. All of a sudden, their faces lit up and they were racing to get there first to solve the mystery. You had to explore the entire hospital to find all of the answers.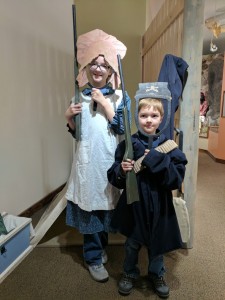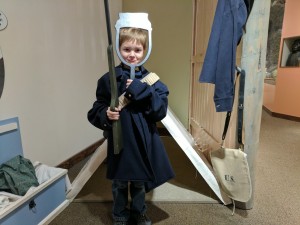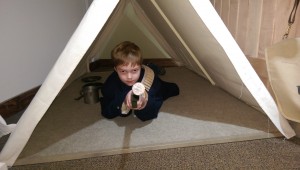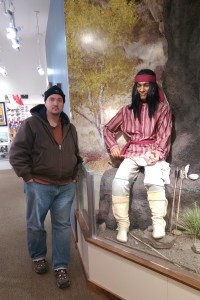 Some of the buildings have been restored and decorated while others are crumbling and there were many buildings that only had foundations left. As for the restored buildings, we looked into the officer's barracks as well as a married offiicer's barracks which had a room for his boys and was all decorated for Christmas. And we saw inside a kitchen and servant's quarters as well as the enlisted soldier's barracks. The commissary had this game for the kids to play. You take turns spinning the wheel and try to be the first to get your covered wagon safely from San Antonio to Ft. Davis. All of their supplies came from San Antonio and if I'm not mistaken, it was a 6 week trip by wagon.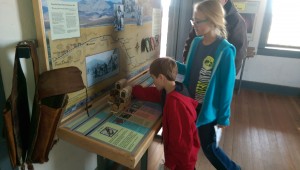 I really wanted to go visit the Chihuahuan Desert Nature Center as well. I had read it has a great hike down into a canyon with a spring or creek at the bottom. Chris had started to feel bad as we were walking around the fort though and wasn't up for a hike. We had thought about going up Skyline Drive for a star gazing thing the park was hosting, but that too fell through as Chris was feeling worse and worse. He slept terrible that night but with the help of Day Quil, he was able to make the hour long drive to Pecos the next morning.