We went camping at Lake Whitney State Park for Thanksgiving this year. It's not too far from Waco and was close enough for Dan and Linda to easily join us for Thanksgiving day. (Linda has lots of good pictures from Thursday and Friday on her blog, including and especially good close up of Clara that I love.)
We were initially going to leave on Tuesday after Clara got out of school. It was rainy and cold all day Monday and Tuesday though which made it hard to do all the prep we needed to do and then we saw that it was going to be 20+ mph winds on the way there. We decided driving with a camper and then setting up in the dark in 30 degree temps sounded not so pleasant, so we left on Wednesday morning instead. I'm so glad we changed plans.
We arrived a little after noon and the kids wasted no time getting down to business. There were leaf piles to be jumped in and a huge climbing tree right in our campsite just begging to be climbed. Jason showed up a few hours after us and got busy feeding us. That's all he did all week was feed us food in his new dutch oven and tend the fire. We had biscuits and gravy two mornings, chili and cornbread and peach cobbler.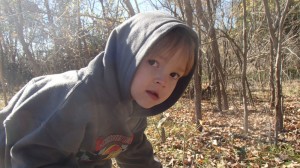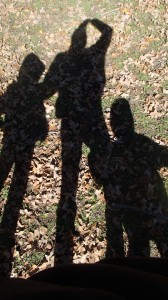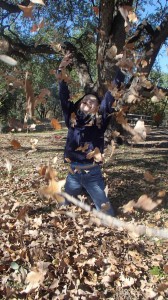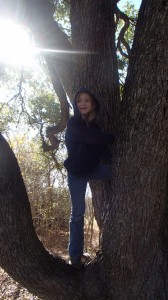 This is a picture of one of my greatest ideas ever. Earlier this year, I decided we needed some place to stash all of our little things and came up with this idea and Chris and Jason drilled the holes for the rod. It works perfect and holds phones, gloves, hats, cameras, books, etc.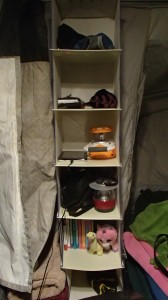 I just love Clara's shelf that she set up all nice and neat. Gotta have plenty of reading materials. She needed two shelves since she needed a whole shelf just for books and friends.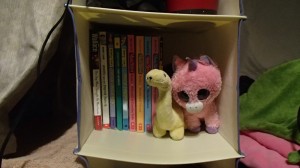 Dan and Linda got to the campsite around 10:30 or so on Thursday. Linda brought ham, pumpkin pie, cookies and veggies and dip.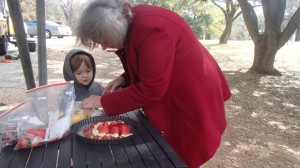 Jason heated up the ham, made the mashed potatoes and warmed up the rolls in his dutch oven. We also made green bean casserole in our Coleman oven. It all turned out great, but we were shivering while eating. It was nice in the sun by the fire, but pretty darn cold at the covered picnic table.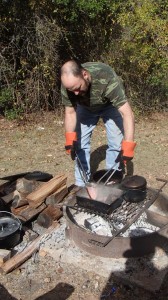 Linda also brought the "turkey" that the kids helped put together.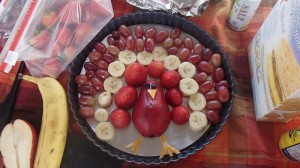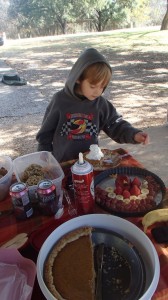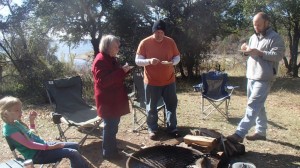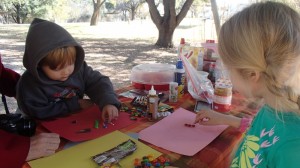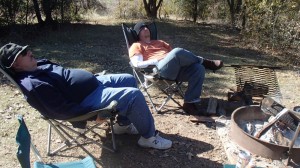 We went down to the water a couple of times a day to explore and walk the shoreline. We found fish skeletons, a fossil, a rock in a rock and shells, among other treasures. Robert threw lots of rocks into the water and Clara tried skipping a rock with all her might.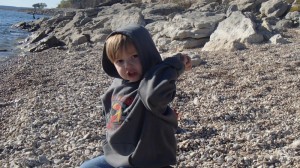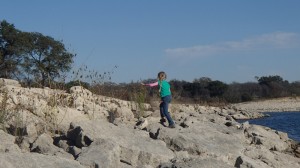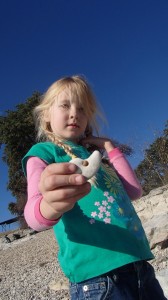 Thanksgiving night we gathered back around the fire and had beans, cornbread and leftover ham. I made the mistake of asking Jason if he would like some Jiffy cornbread mix to use for his cornbread. Oh no, Jason's too good for Jiffy. So we had a friendly little contest to see who's cornbread was best. I did mine on the Coleman stove. Yeah, the bottom burnt. We scraped the bottom off and let the kids eat it.
Team JDog was feeling pretty good right about this time and was maybe reveling in Team Jiffy's defeat a little too much. We lifted the lid on Team JDog's cornbread and it was looking really tasty and perfectly browned on top. Then we lifted it out of the dutch oven. The bottom was completely black. Yay, a tie! So we scraped the bottom of of it and scarfed it down too.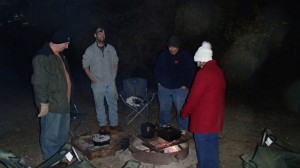 Robert kept bringing everyone rocks as gifts.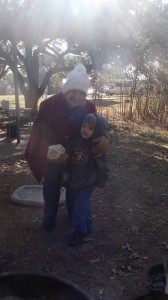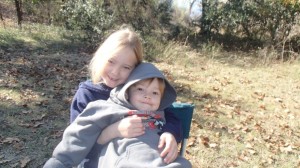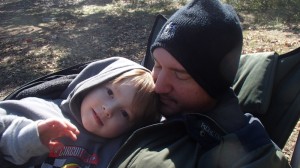 We took the dogs down to the water one time. Robert threw some rocks into the water and Max took off after them. I think he got a little chilly as he got all the way in. Right as he couldn't touch he decided to come back to shore.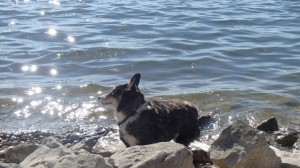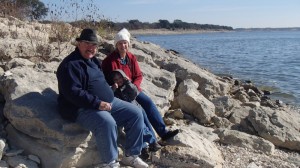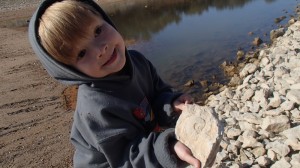 Clara helped Jason make peach cobbler on Friday before he left to go home. It was yummy and we cleaned the pans. Clara and Robert were supposed to share one and when Robert didn't want any, Clara went to town. She had to be stopped before she finished it so she wouldn't be sick.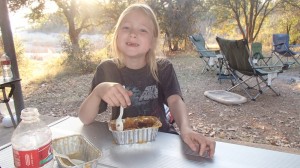 Here's Robert right before sunset on Friday. The boy was pooped and I thought he'd be up for an early bedtime.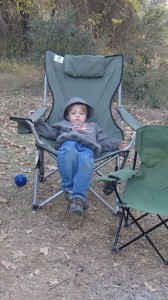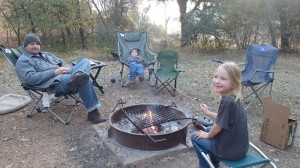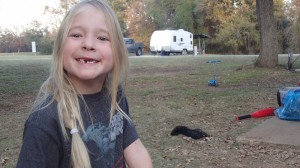 Saying bye to JDog. Robert didn't want his picture taken.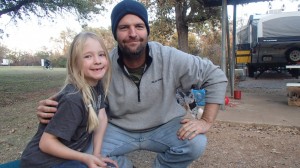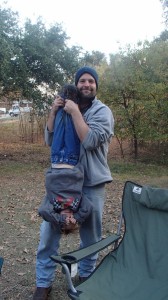 After Jason left, we went over to the neighbor's across the road. The kids had been playing with their kids all week and we sat and talked with them for awhile while the kids ran around playing night tag.
We decided to leave a day early, so we leisurely packed up on Saturday while the kids played. I always have cereal on the last day so I don't have dishes to do as I'm trying to get everything cleaned up. The husband came over to sit at the campfire and talk to Chris while his wife cooked breakfast. When breakfast was ready, she invited all of us over to eat with them. Clara put down a lot of bacon and eggs.
They all went down for one more trip to the water while I finished cleaning up and packing and I took a couple pics of the kids when it was time to go. Again Robert didn't want his picture taken. Jordan here was such a good sport and was very patient with Robert.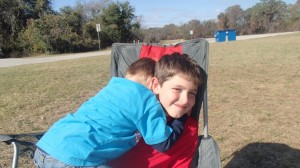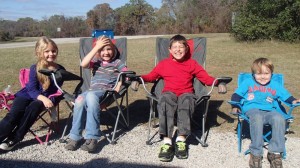 They all helped bring Robert over to the car. He wasn't too happy about leaving his new friends. He was referring to Julia as his girlfriend.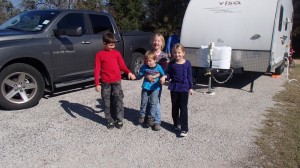 We liked this park. The section we were in had about 12 sites on one road that dead ended into the lake. There was very little traffic since there were only about 6-7 sites in use, so we gave Robert free reign to run around with the other kids without us hovering very closely for the first time. That and the mom and dad across the street were keeping an eye on all of them too.
I think this is a park we'll be back to in the summer when the kids can get in the water. The tables were covered and there was plenty of shade where we were. There aren't many trails, but there is lots of shoreline to explore. All in all this one is a winner and had lots of available space, which can't be said of most of the state parks in the hill country. We know, we tried. You have to make reservations way in advance if you want to get anywhere in the hill country pretty much year round.