Chris and I have been talking about taking the kids to Italy ever since our trip there last September. Chris and his co-worker Vance were in Rome for two weeks and his wife Jenna and I flew together and joined them near the end of their trip. The whole time I kept saying how much fun it would be to bring the kids. Fast forward a couple of months and Chris had lost his job and spent several months job hunting. All of a sudden, a European vacation wasn't looking very feasible.
Chris' new job is remote and our finances had stabilized, so at the end of August we decided to just do it. Chris' airline perks like priority boarding and usage of the lounge expire at the end of the year, so we decided Thanksgiving would be a perfect time to travel. Plus, it's not Thanksgiving in Italy, so we wouldn't have huge crowds to contend with. We decided to surprise the kids, so they had no idea until we picked them up from school and headed to the airport. Since we had talked about a trip to Italy possibly next summer, they didn't question why we were getting their passports. We just told them it takes a while to get them. They should have known something was up when we were rushing to get them as soon as possible since we're massive procrastinators. Side note: Being born outside of a hospital, in say, a birth center like Robert, means that you can't just use the short form birth certificate. They may not be able to actually tell you why it will be rejected, except to say that it doesn't have an "I" on it like your other child's birth certificate (which looks identical except that it has an "I"). You can ask what the "I" means, but they either are telling the truth and don't know or they enjoy watching you become increasingly frustrated because you made sure you crossed every t and dotted every i before you came in and you just want to know what the "I" stands for! Google nor the US Dept. of State never mentioned an I! So then you will have to leave your appointment until you can secure the long form (which could take up to 25 business days if ordered online) or go into the vital statistics office. And then proceed to make another appointment and possibly have to check your child out of school early for it because passport processing hours are not at all convenient. Sigh. FYI- The "I" on the short form stands for institution, aka hospital. Any birth at home, on the side of the road, or a birth center will not have an I and will require the long form for a passport.
On Friday the 16th, we were set to leave on a 7:15 p.m. flight to Rome with a four hour layover in Frankfurt. Not wanting to cut it too close on time since it was the Friday before Thanksgiving, we planned to pick the kids up from school at 2:30. Boy am I glad we did, because we got in the car to go get them and it wouldn't start. Lovely start to the holiday

Took the Jeep to get both kids, got home, jump started the Rover and drove to Auto Zone. The guy was great; checked it out, found out it was bad and had it replaced very quickly. We got checked in to our flight right at two hours early so we were able to relax for a bit in the United lounge. The kids enjoyed all the perks that come with having a dad who's a frequent flyer.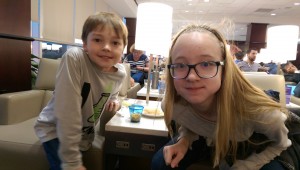 Thankfully the flight was uneventful. I don't think Robert slept a wink. The rest of us just dozed a bit here and there. Clara's screen wasn't working, but we had brought a handheld console and she had her Kindle, so it wasn't complete torture. The flight attendant even came over and praised her on being so understanding and then gave us some frequent flyer miles for the inconvenience. There was an occasional lament from Chris over being stuck in economy. He's become a bit spoiled from all of the years flying business on international flights for work.
We were so tired when we got to Frankfurt. Chris was only allowed to bring one person in the Lufthansa lounge, and he knew better than to ditch me with a kid, so we found a comfortable booth in a restaurant where we could all sit together for lunch.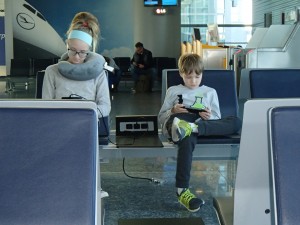 After a short one hour flight, we landed in Rome around 5:45 p.m. on Saturday and it was about a 45 minute taxi drive to the hotel. Robert finally conked out in the taxi after around 15 hours of travel. We stayed in the same hotel that Chris has stayed in for work these past few years. When we booked the room, they recognized his name and even gave us a discount. Since it was late and we were exhausted, we dropped our bags and then walked a couple of blocks to get some take away pizza and a "coca". Had to get pics of their first Italian pizza even if it was just fast food. We ate it there, but they'll cut you a large rectangular piece (you pay by weight), warm it up, fold it in half, wrap a paper around it and you can eat it as you walk down the street. We had it several times because restaurants don't open until 7:00 or 8:00 in Italy, but after a long day of sight-seeing, you just want to get back to the hotel and not have to get back out.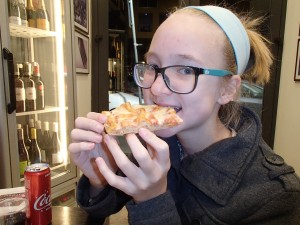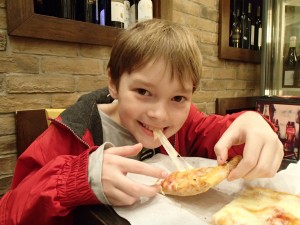 After showers and full bellies, we all slept really well that first night.