Clara wanted to go as Athena for Halloween this year. She's been very interested in Greek mythology lately after reading the Percy Jackson series, but I was still a little surprised by her choice of costume. When she informed me that Athena, who is the goddess of war and wisdom, has an owl as one of her symbols, it all made sense. So if you're like me and know next to nothing about Greek mythology, that's a gorgon on Athena's shield. Medusa to be exact. I had planned on making a helmet for her as well, but that proved to be difficult when I waited 'til the last minute. She also thought it would be cool to figure out a way for her costume to depict Athena's birth, which would mean her bursting out of a Zeus head using an axe. Ummmm…..yeah……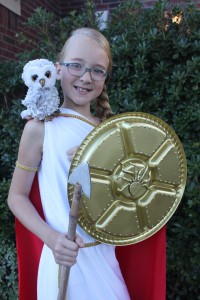 Who is this teenager and where did my little girl go? It is so weird to see her without her glasses on.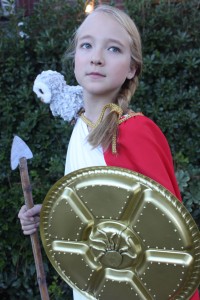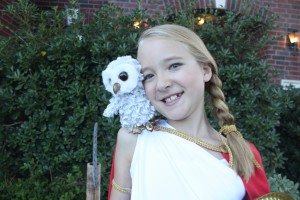 Ok, she's back. Whew!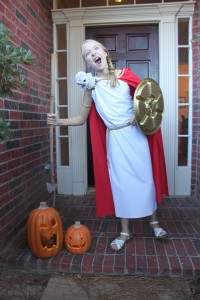 And how cute is my little Gilligan?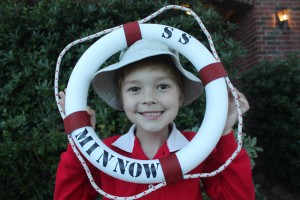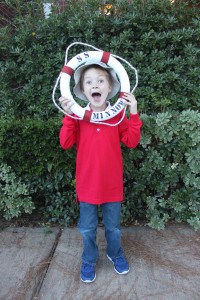 They both loved their costumes. Anyone over 40 knew who Robert was. I think the life preserver helped. We went to Smash Burger before trick-or-treating and he didn't have it with him. The guy behind the counter asked if he was a fisherman.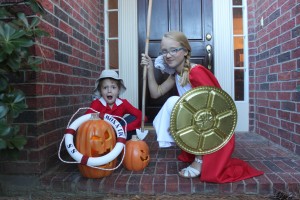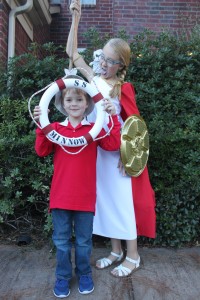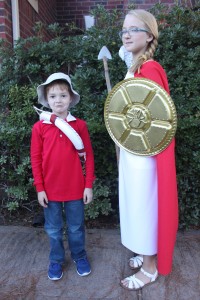 A few minutes after their photo session, Robert dropped his foam life preserver and it broke before he got his picture with The Skipper. We glued it and left it to dry while we went to dinner.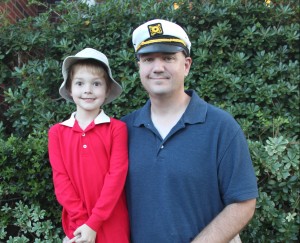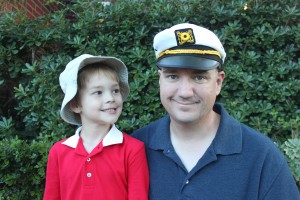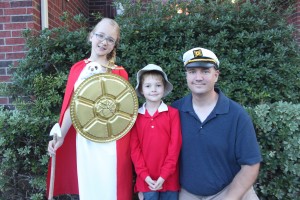 It wasn't dry when we got back but I found some packing tape and it was good to go.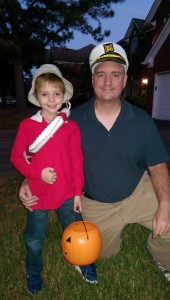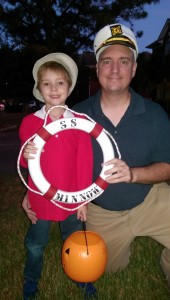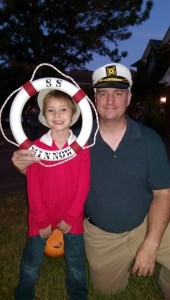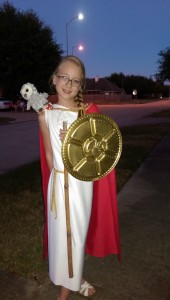 Our neighbors were getting ready to go out with their almost 2 year old and some friends the same time we were. They're Chinese and they were so funny. Our neighbors and their friends were directing the kids and snapping pictures like crazy. Clara and Robert were a little taken aback by all the attention. The grandmother doesn't speak English but she loves Clara and Robert and was trying to get their picture, a picture of them with Laura and she wanted a picture of herself with Clara and Robert. She seemed to be enjoying herself immensely

It was kinda chaotic as I was trying to translate to the kids what she wanted, so I didn't get any pics. We walked with them most of the time. I asked Deanna, Laura's mom, if she knew who Robert and Chris were. I then had to explain what Gilligan's Island was

Then we ran into Clara's friend Lauren and her family and ended up going around the neighborhood with them too. The kids had a blast; it's so much more fun trick-or-treating with friends.