We spent Thanksgiving at Martin Dies Jr. State Park. We left on Wednesday, which also happened to be a certain someone's birthday. It was kind of a bummer traveling on his birthday, but he got to open his present from Bia and Pawpaw before we left home, which gave him plenty of reading material for the trip, and then he got his gift from Grandpa and Grandma when we got to the park. They gave him a car that has pieces you can switch out with other cars and he loves it and is asking Santa for more of them.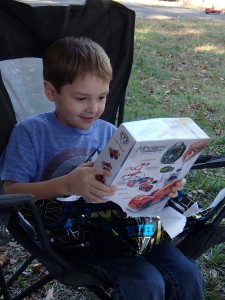 We had our normal Thanksgiving fare– ham, green bean casserole, pasta salad and pumpkin pie. The weather was gorgeous all weekend, so we were able to sit outside and not freeze our behinds off like we did a few years ago.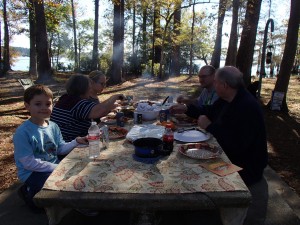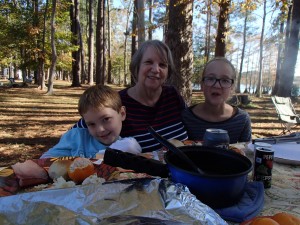 Two British families that are living in Houston now were camped across from us and had put their canoe in by our campsite. They were very generous and offered to let us take their canoe out. That was my first canoe experience and it was just a little nerve-wracking for both me and the kids. It felt like we were going to tip the whole time and apparently I can't steer a canoe. So we didn't last real long out on the water. You can tell the kids were having a blast.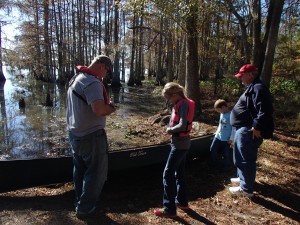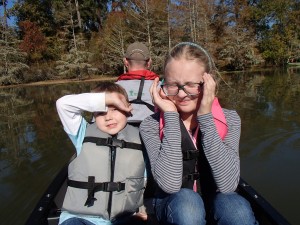 We went on a short hike on a small island trail afterwards. We tried to find a letterbox but the directions weren't real clear so we left empty-handed.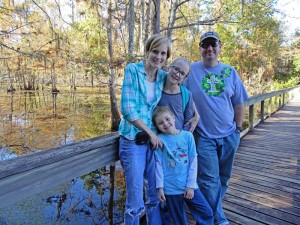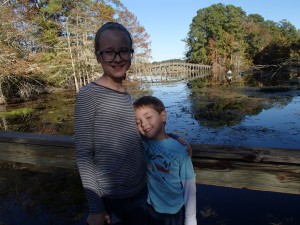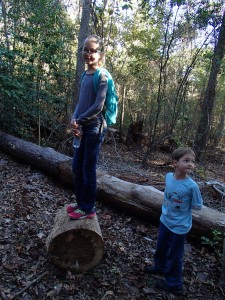 We tried one more and weren't able to find some of the landmarks at first but kept on and eventually I spotted a tree that looked like it might be it and sure enough it was! It was very exciting to finally find one. It had been four years since the last stamp in our book.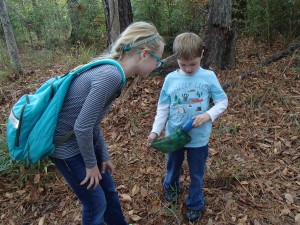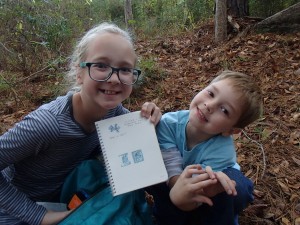 We needed to run into town for gas and a couple of groceries. Not thinking, we ended up at Wal-Mart. An hour before black friday deals started. There were several police outside already and it took us a minute to figure out what was going on. They had aisles roped off only allowing one entrance to the registers and there were lines of people all the way down the main aisles towards the back. Groups of people were just standing in the grocery aisles waiting. Oh my goodness, I could not get out of there fast enough. I don't get it. It felt rude and wrong to be there just to get a few groceries. I felt so bad for what was about to be unleashed on the Wal-Mart employees

It was nice to get back out to camp and to this quiet, peaceful view.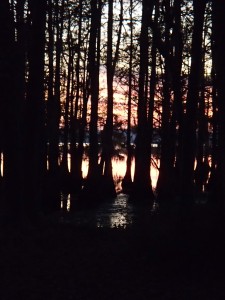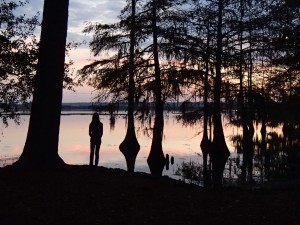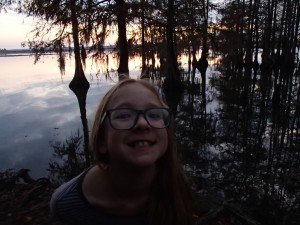 Dan and Linda stayed at a nearby hotel and left to head back home on Friday. We stayed until Saturday. On Friday we took the kids on another trail that was supposed to have three letterboxes. I thought for sure we'd find at least one. Nope. No luck. And two of them we know we were looking in the right spot. They just were not there anymore

Robert's pretty much done with letterboxing. He can't take the disappointment. Ha!
Anytime we weren't hunting for letterboxes or eating, our two were playing with their new British friends, Louie, Ava, Florence and Martha. When they first started playing, Robert said, "She sounds like Lucy" (from the Narnia movies ). The girls loved Clara. One of the girls wanted to play with Clara one morning but we hadn't come out yet. She had been told she had to wait until we came out and she couldn't knock. I guess she paced back and forth and eventually sat on our camper steps waiting for Clara to emerge and we didn't even know she was out there. After a couple of days playing, Robert came into the camper and said, "Mummy, here's a flower for you. Isn't it lovely?" in a pretty darn good British accent. It was pretty cute but I made sure he knew not to talk like that around the kids because they might think he was making fun of them. My favorite was hearing the four year old talk about her "head torch", or headlamp.
We snapped a pic right before we left and before the girls were out of their pjs. Ava was not at all interested in joining the group picture.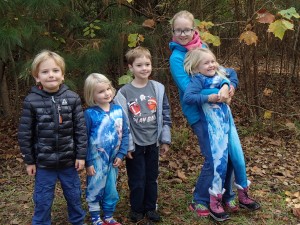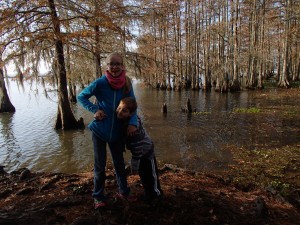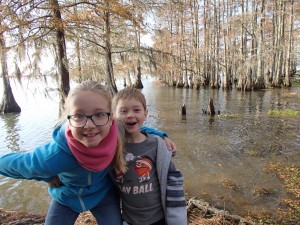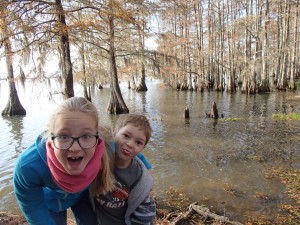 We were ready to roll by 9:05. The Brits were highly impressed. That's the earliest we've ever been packed up and ready to leave. Robert had a classmate's birthday party to attend at 12:30 at Chuck E Cheese. He's only had one birthday invite from a friend in the past year and had to miss it when he threw up at school the morning of in October, so by golly, I was bound and determined to get him to this party no matter how inconvenient! And if we hadn't had to wait 30 minutes in line at the dump station, we would have even made it to the party right on time. I would have loved to ease back into reality, but alas, a 7 foot mouse, arcade games and screaming children beckoned us. And they beckon us still; he's invited back to Chuck's place Sunday for his friend Javier's birthday. Sigh.