Robert's teacher explained to the class about the POD awards earlier in the school year in preparation for their first POD awards assembly.  POD stands for Practicing Outstanding Determination and is awarded to one student in each class at the end of each grading period. A pod is a group of young alligators in case you're wondering why on Earth it's called that

All of the kids in grades 1-5 come to the gym for the assembly in two different groups of either 2 or 3 grades.
It's kind of a big deal. The kids are surprised and they get to hear their teacher say really nice things about them in front of their peers and parents. Robert was so excited for his first POD awards. His teacher talked to the class about disappointment, being happy for our friends and to remember that only one person would be receiving it but there would be lots more chances to earn it in the years to come. I reiterated all of those things, especially when I got the call from Clara's teacher that she would be getting it but I hadn't heard from Robert's.
The morning came and when I went to wake Robert, who is not normally very chipper in the morning, he shot out of bed with a huge smile and said, "Today's the day!" Uh-oh. I asked what was special about the day and he said it was the POD awards. I reminded him about our conversations and he said, "I know, I'll be happy if one of my friends gets it." I asked him if he thought he might get it and he smiled shyly and said "maybe". I could tell he thought he had it in the bag and I know how badly he handles disappointment. He's so hard on himself. If he's not perfect or the best at everything he does, in his mind he's stupid and a bad person. (We're working on it.)
So I debated in my mind for about three seconds before I told him that he wouldn't be getting it. He was heartbroken and it broke my heart to see him like that. There were lots of tears. I know he needs to learn to deal with disappointment, so I appreciate these kinds of situations that allow him to work through those feelings. I didn't want him to be going through it at school without me there to help him process it though. I told him that I wouldn't tell him any other time and that if he asked in the future, I would just say "I don't know." I also decided not to inform him that his sister would be getting it that day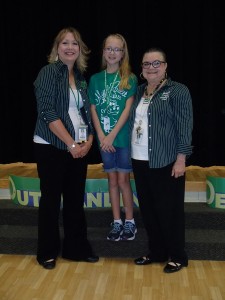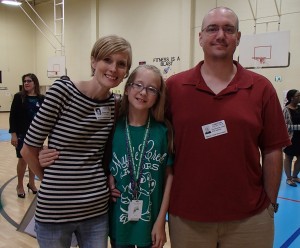 Grandma was in attendance because that was the morning she was coming to pick Clara up for their roadtrip to San Antonio. She just got to town a little early to surprise Clara. And that meant we could prolong telling Robert because Clara and her award would be long gone when he got home from school. Win-win!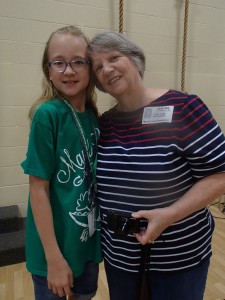 The second POD awards came around right before the holiday break and look who is the now a proud POD member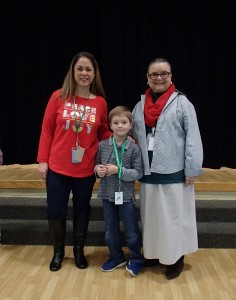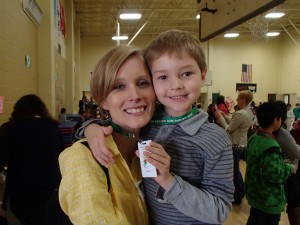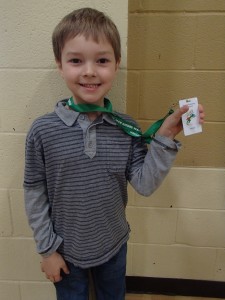 Clara was so funny. Robert hadn't even mentioned the awards and I set out a bit nicer shirt for him to wear hoping it wouldn't raise suspicions. I had also been combing his hair all week which is unusual. I'm an awesome mom. Couldn't let him receive an award and have his picture taken for the wall with bed head

He was eating breakfast as I saw Clara come downstairs in her school spirit shirt. I shooed her back upstairs and told her to change so I could get Robert to school in his nice shirt and told her why. She was so excited. A minute later, she waltzed downstairs with a new shirt and her award dangling from her neck. (Each assembly thereafter, the kids get to wear their award if they want.) I caught her and told her to put it in her backpack until she got to school. As she sat eating her breakfast, I looked over and she was smiling down sweetly at her unsuspecting brother. It was really cute, but I was just like, "Dude! Play it cool!" Ha! Normally they're fighting like cats and dogs in the morning. Then I ran into her teacher before the awards and Clara had told her he was getting it. During the assembly, I could see her talking to her friends and pointing him out and clapping a little extra when he got it. She was so proud of him

He was obviously proud of himself and we got some pretty cute smiles when he spied us sitting among all the parents. But then he got home and told us he didn't want it anymore

He said that a boy in his class, who has been causing him a bit of trouble lately I might add, cried and cried because he didn't win it. This boy has acted pretty terribly toward Robert and others and Robert has made me so proud by forgiving him and remaining his friend. I'm pretty sure there is some jealousy involved since Robert does well in school and being "good" just comes naturally for him. I just don't think things are as easy for the other boy and he is continually in trouble. This boy has hit and tripped Robert, among other things, and yet my child still felt bad that his good fortune caused sadness for someone else. I'm tearing up as I type this. I am so lucky to have such compassionate kids. Both of them have dealt with meanness directed toward them this school year and both have taken the high road. They really seem to grasp the concept that these classmates are struggling. They can see them struggling both academically and behaviorally and I've reminded them that that's just what they can see. We have no idea what their homes and families are like and so we need to have compassion for them. I try to help them understand some of the issues of poverty, divorce and abuse that many of their friends may be dealing with and how that might affect how a person behaves, but it's hard for a kid who is safe, fed and loved to grasp that not everyone feels the same way. It has certainly opened up plenty of conversations about what we believe and how as Christians we are to do all things in love.
Chris had a long conversation with him, and I think he's decided to proudly accept his distinguished award.