The drive to Ft. Davis gets it's own post. We debated about whether or not we should stop off at the Caverns of Sonora on our way to our next destination. It was already going to be a long drive, we planned our grocery shopping on our travel days and we had just done a pretty big hike the day before. On the other hand, we had already skipped one of our planned excursions by not going to Lost Maples, so I really didn't want to miss another.
So we did it. We hit the donut shop for a late breakfast in Junction and also the grocery store and that put us at the caverns at close to noon. We had to wait until 12:30 for a tour. The caverns were 72 degrees with 98% humidity. They kept warning us about how warm it would feel, but I was quite cool and comfy

I had been to these caverns once growing up (no doubt on the drive to Garner one summer) but I don't remember too much from that visit. I really enjoyed these caverns. The tour lasted close to two hours and we went to a depth of 150 ft. The kids really enjoyed it, but by the end, they were ready to be back at the surface.
Of course, pictures can't capture the awesomeness of this underground wonderland. Everywhere you turned was a new type of formation. You had to duck in places, turn sideways to get through some passages and watch your step else you would brush against stalagmites growing right next to the path. You could see an occasional formation that looked as if it had been accidentally broken by tour goers. Chris has some pics on his phone that I'll add later.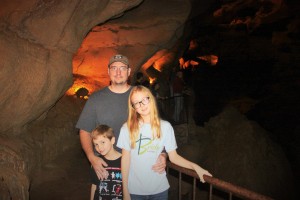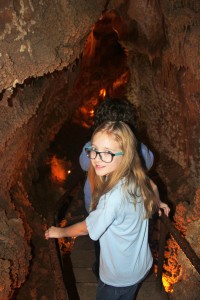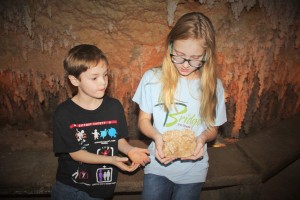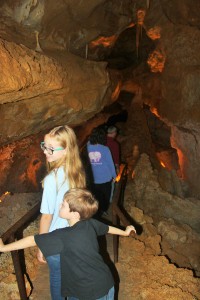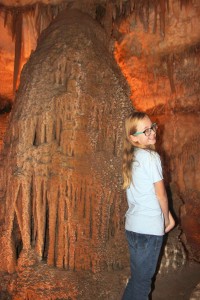 We decided the original cave explorers who gave some of the formations their names must've been hungry. We saw popcorn, cave bacon, applesauce, fish tails and soda straws. The formation that these caverns are best known for is their "butterfly". Unfortunately, about ten years ago, a person at the back of a group broke off a portion of one of the wings. I can't even wrap my head around what would compel someone to do something so awful. I asked the guide about it. It is located at a turn in the path and the guide is supposed to stop by it and direct the group around the corner until everyone has passed and then rejoin them at the front. On this particular day, the guide didn't do this. I saw somewhere that he was purposefully distracted by someone else in the group. It wasn't discovered until the next tour came through. Our guide said they eventually found who it was and the guy was sued for millions, but I looked and wasn't able to find anything about it online. I do believe that is when they made their tours smaller. They do not allow more than 12 in a tour now.
It was after 2:00 when we finally exited and we still had a 3.5 hour drive, needed to get lunch and gas. It was almost 7:00 when we pulled into Davis Mountains State Park but I'm glad we made our stop at the caverns.
Here are some of Chris' pics. Proof that I was actually there.