A couple of months back, 5th graders came home with flyers asking for parent volunteers to be on a planning committee for the kids' end of year party. Fifth grade is the only grade that gets such a party, so the kids really look forward to it. About 10 people said they'd be on the committee. Beginning of May rolls around (less than a month before the party) and we have our first meeting. I was the only parent to show up. We don't have a functioning PTA this year and staff is too swamped with end of year stuff to put on a big party. Sooooooo, unless we wanted to scrap the party and just have ice cream in their classrooms, I had to take it over. It was me, an asst. principal and two 5th grade teachers at the meeting. The 5th grade student council had decided on what they'd like to do, so we went over a few ideas for the party.
I sent out an email to everyone informing them that I was the only one to show and so I would coordinate. I made it very clear that I didn't actually want the job, am terrible at planning, had never planned a party in my life and would gladly hand it over to any interested party

No one took me up on my offer. A few were apologetic and asked if we could meet again, so we set a date a week later because having a closed campus due to STAAR testing got in the way. I was the only one who knew what was going on and then I went and got sick and couldn't attend. Grrrrr. So I sent them my notes and the few that showed came up with other ideas. It was so frustrating trying to get on the same page. I begged for feedback or for someone to take on a portion of the party, but everyone just kept saying that they'd "help". Needless to say, these last few weeks have been quite frustrating for me. In the end, only about 3 or 4 people helped with any of the planning or prep involved. The rest never even replied back to me. One mom shared plenty of criticism with me and others for how badly this party was being organized and how horrible the school is. Some were under the impression that it was a dance and weren't happy that we didn't hire a DJ. Even when told that the party ideas came from the kids themselves, this mom was still was upset. Apparently the 8th grade has a fantastic PTA that goes all out for their dance. Ok fine, but why should we force a dance on 11 year olds that said they don't want a dance? Mind boggling.
Ok, rant over (mostly). The kids decided they wanted a glow in the dark themed party. They wanted to play games, including ping pong and Just Dance on the Wii. They wanted blacklights, fog machines and disco balls and wanted to paint t-shirts for the party with glow in the dark paint. We added glow in the dark bowling, face painting, a photo booth, posters with the class pictures to have signed by classmates, Twister and sno cones, popcorn and cupcakes.
No one wanted to take on decorations, so we just bought a few glow in the dark stars and balloons and I made this poster the night before. The stage was supposed to be completely dark for glow bowling and we had borrowed a couple of blacklights so they could come on stage and hang out for a bit and see themselves glowing. I put two volunteers up there to keep the kids under control and to only let a handful up at a time. Well, a few minutes into the party, I saw the lights come on and turns out some kids were throwing the softball too hard for bowling. They'd hit the volunteer twice and then hit a blacklight and broke it. I had borrowed it from a teacher and feel terrible. So what I thought would be a highlight of the party for the kids, being able to hangout under the blacklights, got axed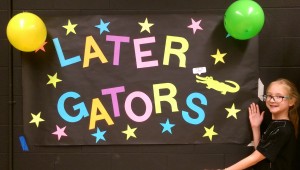 We had lots of prizes to be given away as drawings and the kids hovered around the prize table like vultures. I had to guard it like a hawk and send them away the whole time. In hindsight, I should have had someone stationed there, because I couldn't check on everyone during the party without grabbing an adult to stand guard for a minute. I incorrectly assumed that my other party planning volunteers could figure out if there was a problem and fix it. I was totally overwhelmed at that point, so I was counting on everyone to do their part. I had lots of parent volunteers but no body takes any initiative. They only want to be told exactly what to do. There were even parents who said they were unable to volunteer but would be at the party, but they couldn't be bothered to pitch in when there was a problem. I probably could have prevented the blacklight fiasco if I had seen they were getting rowdy. Chris took the pictures for the photo booth. Halfway through the party, some kids found the table with photo booth props 20 ft. away and asked if they could move it closer. My few set-up volunteers hadn't moved the table near the backdrop and Chris didn't even know they existed. I'm like, "Come on people! Work with me!" Then my class picture volunteer forgot to tell the kids to sign the posters for their teachers and to bring their posters back when they were done so they didn't get messed up, so the kids carried them around the whole time and I saw them laying around, getting stepped on. Rant #2 over.
I didn't get many pictures (see above rant) and because it was so dark in the gym. Here is Clara and Ivonne playing the game where you see who can get the most cotton balls from a bowl on your head and into the bowl on your lap with a spoon in 30 seconds.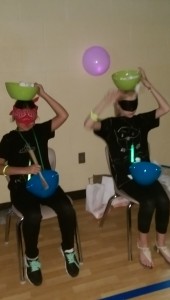 Chris' friend Scott let us borrow his party disco light. It was huge and sat on top of a speaker. We just plugged in a laptop and played kids bop songs. The kids started requesting songs from the asst. principal, so she ended up being my impromptu dj. They wanted a few line dances and had lots of fun doing that as a group. One of the teachers even joined in a couple of the dances.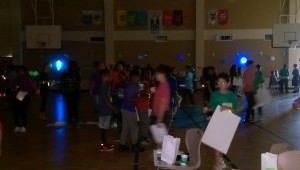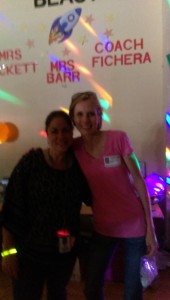 Clara and Kaneeze plopped down for a rest in front of the prize table, so I was able to snap a quick pic.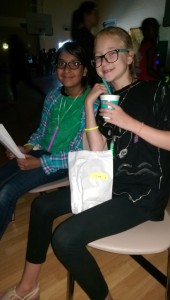 The person who said they'd decorate for the photo booth was unable to, so about 15 minutes before party time, people were running to the workroom and grabbing paper to slap over the window. Sigh. Oh well. I couldn't do every single thing and my party volunteers were showing up and asking where to go and what to do, so I just had to lower my expectations a bit and go with the flow.
Here's before and after finding the photo booth props. Ha!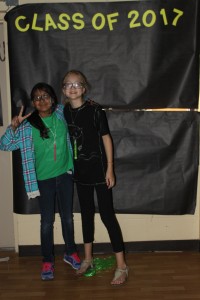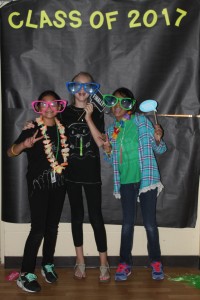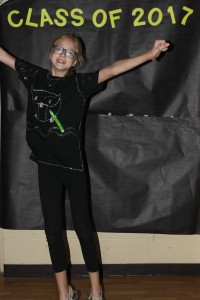 And having a bit of fun with her blinking ring.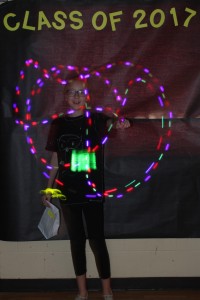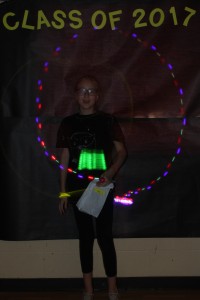 Chris took this pic of the party light across the gym. That thing filled up the entire gym ceiling. It was so cool and I'm glad we were able to borrow it and even more glad that we didn't break it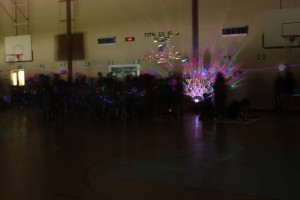 In the end, despite the hiccups and headaches, I'm glad I took it on. I do NOT want to be in charge of something that large again any time soon though! Ha! It felt completely out of control, but I have gotten countless compliments on how well organized it was, how age appropriate the activities were, and how much fun the kids had. The teachers and staff who came in told me it was the best party they've had at least in the years they had been there. Even people who didn't come in to the gym were telling me they heard how great it was and kids were thanking me in the hallways

I aim to please.