At a campus meeting sometime this year, I expressed my frustration with the end of year "Celebrations of Learning". I explained how pointless I think they are and what a waste of time I believe them to be to sit there for an hour and half to just have the kids walk across the stage and receive an envelope with their name on it. The gym is unusable for almost two weeks as it's set up to accommodate 8 different assemblies and the admin and specials teachers are pulled from their normal duties into each assembly as well. I said it a nicely. I think.

And since I'm usually one of the only parents to come to any parent/school meeting, I'm listened to quite often. They beg for parent feedback, so I give it to them. Myself and another mom got kinder homework to be optional last year when we argued that five year old boys don't need more sit down work to do when they get home from school. They added a second recess for K and 1st this year after I expressed concern about how little free play time they have, and even the 5th graders started going out to the playground first thing in the morning before they went to specials. The teachers know they need more activity, but it takes parents standing up a lot of times to get things like that changed.
And this year, celebrations of learning for the younger grades were held in their classrooms. Woohoo! I'm sure some parents hated it, but I much preferred a shorter, more intimate setting to a long drawn out ordeal in the gym. Robert's teacher gave out personalized awards to each of the kids. She read the name of the award and had the kids guess who might be the winner before she announced it. Robert received the Worm Award for always having his nose in a good book and the Owl Award for always sharing tidbits of knowledge with his friends. (He gets that from his grandpa) 😉 The kids got a cupcake and watched a slideshow the teacher had prepared. They loved getting to look back at their year. They sang a song for us and we watched them dance to a couple of Go Noodle songs on the smart board. Go Noodle is what they do for indoor recess and "brain breaks" during the day to get the blood pumping. Robert was really shy and wouldn't dance at first. He kept looking back at me and smiling but the music must've gotten to him, because he busted out some moves that I've never seen before! It was hilarious and I was able to get some of it on video. He is so very white.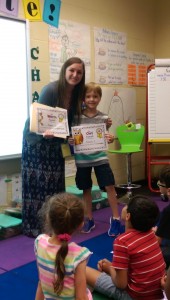 Robert had a great 1st grade year. He loved his teacher, had lots of friends, learned a lot about dealing with difficult people (ahem) and showing empathy, and his reading and curiosity has just continued to skyrocket. A diverse Title I public school classroom is chock full of real world learning opportunities, let me tell you.

I'll be honest, I'm frustrated at times with the environment and think a more affluent school would be a nice break, but I also believe it's so good for them and there are wonderful teachers and staff here. There are also a lot of benefits that come with Title I funding that all of the students benefit from. We'll continue to re-evaluate each year. If we ever feel it's gotten too bad, we'll be looking at alternatives, but for now, we're happy, I'm involved, and the kids feel secure. My plan is to continue to be involved and to effect change where I can to help make it a more positive environment.
2nd grade, here we come!