This was yesterday at 12:40 and I've already threatened them with boarding school. Is it August yet?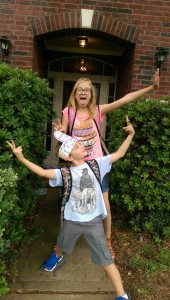 Well, this in new. More of that public school influence.

I just googled it to make sure he wasn't throwing up gang signs or something (I'm also so white) and here's what it means according to Urban Dictionary–
The act of putting up the peace sign with both hands while simultaneously crossing both arms. Also used to signal that you are leaving the premises.
1. My closest bromigo and I wanted a rad picture together, so we decided to throw up the double dukes.
2. I had to dip from the party, so I chucked up the double dukes and left.
I guess I can be ok with that.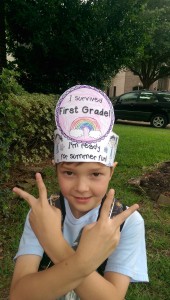 And this is the state of my front rooms after party and school desk-clean out.