RDR has a fundraiser each year that they call the Glow Run and the kids make posters to hang all over the school to promote it. Lauren came over one afternoon to help finish one they were working on. I was in the hallway one morning right after they hung it and overheard some kids saying it was the best one. The glitter put it over the top. That was my idea 😉 I did have to stop them from glittering the entire thing though.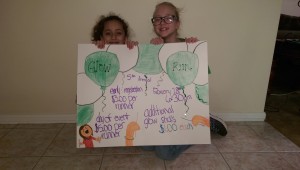 I never posted it, but Clara had one of her pieces of writing featured in the school's writing gallery back in the fall. I can't even remember what it was about. I'm assuming an owl was written in there somewhere. I know, I'm terrible. Parents of the winners come up a few minutes before school starts to see them receive their award from their teacher in the hallway in front of the gallery. The teachers tell a little bit about why their piece was selected from the entire grade and the kids read their work for everyone.
Just like what happened with the POD awards, Robert was devastated that he didn't win the writing gallery award. He was angry and couldn't understand why he didn't win. The 1st grader who won was in his kinder class last year and I think that stung a bit since he knew her. The girl's handwriting was impeccable and her drawings that accompanied the writing were very detailed and colored in nicely. I explained to Robert that he hates writing. I have to stay on him to come up with a few sentences of writing homework he has each week and he rushes through it without even thinking, doing the bare minimum. He forgets punctuation and capitalization and doesn't understand why he needs to correct his "Ss" when he writes them backwards. He hates drawing pictures to go with his writing and his handwriting is atrocious. There is no way that he deserved that award more than her and I told him that. I said he would have to step up his writing game if he wanted to win that award. I saw this look in his eyes and I thought to myself, "By golly, he's going to get that award next time." I can't explain it, but I was sure of it.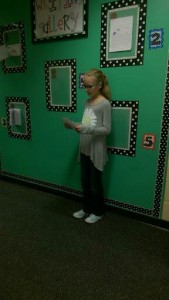 So February rolls around, and would you look at who won the writing gallery award for 1st grade.

He is unbelievable. When his teacher called to tell me, I couldn't help but shake my head and laugh. Of course he won it. To be fair though, the first grade assignment this time didn't require too much in the way of writing. It was an acrostic of his name. R-Responsible, O-Organized, B-Brave, E-Energetic, R-Relaxed, T-Trusting. I think Obstinate, Bullheaded and Tenacious would have worked as well.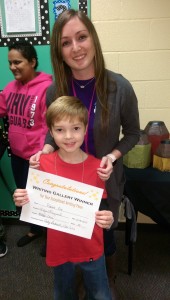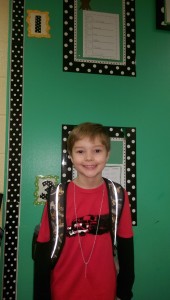 I heard him telling Clara what his self-portrait looked like that he did in art class, so one day when I was walking through the halls I spied this magnificent piece of art and knew it was Robert's.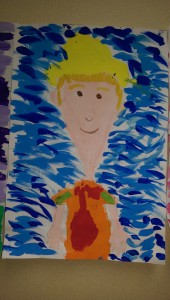 He lost his 2nd tooth some time in February I guess. The pic was on my phone. Don't remember it at all. Just know I didn't throw this one away. Oh wait, I remember now! I heard him get up the next morning to go to the bathroom and panicked because I had fallen down on the job. I ran to find some cash, ran upstairs and threw it under his pillow, hoping he hadn't looked yet, and then high-tailed it back downstairs. Fun times. He had written a note asking the tooth fairy if he could keep his tooth and get some cash, so I didn't have to go searching for it.
He figured out the Santa thing right before Christmas, so I had assumed the gig was up with the toothfairy too, but he hadn't mentioned anything. And then, right before bed he was talking about the toothfairy and I saw a lightbulb go off. He asked if I was the toothfairy. I don't remember how, but I evaded the question or acted like I didn't hear him or something. He didn't ask again, so I think he decided that maybe he didn't need to know. I was good with that.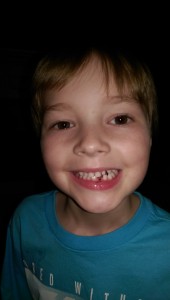 I was in the workroom on Valentine's Day when I heard a sing-a-gram being delivered to staff in the conference room next door, so I snapped a quick picture of Clara with her choir friends. They have so much fun doing this. I saw them catch the asst. principal in the hallway and stop her to sing "Skidamarink" and then they ran off to deliver the rest.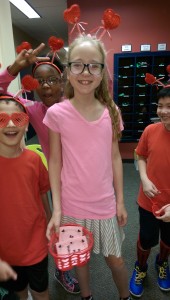 This whole year has been rough for Clara and her allergies. Some days she has been absolutely miserable. I ended up leaving Benadryl in the nurses office and she would call me and ask if I'd like her to take it. That was part of the reason for her struggles in class this semester. More than once she brought home a paper or test that she got a failing grade on and every time she said it was because she had a bad headache or was an itchy, sneezing, plugged up mess. She would leave the house just fine most days and by 9:00 was miserable. I started to think it was something in her classroom. Especially when she looked like this. She went to the nurses office before 9:00. I was at the school, so she called me in to take a look. Her eye did not look like this when she left the house an hour before. I was crazy. It doesn't even look like her. I brought her home early one day and Chris took meds up one day when the nurse couldn't reach me. This is when I filled out the forms to leave the Benadryl. Sometimes it helped, other times didn't do a thing.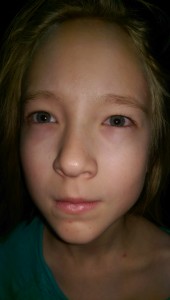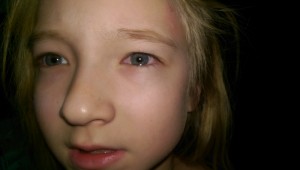 Around this time, I ordered allergy drops specifically formulated for Texas trees, weeds and grasses that go under the tongue. It helped almost immediately. Only problem is it wears off after a few hours. For a week or so when she was dealing with this eye stuff and major nasal congestion and sinus pressure, I started giving her allergy eye drops and a decongestant before school and then checking in on her and giving her another dose when she went to lunch. When the drops came in the mail, I gave her just a couple for her first dose to make sure she didn't have a reaction. The next morning, I gave her a few drops along with the decongestant. I went up to the school at lunch time to drop of Puffs Plus and a small tube of eucerin for her nose because it had gotten so chapped it was about to bleed. I kid you not, I walked in to the cafeteria, she ran over smiling and said she didn't need the medicine or kleenex! No runny nose, no rings under her eyes, nothing! Her eyes and face looked clearer and happier than they had in weeks. I was amazed. I told her it was the drops. She refused to believe it at first and fought me on it because she hates the taste. In the end though, feeling human again won out, so she grudgingly took them each morning for the next couple of months. We had also removed dairy from her diet a few weeks before this to see if maybe that was the culprit. She was waking with stomach aches every single morning and wasn't eating breakfast, but she would feel better by about 9:00. After some reading, it sounded like it might be stress related, so I thought it might have been because of STAAR testing or something else. She assured me that she wasn't feeling stressed out about anything. Now that I think about it though, it may have been. I just realized she's been eating better these last few weeks since STAAR testing is over. Hmmm, I'll need to mull that over a bit.
Moving right along. Chris went to Calgary for a few days at the end of February and I went and got myself in trouble again and had a nice surprise for Chris when he returned. This time I peeled off the horrid wallpaper in my powder room that has been mocking me every time I've entered these past two years. Seriously, I'm like a toddler. Chris can't turn his back on me for one second. He was only gone for three days, so I didn't even attempt to finish it up. He couldn't be mad at me because he was coming home on my birthday.

I would show you an after, but it's not done yet. Someday maybe.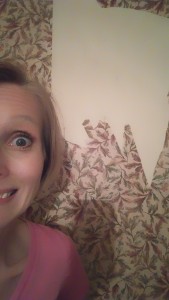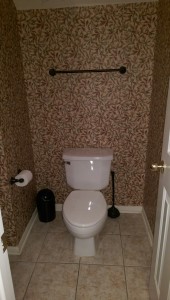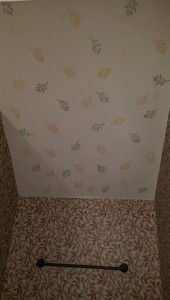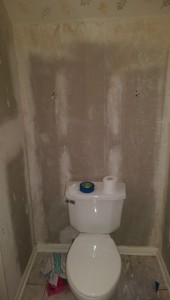 And here's a picture from Clara's glow run. She stayed after school and put together the balloon arch you see in the background and helped with registering the runners before the race.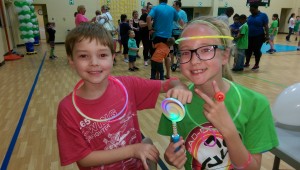 I only got one picture of Robert and his friend Aldin at the starting line. Clara was off doing her thing, so I didn't even see her until after it was over. It's so nice that she's old enough to not have to worry about her and to know that I can just go find her when it's time to leave. Not quite there with this one, but he's getting closer.