The last week of February, first week of March, was literacy week at school. They borrowed my awesome corgi knee high socks and wore matching, mismatched socks for Fox in Socks Day. For Cat in the Hat Day, Clara donned this dragon hat, proving without a doubt the unwavering self-confidence she possesses.

They also had their storybook parade, but I didn't get pictures. Clara wore her Athena costume and I cut up a t-shirt and added some red fabric paint to the edges so he could be a boy from "I Survived the Shark Attacks of 1917". He pulled his arm inside his shirt for the parade so it looked like it had been bitten off. It may have been a tad inappropriate for school. Ha!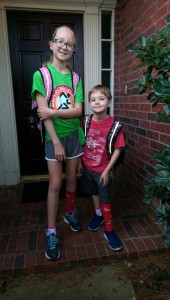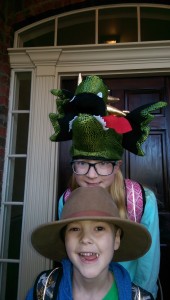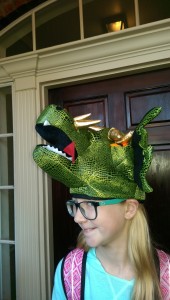 We tried out a hibachi grill nearby for the first time for my birthday. I don't think Robert had ever been to one. He loved it and said it's his favorite now.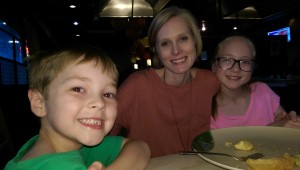 I was so excited about getting the wallpaper off the powder room walls that I jumped head first into the kitchen. I just love having loads of unfinished projects piling up!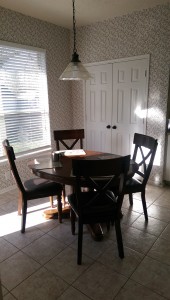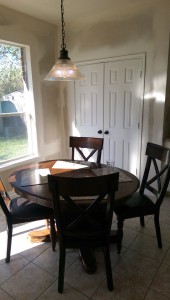 Around this time, our roofer sent someone out a few times to repair a couple of leaks in the ceiling. We then had to wait for a hard rain to make sure the repair worked. And then one of the repairs near the chimney again started leaking, so they came out again. They hadn't replaced a rotted piece of wood against the chimney, so they did that and then caulked all of the siding around the chimney. Waited for another storm….. Then they sent someone out to make the ceiling repair. While he was here, I got quotes for texturing my walls and painting in the living room/entry since the walls are too high for me.
The painter had another long job already lined up, so it wasn't until the beginning of May when he was able to come back out. He patched the spots on the ceiling and thankfully the roofer decided to repaint the entire ceiling for us! So they did that as well. They started on the kitchen and powder room walls as well. He had another job lined up after that and was supposed to call back a couple of weeks ago, but I still haven't heard from him. I wasn't too worried about it though since I've been so busy with end of school stuff. Anyway, that's why these rooms are still works in progress.
We usually go camping during spring break, but we decided to stay home this year. Chris was leaving for Rio at the end of spring break and since someone always gets sick because of the allergies at that time of year, we thought we shouldn't risk it. We hung out with the Couringtons at their new house one night, celebrated Chris's birthday, went and saw the Lego Batman movie and Chris worked half days and worked on extending our fence that whole week. Our neighbor has been asking if we would mind extending it and we were good with that because that would put our pool equipment in the backyard. Plus, a storm in February had left that portion leaning and the gate would hardly close, so we needed to repair it anyway. Robert was a good helper.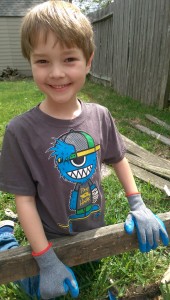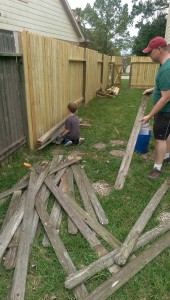 I don't think I took on any projects while he was in Rio. Maybe because he was only gone a few days, but also, I might have been in trouble if I had added another unfinished project to the pile.

Chris' trips were pretty short, but he managed to miss math/science night, the glow run and Clara's last school choir performance, which was at the end of March.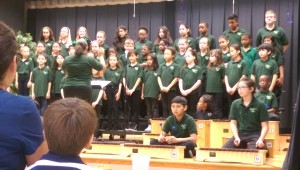 Once Chris got back, we got the pool cleaned up and the kids had their inaugural swim.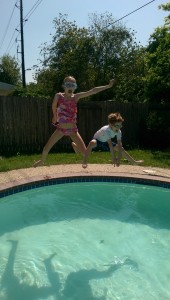 That last week was STAAR testing for Clara. Robert ended up getting sick that week. After her first test on Tuesday, they swam after school. Robert was complaining a little and acting a little sick and I wondered if he was coming down with something. He woke Wednesday morning and said he didn't feel very good, but he was showing no symptoms. He was running around laughing and playing so I thought he just didn't want to go since it's pretty miserable during STAAR for the entire school. Felt pretty awful when he got off the bus and looked miserable. Took his temperature and he was running a fever. This boy has been to the nurses office too many times to count but when he's justifiably sick? Nope. Just suffered through the day without telling anyone.

I emailed his teacher and she felt bad too. She said he was more quiet than usual but didn't suspect that he was sick either.
He really didn't have many symptoms except for the fever. It wasn't even that high and he wasn't miserable, so I didn't even treat it. He eventually developed a cough, so he did get some meds for that at night when he had coughing fits. I finally took him in to the CVS clinic on Friday morning. Mind you, this was less than 48 hours after taking his temp after school on Wednesday. The pa gave me a really hard time and couldn't believe I didn't treat the fever that went that long. I told her I only treat them when they're feeling miserable and can't rest. Otherwise, I let them do their job. She eased up a bit when I said I had given him cough meds. I guess she thought I was a crunchy mama who refused to medicate? I don't know. Turns out he had an ear infection in one ear. He hadn't had any pain, but he winced when she shoved it so deep in his ear and she just kept moving it around, pulling on his ear. I just about stopped her because it was obviously hurting him. I haven't seen anyone be so rough with an ear check. She said it was ruptured and I'm pretty sure she did it. She asked him if it hurt and he said yes. I asked him later and he said it didn't start hurting until she shoved the otoscope in his ear.

I prefer to give people the benefit of the doubt, but I'm not entirely convinced that wasn't done to teach me a parenting lesson.