This is like Christmas in June. I'm spoiling y'all!
Justin's birthday party was the day after Robert got his ear infection diagnosis. He actually felt ok, but he kept having those coughing fits, so we decided he probably shouldn't be hacking all over the party guests and we'd be almost an hour away from home if he did. Chris stayed home with him while Clara and I headed up to Spring. The newest Decarlo is the spitting image of his big brother. Clara helped keep him corralled for Danielle since he didn't want to miss out on any of the action.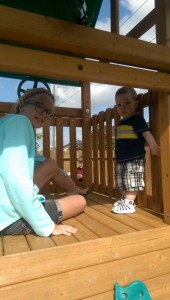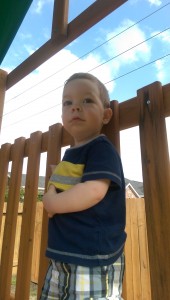 Here's a comparison pic. Travis is a year older here. Awww, weren't they cute?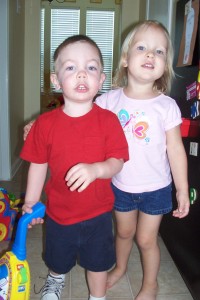 It was a good thing Robert didn't come. Before I got home, Chris called and said he was having a coughing fit and couldn't catch his breath. He had thrown up everywhere and just could not get it under control. It wasn't a productive cough at all. I got him into the bathroom and started the steam. I gave him a cough suppressant but he just threw it right back up. I ended up getting a syringe and giving him just a tiny bit when it slowed and he could catch his breath and then waited a minute before giving him more. It took about 20 minutes, but it stayed down.
I felt so bad for him. It was getting really late and he just wanted to sleep, but it still wasn't slowing much. In between coughs he asked me "Am I going to die?"

Poor guy. If he hadn't stopped soon after, we probably would have taken him in, but the cough eventually started to subside and he was able to get a good night's sleep. He was back to school on Monday, but fell asleep on the bus ride home. He got in trouble at school and fell asleep early on the couch the first half of the week. It really wiped him out.
I took on another project and cleaned the shower tile with an acidic cleaner that eats away all of the hard water deposits, leaving it smooth as glass, as well as re-caulked. It was not as easy a task as I had envisioned. (Is it ever?) There was crumbling grout behind a lot of the caulk, so not only did that make it harder to remove, but then I had to remove the loose grout as well. In the end though, I'm happy with the lovely bright white.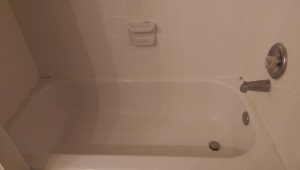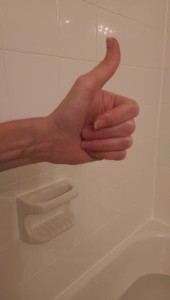 Chris has made friends with a man at church that is a car aficionado and he told him how much Robert loves cars, so one night after church, he let Robert sit in his cool car. I don't know what it is. BMW something or other, maybe?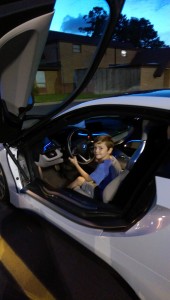 We went to Temple for Easter weekend.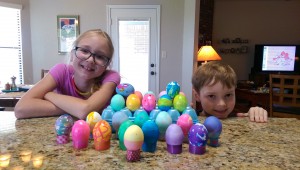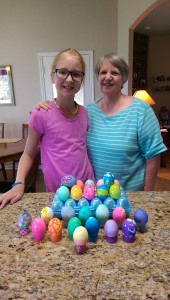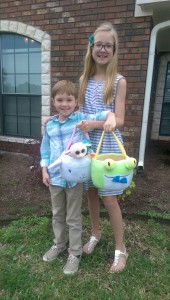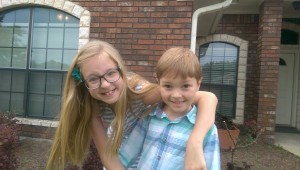 Saturday night before bed, the Easter bunny's assistants had convened to discuss the gameplan for distributing each of their batches of eggs on Sunday. It was decided to wait until after church to hide eggs outside while lunch was being prepared. Well, during the night, an impostor entered the home and left eggs all over the house. Neither of the bunny's true assistants said anything but both were wondering, "What the heck? Didn't we just talk about this?" The reason I know this was an impostor is because the eggs contained Hot Tamales (which the kids hate, but which look a lot like red Mike and Ike's that were intermingled in the eggs) and also Jelly Belly beanboozled flavored jelly beans. I didn't realize this until I got what I believe to be a mouthful of dog food flavored jelly bean. Linda found eggs hidden in random places for days after we left, including in her purse.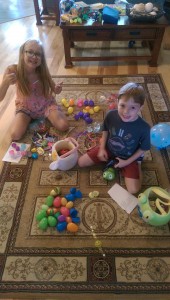 I just took a picture of a worksheet Robert brought home one day because I'm pretty sure I didn't learn the term "oviparous" or "non-oviparous" in first grade. In fact, I think I learned the two new words that day.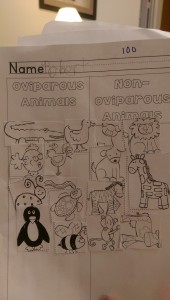 The kids had their field days at the end of the month. Clara and other RDR members got to help with the two sessions for the younger grades, so she enjoyed missing almost two full days of class between her own field day and the other two sessions. She was "working" the hula hoop station during this session. And that's the only picture I took because I was busy helping pass out snacks the rest of the time.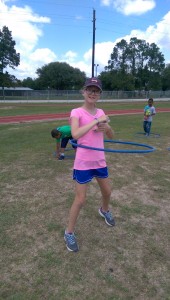 Robert fell off of his bike about five times over the course of a few days. He got back up pretty quickly with minimal tears each time, even this time when he hit his lip and almost busted it.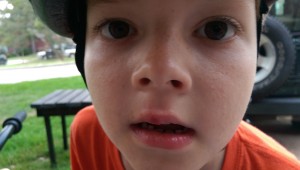 I'm going to get in trouble for posting this next picture. We've decided to finish out one of our attics. It already has a full size door going into it, so we're adding flooring and insulation and it will have an area for storage, as well as a space for Chris to spread out his hobbies. We had worked on it over the course of a month, and as he was laying down the second to last piece of plywood, he stood up fast and hit his head hard on the rafter above, falling off the plywood, one leg in the garage. We just added it to the quote the drywall/painter guy gave us, so no biggie.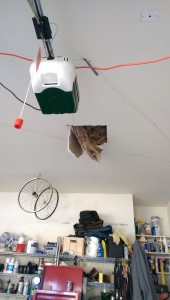 The science lab teacher had asked me several months back if I would help chaperone the 5th grade field trip to the Museum of Natural Science. The district changed chaperone rules this year and official chaperones must ride the bus with the group. I don't want to re-live all the gory details, but suffice it to say, I was traumatized for a week. Some of the kids were awful, even after getting a huge lecture before leaving the school. We were late getting off (b/c of lecture) and then hit traffic, so we got to the museum an hour late, having missed our scheduled IMAX movie. Everything had to be re-arranged and we never did really get things under control. It was awful. One boy got in trouble and ended up having to sit on the bus with the principal the entire time. In the end, we watched a different IMAX about the Galapagos and the kids did calm down and enjoy that thankfully, so I was able to calm down and breathe for almost an hour. I think a lot of them had never seen a 3D movie. We also watched a film in the planetarium. We only had a short amount of time between the two, so we had to scrap the initial plans of splitting into groups and ended up just winding our way through the dinosaur exhibit quickly in one long line of 130 kids and then had to eat lunch out front quickly before getting back on the buses. No pictures because I was trying not to flip out on kids the entire time.