May tends to always be busy, and that was especially true for Clara. The first weekend in May was the RDR finisher's race. It involved all of the schools in the district who participated and was held at the football stadium. The kids ran their last 1.2 miles to earn their finishers medals. The kids started in waves and made the first lap on the track and then they had a course marked off around the stadium and back in where the finish line was. The kid who crossed the finish line first was in the third wave! You could tell who the runners and "non-runners" were. Clara wasn't too concerned with her finishing time. She just wanted to stay by her friend Kaneeze

They pulled some kids aside and asked them a few questions on the loud speaker. The first dozen or so they interviewed said their favorite part was the running. By the midway mark, most of them said being with friends or reading was the best part of Read Deed Run. Ha!
This was the start of the race. Clara is on the inside of the track by her friend, watching what's happening on the field, not even looking ahead.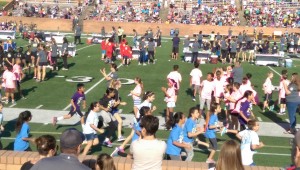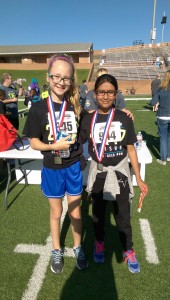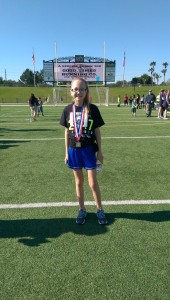 After this weekend was when I came down with some kind of weird stomach bug. I couldn't stand up without being dizzy and nauseous for about five days and didn't leave the house that entire time. There was one benefit to my sick time. The science lab teacher had sent me home with some extra caterpillars and enclosure she had left over from her classes. She's so sweet and knows how much my kids love that kind of stuff. Different grades this year raised butterflies, chicks, frogs, hermit crabs and praying mantis. Robert got to witness his classes chicks as they were hatching. As for our butterflies, they started emerging from their chrysalises while I was couch-bound, so I moved the enclosure right by me and was able to catch three of the four as they emerged. I called the kids over and they saw a couple of them and we got it on video even. It happens fast. Within a few seconds, it's cracked open and they have their  wings unfurled. It looks like a crime scene once they're out.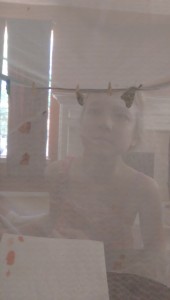 Around the same time I got sick, Dan and Linda both came down with something different. I got better and got busy on my party planning and preparing for a visit with them and Tim the following weekend. Clara was performing with a district-wide honor choir and they were excited to come see her. Dan and Linda were just getting over their illness when Tim arrived and then he came down with it and spent his entire trip sick. All week we spent waiting and watching to see if their trip here was going to happen. Tim was starting to feel a little better, but in the end they decided not to risk coming and possibly exposing us and traveling would have been pretty taxing on him after being so sick. We were all pretty disappointed

The choir was made up of 4th and 5th grade choir students from around the district (3-4 per school) who auditioned earlier in the year. Clara, Phi and Jazlynn represented their school. They practiced at home and the three also practiced together at school quite a bit. Clara attended two evening practices with half of the choir in the spring. This day in May was a culmination of all of their practice and the first time the entire choir was together. They attended a full day choral workshop with a guest conductor from out of state. The day included lots and lots of singing and fun. Some high school choir members performed for them and talked about what it's like to be in choir in high school and their lunchtime entertainment was provided by a local high school jazz band.
At the end of the day, they performed for all of the parents. I was blown away! They sounded absolutely incredible even after a full day of singing. The guest conductor leads the Birmingham Boys Choir and he was amazing. He spent a lot of time speaking with the kids about character, making good choices and the importance of balance in life. I'm so glad Clara got to be a part of this amazing experience. She's on the top row, first person on the left.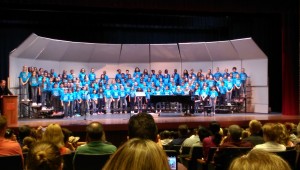 The next week, Clara got to go on her RDR end of year field trip to Main Event for a full day of fun. The next day was not so fun. She got two more teeth pulled at the dentist office. At an ortho appointment earlier in the year, the orthodontist didn't like the way her permanent lower canines were looking in the x-ray. He compared them to an earlier x-ray and it was obvious they had started going astray. They were no longer coming straight up, dissolving the root and pushing out the baby canines. Instead, they were coming up between her baby canines and the teeth next to them. The roots were soooo long! They hadn't dissolved at all. A day or two of Tylenol and soft food and she was good to go! This should be the last pulling required. I said that last time though, so we shall see. She's now got three permanent upper teeth she's waiting on and now these two lowers. Her upper canine that was pulled over 2.5 years ago is still nowhere in sight, but the other canine that was pulled when she had her ankylosed tooth extracted 1.5 years ago has just started peeking through. Yay! This is the first permanent tooth (that had it's corresponding baby tooth pulled) that's made an appearance on it's own, so that's a relief.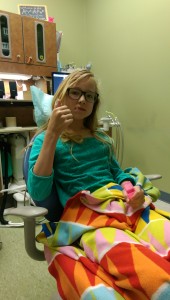 Clara got an invite to attend a fancy masquerade birthday party for her old friend Brielle which meant she finally had an occasion to wear her masquerade mask that Chris brought back from Rome several years back. I especially like the look in the second pic.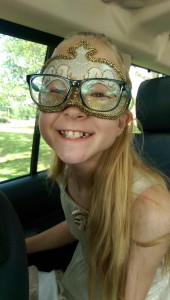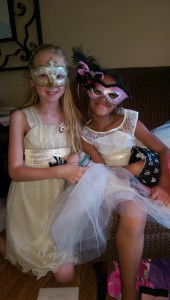 I wanted to do something for our teachers during Teacher Appreciation Week. Since we were basically without a PTA last year, I asked a few other moms that volunteer if they'd like to help me write chalk messages to the teachers and I ended up having a couple moms and kids come join me and the kids. One was especially good at chalk art. You couldn't quite tell if mine were done by an adult or kid.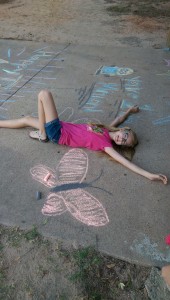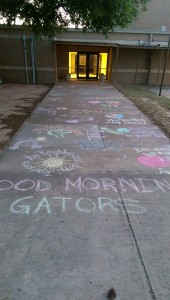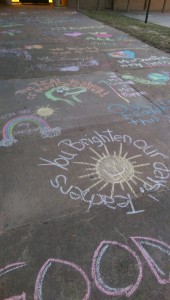 Robert wrote this next message. It's to the science lab teacher, whose name is misspelled. It says "Your part of our life" at the top. He drew the life cycle of a butterfly and that is a caterpillar at the bottom, not his teacher

The kids begged to go up early to school the next morning so they could see their teacher's reactions. A lot of teachers were already there when we got there, but some were still coming in. The kids were bubbling over with excitement and some of the teachers thought it was cool and were reading the messages, taking pictures of it and telling the kids thank you. I was surprised to see a number of staff just quickly walk by, some without even glancing down

I get it. It's chalk. Not that big of a deal, but I felt bad for the kids.
I also wanted to decorate the bulletin board for teacher appreciation week. The school's theme last year was "Reach for the stars", so I went with a space related board. I had Clara design the alien and I asked both kids if they'd like to make some planets for me. Clara brought me two planets- a turquoise and pink polka dot Saturn with chevron ring and "Planet X" which was also brightly colored and covered with ice cream and sprinkles. Robert said he would rather make the Kuiper Belt. My kids rock. After I googled "Kuiper Belt", I suggested maybe he could make the Earth or the Sun. He wasn't too happy, but he eventually relented.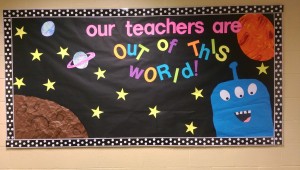 And because I had a few things on my plate those last couple of weeks of school, I just did a little tweaking and voila! End of year countdown bulletin board!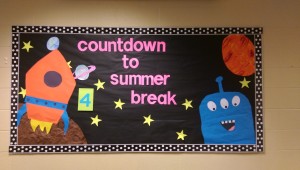 May also included Chris chaperoning the 1st grade field trip to the zoo, teacher appreciation breakfast and lunch, workers doing ceiling, kitchen and powder room prepping, patching and painting, 5th grade scavenger hunt at the junior high, orchestra meeting, volunteer breakfast and end of year events I already blogged about. Whew!