We're just going to ignore the fact that it's been a year and a half since my last post. Ahem.
Clara's had a great start to 7th grade. She decided on a whim to try out for the volleyball team the first week of school and made it onto the B team. Her season just ended last week. By the end she was feeling discouraged because they didn't win a game all season, but she loved it and wants to play again next year.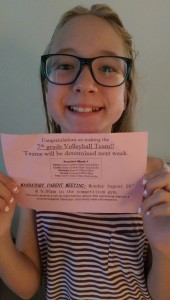 Here she is after her fist scrimmage before getting their uniforms. Notice anything different? Yep, no glasses! She got contacts right after school that same day. There may have been a few tears those next couple of weeks as she learned to take them in and out. She's got it down now and is enjoying going glasses free sometimes.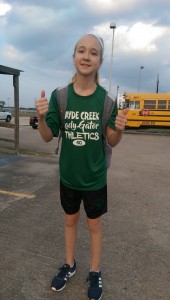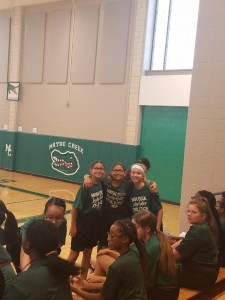 I didn't take a whole lot of pictures during her season, but here are a couple. In the second photo, you can't see the ball, but you can see she's shouting "Mine!" and she got it over!
And here she is after her final game with Coach Barnett who's also her Social Studies teacher. There were a few tears from all the girls as they were sad to see the season end. It was a good learning experience for her and it's not easy to keep going every week despite the disappointment of another loss. I'm so proud of this girl; she did great getting up early all season with minimal amounts of complaining.

And she managed to get all A's the first six weeks which is impressive given the fact that she has 5 pre-AP classes this year. I wasn't sure if she could keep up with early mornings, late nights, and a crazy schedule, but she sure showed me!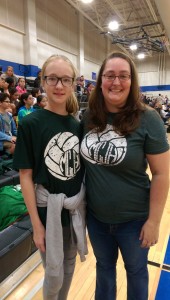 There's no rest for the weary, because basketball tryouts started today.