I made an awesome, color-coded itinerary in Google Sheets for our trip (which is totally unlike me btw). I just needed a good visual, especially with the kids, so I could tell if we were going to be over-doing it. I wanted to build in rest time back at the hotel and I wanted to make sure I knew which buses and subways to take and names of stops to get off at because I don't think clearly under pressure and didn't want to rely on the phone. My itinerary quickly went out the window that first morning when I let the kids sleep in. They didn't sleep in too late, but we got a later start than I wanted. The Colosseum opened at 8:30 and I wanted to get there right around that time to avoid lines. Chris was up early and had been waiting for us down in the breakfast room that he spent many an early morning in during his travels. A wonderful American/English breakfast was included in our room rate which made mornings quick and easy for us. It included bacon, eggs, baked beans and weenies (we stuck with the eggs and bacon), as well as a number of pastries, cereal, fresh fruit, etc.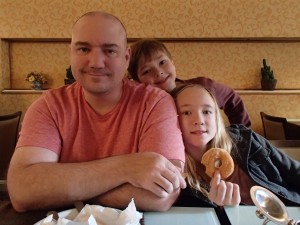 Robert wanted to be a proper European and have hot tea with cream and sugar with his breakfast. He liked it and requested it most mornings.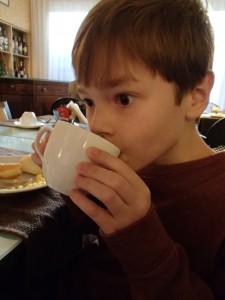 We consulted with the front desk as we were leaving and asked where the nearest "tabaccheria" or tobacco shop was where we could purchase bus/metro tickets. I knew Jenna and I had bought them from a shop near the hotel last year but wanted to be pointed in the right direction. We were out of luck since they're closed on Sundays. Grrr. My well-laid plans were slowly unraveling. I also wanted confirmation that kids were free and she said that was not the case. (I looked just now and sure enough, kids under 10 can ride for free so we could have saved 24 euro.) Anyway, our best bet was to walk to the nearest subway station and buy tickets from the kiosk there. Rome's subway system isn't very extensive, especially outside of the city center, so it was about a 15 minute walk for us from the Hotel Panama Garden where we were staying. It wasn't too bad. It was chilly, but the sun was shining and the kids got their first look at Rome's streets. We made it to the station, bought our 7 day passes that are good on buses and the subway and were on our way to the colosseum.
When you walk out of the subway station, you're standing in the shadow of the colosseum. You and all of the other tourists and toy and selfie stick hawkers and tour hawkers. It was a little chaotic. Chris had to give the kids the same talk he gave me to just completely ignore them, don't slow down and for goodness sake don't smile or look in their direction or they'll be following us for an hour. Y'all, that's really hard for us native Texans.

They caught on quickly though and were just as annoyed by them. It doesn't take long.
Because we slept in, we got to the colosseum about an hour or two after it had opened, so we had a long wait to get in. Jenna and I got in really quickly last year and it was still packed with tourists then, so I expected the same since the lines didn't look that long. Nope, it was a long wait, maybe 45 minutes. In the shade with 50 degree temps and a breeze. There may have been a little bit of whining involved. We should have gone over to the Roman Forum to get our tickets because the lines are supposedly shorter and the tickets get you into both, but I really thought the line wasn't going to be too bad and looked to be moving quickly. It turns out they only let a certain number a people in and close it off for 15 minutes before they let another large group in.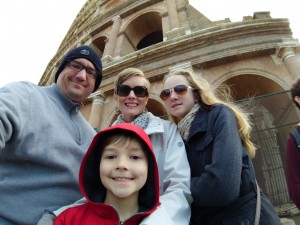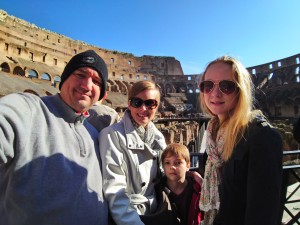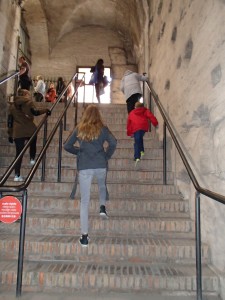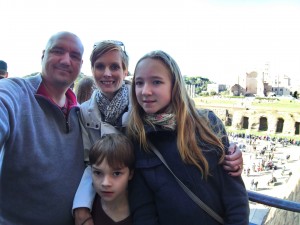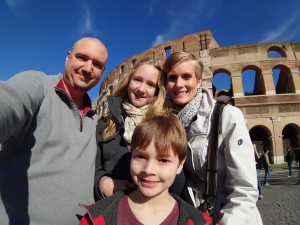 After we exited the colosseum, we headed over to the Roman Forum by way of the Palatine Hill entrance. It was kind of the scenic way to get to the Forum. We totally should've gotten our tickets there. It was vacant. Here's Robert in front of the Arch of Constantine right outside of the colosseum.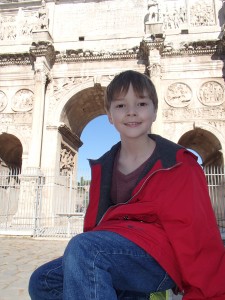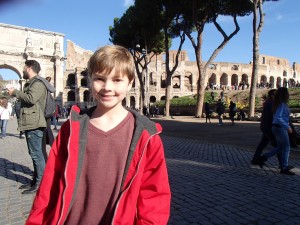 I bought a book for Robert called Mission Rome. It's a scavenger hunt for kids that covers all of the major attractions. It was great and helped all of us gain a little bit of perspective and even I got excited when we found something in the book. One of the things to be on the lookout for was "nasoni", water fountains that can be found all over the city. There are over 2,500 of them. He got an extra point for trying to drink from one without getting wet. The water runs continuously and most of them have a small hole on top so that if you block the flow at the end of the spout with your finger, water flows up through the top like our water fountains and is easier to drink from. I didn't attempt a drink since the temps were in the 50s. I'm sure it's great on a hot summer day though.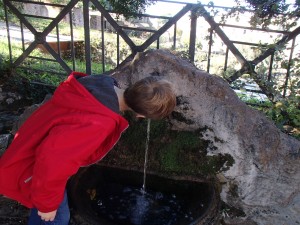 The Forum is really amazing and you just can't convey the sheer size and scope of these buildings in pictures. Everything is massive.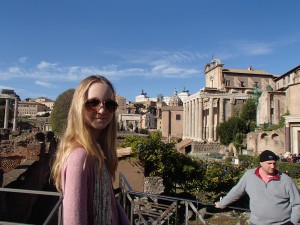 One of the items we were looking for in Robert's book is the plaque just beside his shoulder next to the Arch of Septimus Severus. It reads "Umbilicus Urbis Romae" or "Navel of the City of Rome". It "was the symbolic centre of the city from which, and to which, all distances in Ancient Rome were measured" (Wikipedia).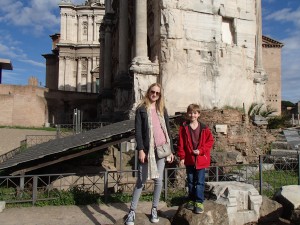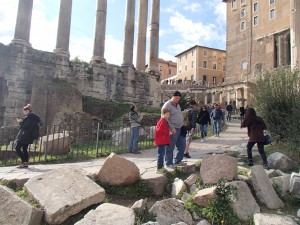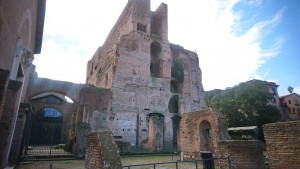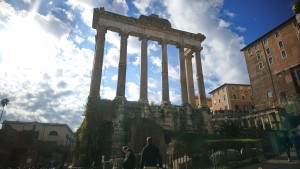 I had us going in a certain direction because I was sure there would be an exit at the end, but alas, we had to backtrack and figure out how to get out of this massive complex of ruins. We ended up in front of the Alter of the Fatherland and it was way past lunch time, so we walked around the streets surrounding the Piazza Venezia looking for a place to eat. We stumbled into a place called Rudy's and it wasn't so great. But it gave us a place to sit and rest and use the restroom. I've always said I wanted to take the kids out of the US to get them out of their comfort zone and experience different cultures and ways of life. I want them to figure out public transportation and how to communicate with someone who doesn't speak English. Anyway, one such new experience happened when Robert came out of the restroom in this restaurant. His hands were covered in soap and he whispered that he couldn't figure out the sink.

The waiter overheard him and said it was a foot pedal. So I waited with him outside the restroom, which was now occupied, to help him find and work the foot pedal.
After lunch, we had just about had all the sight-seeing we could take for the day, but I convinced everyone we should at least try and find the statue of Remus and Romulus since I knew we were really close. We walked over to the Alter of the Fatherland, which is HUGE btw. The stairs in the second picture go up to a church between the alter and Capitoline Hill, which is where the statue is located. The kids saw the steps and asked if they could climb to the top. We said "knock yourselves out" while we waited for them at the bottom.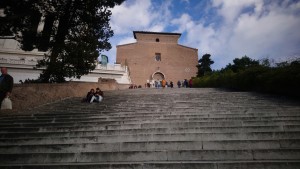 The picture spacing is all off on this post and I can't seem to easily create space between some pictures, but we're just not going to spend a lot of time worrying about formatting. Next we walked up Capitoline Hill to the Piazza Campidoglio. Robert is pictured above with a statue of Tiber with Romulus and Remus and the She Wolf playing by his elbow. And below is a replica statue of Marcus Aurelius outside of the Capitoline Museums. I would have liked to go in, but we were pretty tired by this point.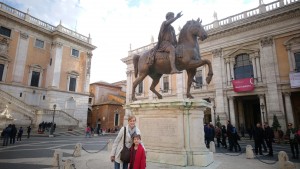 We continued our mission to find the statue of the She-Wolf with Romulus and Remus and knew it was around here somewhere. We turned a corner and found this small statue on top of a column. Not exactly what we were expecting.

I think the original is larger and is located in the museum.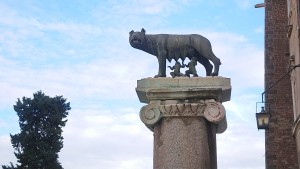 And Robert found another fountain to try out. If you look closely, you can see the tiny statue in the background above his head.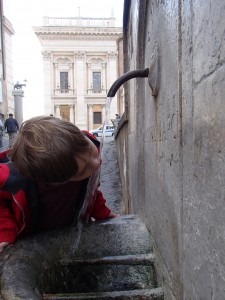 When we rounded the corner, the view that greeted us was of the Roman Forum below. The Arch of Septimus Severus with the Umbilicus plaque that I mentioned earlier is in the foreground of this photo. I was wanting to get to this spot earlier in the day and I knew we were really close, which we were, but I just didn't know you couldn't access it from the forum below. We ended up walking a loooong way to get to this spot, but it was worth it for this amazing view.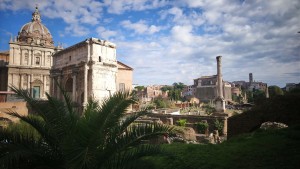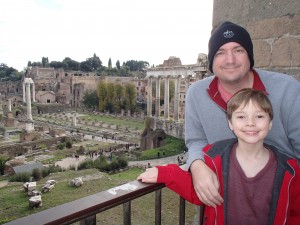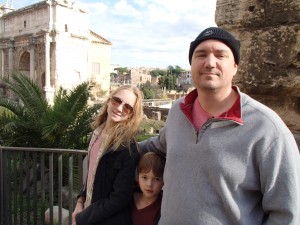 From this point, it was a short walk to get to this side of the Alter of the Fatherland and to find a bus stop that would get us back to the hotel for some rest.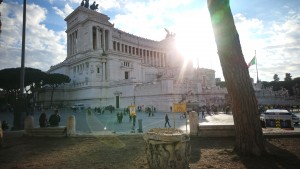 It was late afternoon by the time we got off the bus near the hotel and probably only around 55 degrees, but the kids hadn't had gelato yet, and they didn't think they could go any longer without, so everyone but me got gelato to eat on the walk back to the hotel.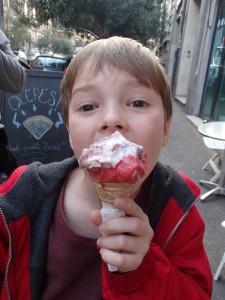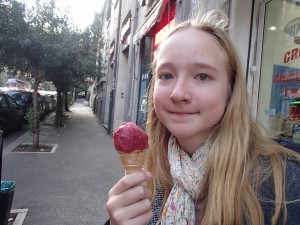 That night we had a nice dinner at one of Chris' favorites near the hotel, Ristorante Mangiafuoco. It was still empty when we got there after 7:00. Robert got to sample some wine. He insists that he took a drink, but I'm pretty sure a drop never made it past his lips.

And they finally got real pizza. Robert had diavla, which is kind of like our pepperoni and Clara had a four cheese calzone while Chris and I both had the Spaghetti alla Carbonara and we had an appetizer of proscuitto and mozzarella di bufala which is soooo good. And creme brulee for dessert

This was our "splurge" meal while in Italy.