I had been watching the weather forecast since before we left for Italy and Tuesday was the one day of our trip that was concerning to me. Forecasts were showing thunderstorms all day and I had booked a tour (rain or shine) and train tickets to Pompeii that day.

So we grabbed our rain gear and were off! Our tour had contacted us to let us know our guide was sick and we would have Maria instead. I mentioned the weather and they said it looked like there might be a break in the storms late morning. I asked if we could move our tour up from 12:30 to 11:00 and they obliged. Our plan had been to get to Naples and do some sightseeing for an hour or two before taking the train to Pompeii, but this change in plans meant we needed to head straight to Pompeii.
We took the subway to Termini, which is the train station in Rome. Our train was leaving at 7:55 and I had planned on us eating a little earlier, not knowing at the time that the breakfast buffet at the hotel didn't open until 6:45. We ate breakfast really fast and then hoofed it over to the subway station. We had to wait a few minutes for the subway and it was getting close to 7:30 at this point, so I was starting to get antsy, thinking we'd miss our train. I knew the ride was only around 10 minutes and the metro station was close to Termini, but wasn't sure how close or what platform our train would be at. The subway stop turned out to be very close and we just hopped off the subway and walked (very quickly mind you) a short distance underground to get to Termini. Popped out above ground, found our platform and made it on board our train with no more than five minutes to spare.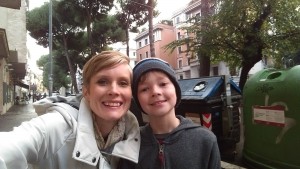 We were on a fast Trenitalia train to Napoli Centrale station. The ride was about an hour. Once we arrived in Naples, it was a quick walk to the Circumvesuviana ticket windows to buy one way tickets to Pompeii out of the Garibaldi train station. The Circumvesuviana is a regional, old and run down train that takes you to the cities around Naples. It was about a 30 minute ride to Pompeii with about 20 stops in between. We stood almost the entire time. I believe the trains do not have a/c, so I imagine it would be terribly uncomfortable in the summer. It was packed even though it was not peak tourist season.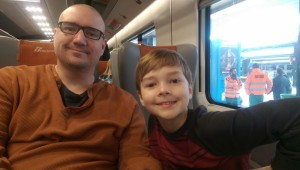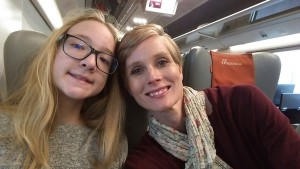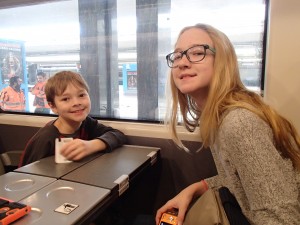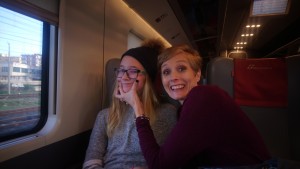 I had also booked this tour through the same tour company as the Vatican tour because I wanted to make sure the kids got a good understanding of what we were looking at. Our guide Maria was great! She was friendly and was continually quizzing us on what we thought we might be looking at, calling us all by name the entire time. She was a little hard to understand sometimes and I kept getting a hint of an accent that I just couldn't place. Turns out she learned English from a British person, so she had a thick Italian/British accent.
The grand theater is well, grand. It could seat 5000 people. It's huge and just so impressive to think about how long it's been here. The original marble VIP seats are still intact.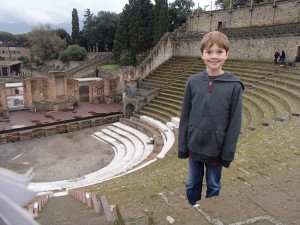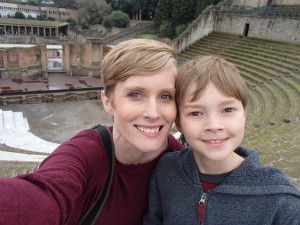 From the top of the theater, you have a great view of Mt. Vesuvius.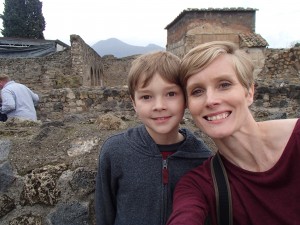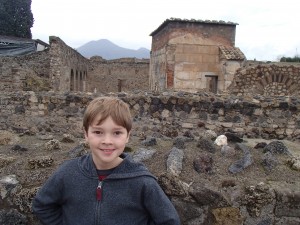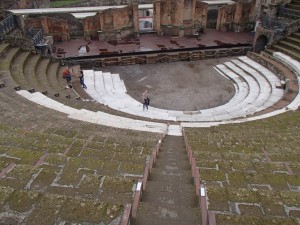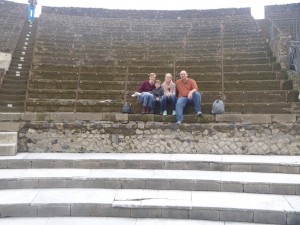 Next to the grand theater was a smaller, more intimate theater that could hold 1,000 spectators. Clara wanted a picture of this statue of half a griffin.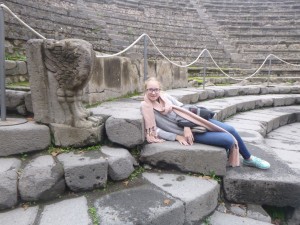 One of the homes we went into had just opened to the public about 20 days earlier. It's incredible to see the frescoes that have survived all these years. And only around 2/3 of Pompeii have been excavated. They've mainly turned to trying to conserve what they have uncovered. Tourists and exposure to the elements has caused a lot of damage to existing structures and some of the buildings have crumbled.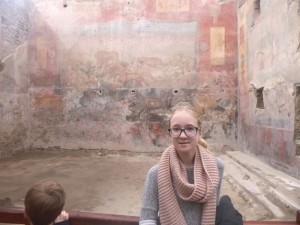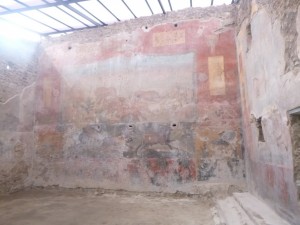 Trying out the crosswalks. The stones were raised so that you didn't step in the sewage that was just thrown into the street to be washed downhill. They were placed a certain distance apart to allow for wheels of carts to pass through and you can still see the indentions left by the carts.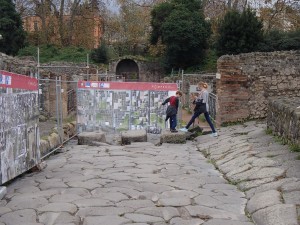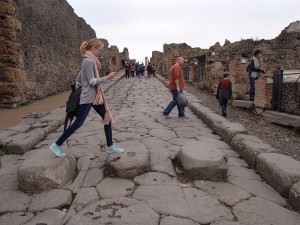 Here Maria is explaining that this counter with it's sunken terracotta bowls was a take-out restaurant. There are lots of them in Pompeii because most people were too poor to have a kitchen in their home.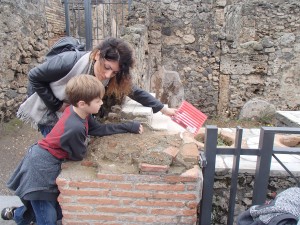 I noticed this older gentleman was lurking around for awhile. I believe he was soaking up some free tour guide info from Maria.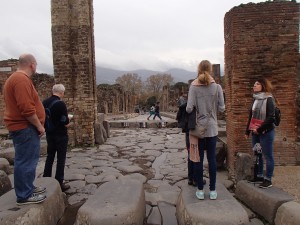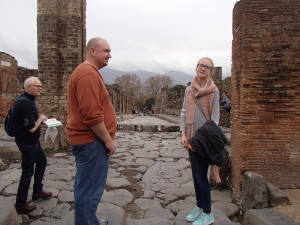 Here are a few pictures from inside the men's and women's bathhouses. The cutouts are lockers in the changing areas.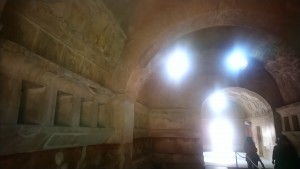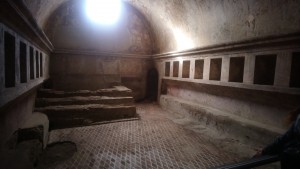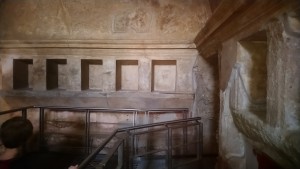 Here we are in the Forum with Mt. Vesuvius in the background.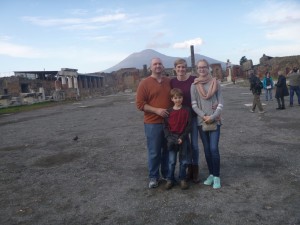 And a selfie before heading back to Naples.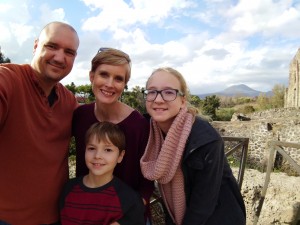 Notice anything about these pictures? Like the first day we're not wearing coats? It ended up being a picture perfect day and the rain stayed away all day! It did look dark off in the distance, but we didn't get a drop!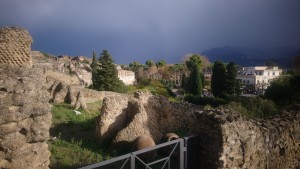 We probably could have easily spent a couple more hours there, but we were hungry and had a 30 minute train ride back to Naples, so we went on. Had pizza in a shop on Piazza Garibaldi just outside of the train station and then headed back to the station via an underground shopping area that connected the piazza to the station, popping in to a few stores on the way.
Our train was leaving around 5:00 and I booked us a little bit nicer seats for the ride home since I knew we'd be tired and wasn't sure when we'd be eating. It was nice to get a drink and snack on the ride home, along with a bit more comfy seats. Chris was impressed that I would splurge. We paid maybe $5 bucks more per person than the cheap seats. Hey, I'm a generous individual when it doesn't cost an arm and a leg. 😉
We took a bus from Termini back to the hotel, but I can't remember what we did for dinner that night. I think we were all full from our late lunch in Naples.