Robert woke up coughing and I'm pretty sure had a temperature Wednesday morning. He had been coughing a bit since we got to Rome, but the coughing fits were getting worse and he was obviously worn out.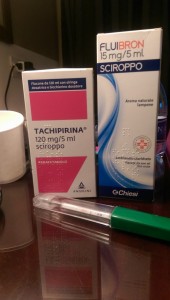 Chris called up his old co-worker Cascone, who lives in Rome, and asked him for advice. He got all of Robert's symptoms and sent a text with what to say and ask for at the pharmacy. He was very kind and said to call him when we got there and he could talk to them if we needed him to. I just showed them the texts and they got me all set up with pain reliever and cough medicine for a "fatty" cough, which is their word for a wet cough. That just sounds so much grosser to me. I was a little concerned about what to do if he got worse or if it turned out to be an ear infection. We had train tickets to Venice the next day and would be flying on Saturday. Thankfully a day of rest did the trick.
Chris stayed with him in the hotel room while Clara and I ventured out on our own and it turned out to be a gorgeous day. Our first stop was the Trevi Fountain to see it when with the water flowing.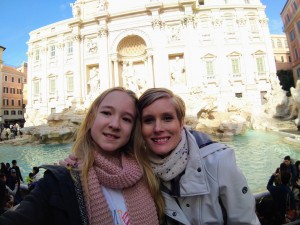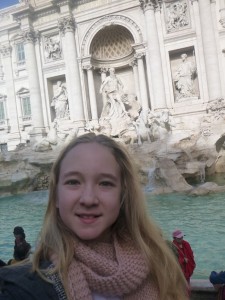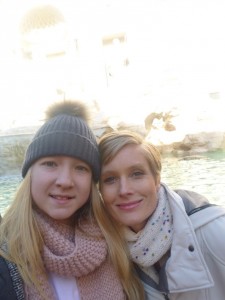 If you turn your back to the fountain and throw a coin over your shoulder, you are sure to return to Rome. Unfortunately, I didn't catch her in time and she didn't turn her back. I guess only time will tell if it counted or not. Around 3000 euro are thrown into the Trevi Fountain every day and given to the needy.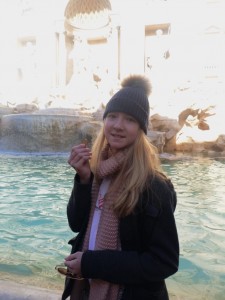 From there it was a short walk to the Pantheon.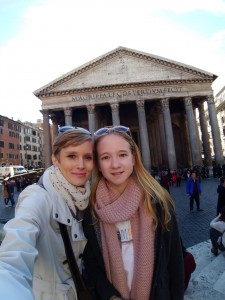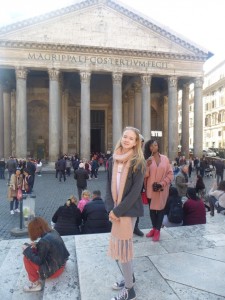 One of the missions in Robert's book was to take a picture trying to wrap your arms around one of the columns of the Pantheon, so Clara took care of that for him.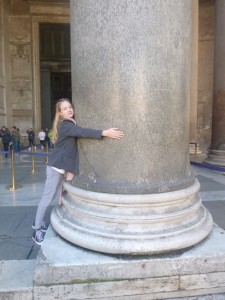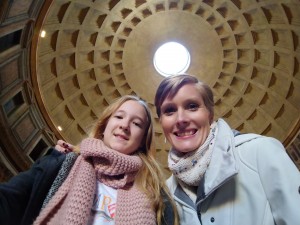 We then started walking toward the Piazza Navona, stopping in at a tea shop on the way since it was around lunchtime. They had sandwiches, but we didn't really see anything on the menu that we wanted, so I just let Clara choose a pastry. The waiter showed her into the next room to choose from an assortment inside of a case, so I didn't see what she picked. He brought out a huge piece of cake and I just had to shake my head since that's not exactly what I meant.  She also got a massive cup of cocoa that was so rich she couldn't even finish. When we got the bill, I tried to contain my surprise when I saw that she chose a 9 euro piece of cake! She got a raised eyebrow and a "Seriously, Clara?" once the waiter was out of earshot.
And then she somehow talked me into gelato when we got to the Piazza Navona.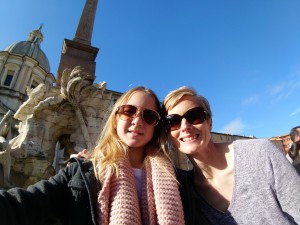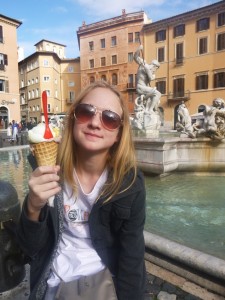 We then walked over to the Castel San't Angelo. I really wanted to take the kids here. Neither Chris nor I have been and it looks really cool, but we decided to skip it. It just felt weird doing stuff without the guys.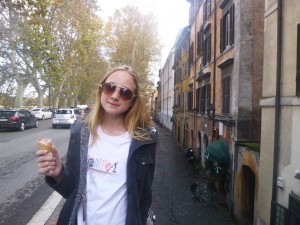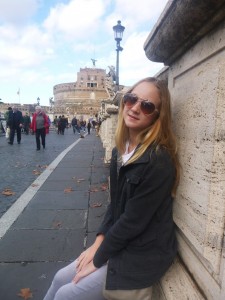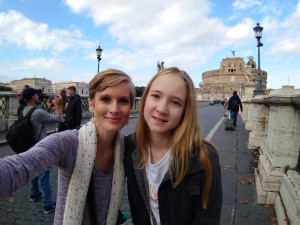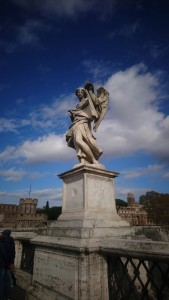 You can see St. Peter's from Castel San't Angelo and it was a quick walk to get there. I wanted Clara to see it in the daylight.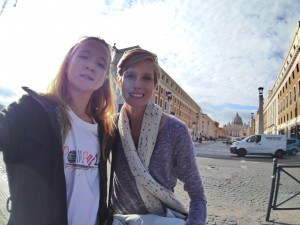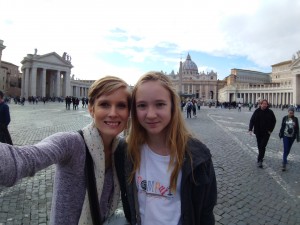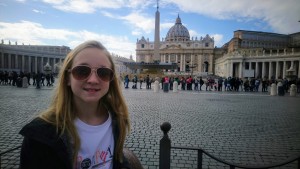 We were feeling guilty about leaving the boys all day, so we headed back to the hotel via the subway and bus and got back around 2:00. We grabbed take away pizza to eat on the walk back from the bus stop. I took a picture of Clara on this steep subway escalator. It was sooooo long. This was about halfway up already. I saw a video from a few weeks before our trip where one of Rome's subway escalators malfunctioned. It was completely full when it sped up crazy fast, several steps collapsed and people were just piling up at the bottom. I believe someone's foot had to be amputated. That's all I could think about every time we stepped on one. Go watch the video; it's crazy.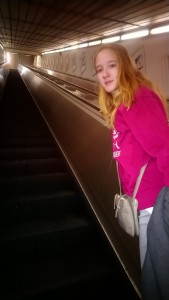 So Robert was feeling a bit better when we returned. He and Chris had left the hotel to find some lunch and Robert tried the hotdog and french fry pizza. Crazy enough, he wasn't a fan. We just laid around that afternoon and then I went back out for another piece of pizza. We had dinner reservations at 8:00 with Cascone at a restaurant near the Piazza Navona that had been set for weeks. His daughter was also sick, so his wife wouldn't be joining us and I decided Robert should not go out either since it would be a late night, so Chris and Clara kept the dinner date and it was just the three of them. I was bummed that we had to miss it, but glad Chris was able to catch up with his old friend.
Chris and Clara took a bus to the Trevi Fountain and then walked to the Pantheon and on to Piazza Navona, so Clara got to experience Rome by night.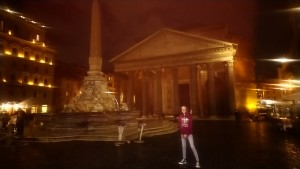 As for me and Robert, we just laid around watching tv. As I was finishing up my shower and getting dressed, I could hear him having a coughing fit. I saw that he couldn't control it and was about to toss his cookies. I didn't get there in time and the first bit landed on our bed (lovely). I tried to get him to hurry to the toilet, picked him up from behind and there was another splat on the carpet by the bed. I had barely gotten him over the threshold of the bathroom and onto the tile when the rest of it came up. It was a lot. Seriously. Just would not stop coming. The poor guy felt so bad and when it finally passed and I was cleaning up, he just kept saying over and over how sorry he was. And then he was famished, but it was late and I didn't want to take him out in the cold and the hotel only serves breakfast and has no vending machine. So I gave him a few cookies and convinced him he could wait til morning.
I forgot to mention, on Sunday or Monday night, he and I went down to the lobby where they have a tea and coffee service and pastries. He wanted some tea, so I had just poured us two cups. He took a bite of a croissant that was filled with Nutella and immediately felt sick. We're just discovering that he's got a nut allergy, so I could tell right away he was about to throw up. I rushed him back upstairs and sat a minute with him. I thought it had passed, so I went back down to drink my tea real quick and clean up our mess since we just up and ran without saying anything. I told Chris but I guess he didn't hear me. Apparently Robert finally puked it up right after I left (into the sink mind you) and Chris thought I was in the bathroom with him the whole time. Oops. Poor guy wasn't feeling the love from us that night.