Thursday morning came and there wasn't a turkey nor a "Happy Thanksgiving" greeting to be found. It felt really weird and didn't feel like a holiday week the whole time we were there. Oddly enough though, we saw signs advertising Black Friday or Black Weekend sales in windows all over Rome.
Robert woke looking well rested and seemed to be in a good mood. Thankfully his cough had mostly subsided as well. I went ahead and dosed him up with meds for the train ride just in case. I really didn't want a replay of the coughing carnage from the night before on the train. Our train to Venice was leaving at 8:55 so we were able to take our time that morning. We were packed up and showered the night before and were taking a taxi, so it was nice to not have to rush for a change. Of course, Chris was starting to feel puny at this point, so he drugged himself up to make himself more comfortable on the 3.5 hour train ride. He was really plugged up so his ears were bothering him with all of the pressure changes. It was worse than on the plane and would just happen randomly throughout the trip. I take that back. I just googled it and it's not random. It apparently happens when the train goes through a tunnel. Who knew?
A man and his grown son rushed onto the train out of breath with only a minute to spare as we were about to leave the station. Dad was very concerned and wanted to make sure they were on the right train. He showed his ticket to the attendant on the train and asked if it was going to Florence and he nodded. They had just flown in from New York and were on their way to visit his college aged son who was studying abroad. He just wasn't convinced they had gotten the right tickets because this train was headed to Venice and his ticket said Firenze. I showed him on the screen that it was indeed a stop and said maybe that's the name of the station in Florence. I'd heard that before, perhaps it's the region or state or something. I finally googled it and Firenze is Florence in Italian.

I showed him that and we had a good laugh and he was finally able to relax. Oh, and we wished each other a "Happy Thanksgiving".
We got to Venice around 1:00 and Chris went straight to the ticket window to buy our vaporetto (or water bus) passes when we got off the train. That's a vaporetto behind the kids in this picture. And just like a bus, you can hop on and off and there are different lines, some only going down the Grand Canal and others go to outlying islands or the airport. Chris was feeling worse unfortunately, so he didn't want to dily-daly and mess with pictures. He just wanted to get to the hotel to rest.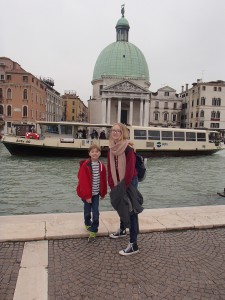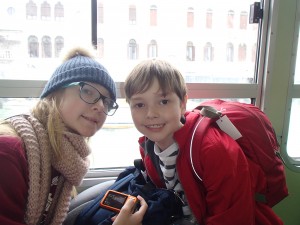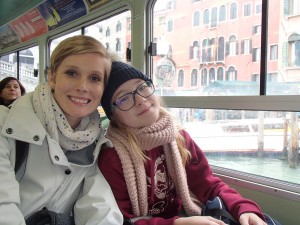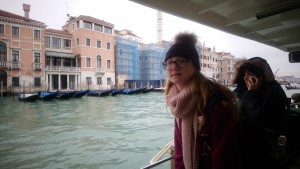 The kids were amazed when they walked into the Piazza San Marco and got their first view of St. Mark's Basilica. They gave it an enthusiastic two thumbs up. It really is an incredible sight to behold.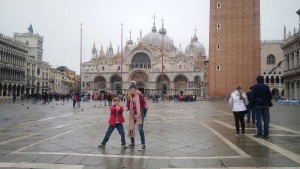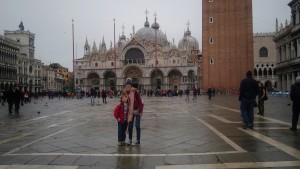 As Chris was about to take the obligatory family selfie, a man asked if he could take our picture and have us take one of he and his new bride who were there on their honeymoon.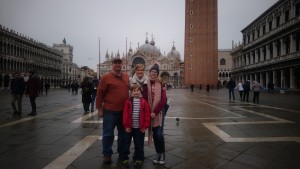 When planning the trip, Chris said, "Why don't we just make it easy and stay both nights at a hotel near the airport?" <Insert "not amused" emoji here> Now, anyone that knows me knows that I'm not real picky about a lot of things. I let a lot of things slide 1) because I'm a people-pleaser and 2) because most times I just don't care one way or the other. And Chris is able to talk me in to a LOT of things, but not this time. I told him that we were not taking our kids on a once in a lifetime trip to Venice and staying on the mainland at a Best Western! We needed to stay close to the airport on Friday night because we had a 7:15 a.m. flight Saturday but he figured out pretty quickly that I had put my foot down and we were staying a night in Venice. He's not used to me planting my foot so firmly and I think it legitimately scares him a bit, so we stayed at Hotel Dona Palace, which is where Chris and I stayed last year very close to St. Mark's.

Had I'd known he'd be sick, I might have relented and made it easier on him. I did convince him to fit all four of us in three carry-ons for this trip to make Venice easier and just in case we had to carry our suitcases during an acqua alta, so I was looking out for his best interest then.
When we booked the room, I asked if we could have the same one as last year. It was an awesome corner room on the 2nd floor with views of the canal. The room was huge and it had a couch that was probably a sofa bed in a separate sitting area, so I figured it wouldn't be a problem. They said that room was only for 3 people max.

The only room that had occupancy for 4 was their Executive Suite on the top floor that was a converted attic with a rooftop terrace, but no canal view. I was bummed, but we really wanted to go back there since we were familiar with it and Chris thought the kids would love the rooftop view, so we splurged. This was the kid's beds and the stairs led to the terrace with a hot tub. It was very cool with sky lights and exposed beams and the kids loved the shower. It "rained" from the ceiling and you got to choose between several colors of light coming from the ceiling. You can see the top of St. Mark's and the bell tower behind us.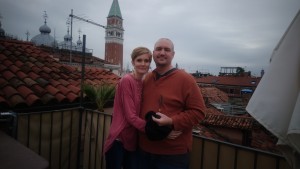 We had pizza across from the hotel and that was probably the highlight of Venice for the kids. We watched two pigeons just saunter on in looking for crumbs under tables. We had a view of the kitchen door way, actually, I think it was just a room where they were making pizza crust and you could watch from outside. Anyway, we watched these pigeons just mosey on over and walk inside like they owned the place. A few seconds later they'd come half running, half flying out of the doorway as they were shooed out, peck around under the tables a bit and then turn and head back that way. We never saw or heard the employees, just the bird's reactions. We were doing a play by play of what the pigeons were thinking and watched them try to get in that kitchen probably half a dozen times. It was pretty funny.
Chris put on a brave face and we walked around a bit, eventually making it over to the Rialto Bridge. We found where Marco Polo lived, but there's nothing to see. Just a plaque on the wall.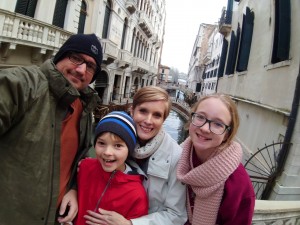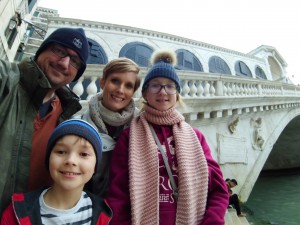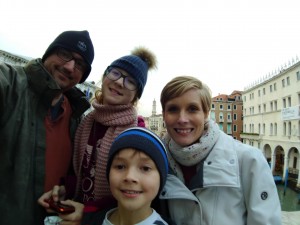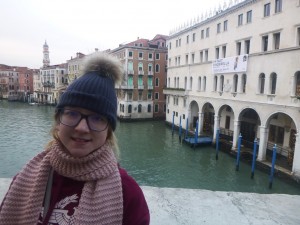 It was cool to see the Rialto bridge with all of the shops open. Chris and I walked over early in the morning last year before they were open.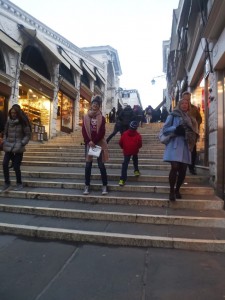 Chris was pretty miserable by sundown and I knew Robert didn't need to be out too late, so we sent them back to the hotel while Clara and I shopped around a bit more. We really wanted to find charms for our bracelets. She doesn't like to shop typically, but she was enjoying finding souvenirs during this trip. We checked out this upscale mall near the Rialto. It was four or five stories tall and all decorated for Christmas.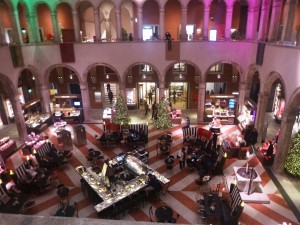 Clara wanted to take a picture of this dress to show Chris that someone stole his design.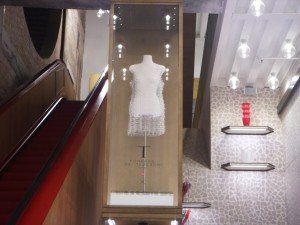 This is the hotel's private dock that's on a pretty little patio.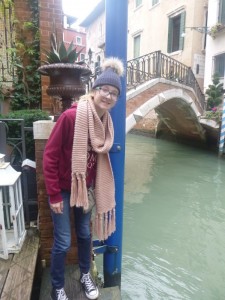 We brought back some fast food pasta to the room and then Clara and I ventured back out to walk around for a little while longer. It's fun to just start walking and get lost. You eventually will run into a piazza and be able to look at a map to get back. I understand Venice is a very safe city, but I was a bit overly cautious without Chris and it being after dark, so we stuck to streets that were well lit with people walking down them.