We woke Friday and Robert couldn't wait to open presents. This wouldn't be the first time we've opened gifts in bed with Daddy not feeling well. Both kids got their birthday presents early on the way to the airport. Robert got a Kindle and Clara a camera. So he just had a couple of gifts from grandparents to open. Right now Robert is a pokemon crazy man. Our world has been invaded by pokemon and he has a hard time telling a story or even writing a sentence at school that doesn't involve pokemon. It's a little out of hand, but man he loves those things, so I'm resigned to the fact that this will be a birthday and Christmas filled with pokemon and shared gift ideas with grandparents. He's wanted the t-shirt for awhile. From top to bottom is the trash panda, danger noodle, sea flap flap, formal chicken, boople snoot, tiger pony, murder log, leather bird and death floof. He also got a case to hold his cards and more cards.
The kids and I headed downstairs for a lovely breakfast buffet and Chris joined us a little later. Robert chose a pink sprinkled donut for his birthday breakfast. It was about 9:00 and checkout was at 11:00. I guess I had it in my head that Chris would be feeling better by morning like Robert had, but alas, he had me ask for a late checkout (12:00 was as late as we could get) and sent us on without him.

Clara was being a little moody as well, so I was feeling pretty bad that Robert's birthday was looking kinda crumby.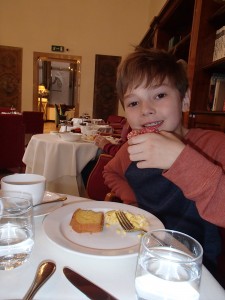 You couldn't tell by looking at his face here though. He's had bad luck on a few of his birthdays and yet he always manages to keep smiling. It takes a lot to ruin a birthday I guess.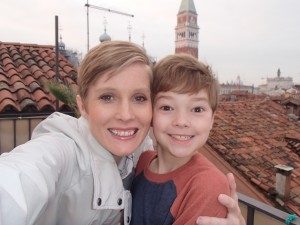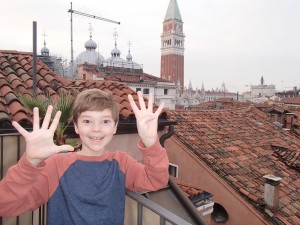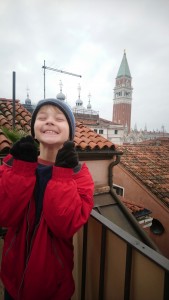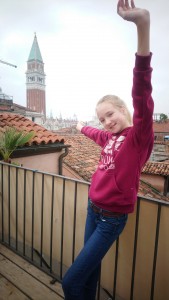 There's not just a whole lot for a 9 year old boy to do in Venice, so all along I had kept Venice flexible so we could let Robert help decide. Neither of them really wanted to take a gondola ride, which surprised me. I kept mentioning it and letting them know we needed to be heading to our airport hotel in the afternoon and it was supposed to rain later, but nope, didn't want to. I also wanted to see the Doge's Palace which is right next to the basilica. We scratched off a trip to Murano when Chris started feeling bad. The one thing he did want to do was walk to the top of the bell tower. Oh, and chase pigeons.
The line into St. Marks was really short, so I told them we should go ahead and get in line. They weren't too interested, but it's free to walk through and it only takes a minute. Turns out it didn't open for another 15 minutes so we waited on the raised walkway as the acqua alta slowly raised all around us. It was pretty cool to see it rise. You can see in these pictures that the water covers the marble entrance. I think it's like that a lot of the time now. They were working on a project to protect the basilica. They had terrible storms at the end of October and Venice had the worst flooding it's had in 50 years. Click here to see pictures of the recent flooding. Pictures aren't allowed inside. Clara said she liked this one better than St. Peter's. The mosaics are just incredible. I just can't wrap my head around all of the amazing art and architecture that's been around for so long and that people hundreds, if not thousands of years ago saw and experienced the same sights. I think it's particularly hard for Americans since our country is so new and when something gets old you throw it out and build something new. I'm grateful for all of the hard work these countries do to keep these historical places renovated so that they can be appreciated by people from around the world. So, thanks Italy!
We spent those 15 minutes goofing off and taking some pictures from where we were perched on the walkway.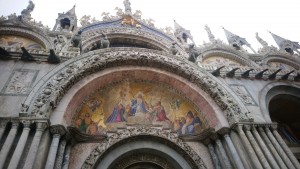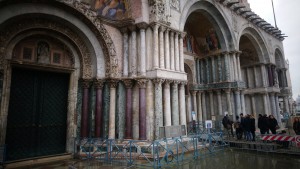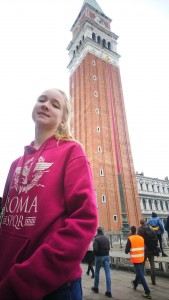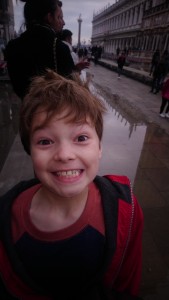 Here's another look at the acqua alta. The water comes up on either side of the piazza with a dry strip down the middle. I think it rose until around 10:00 and then was mostly dry again by about noon.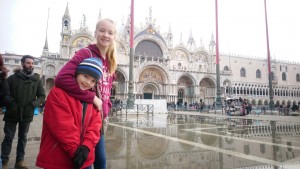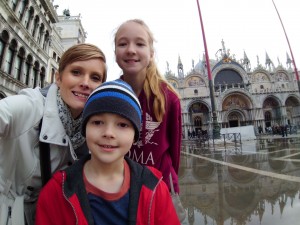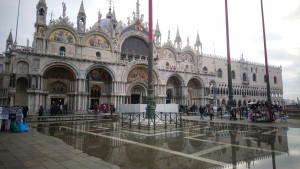 There weren't a ton of people out and yet the walkways were pretty crazy. Acqua altas mainly hit during the fall and winter months, but it must be nuts to deal with one during the height of tourist season. I felt for the people hauling luggage on them trying to get around people and on and off different walkways. They're only a couple of feet high, but you just have to jump off when you want off. At one point Clara had gotten a little ahead of me and had just stepped off of the walkway. An older lady put out her hand and asked Clara to help her off. I held my breath hoping Clara would be able to help steady her and she had no problem. A lot of people thought she was older over there. As we were getting our tickets for Pompeii, our guide going back and forth in Italian to the ticket seller and then she asked me to show her Clara's passport. Under 18 is half price and thought we were lying about Clara's age. Ugh.
We walked over to the bell tower and gosh darnit, there was a sign that said we couldn't take the stairs. Robert was bummed, but grudgingly agreed to go up in the elevator. I let him spend 2 euro in a commemorative coin machine as we waited for the elevator and that made up for it a bit. The kids know I'm a pretty big pushover on their birthday, especially when things aren't going quite as planned. I even put a euro in the binocular machine for him. Not for Clara though. It wasn't her birthday.
The view from the top was amazing. It might have even been worth taking the stairs.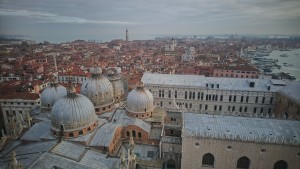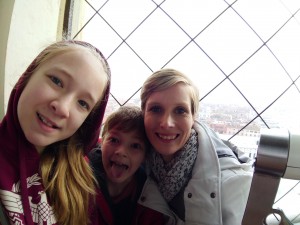 I took the kids to a shop called Ca del Sol. It's a true Venetian handmade mask and costume shop. There are a lot of fake made in China masks in all of the souvenir shops, but I wanted to make sure we went somewhere to support a local artist. The shop was awesome and we loved looking at all of the masks. There were signs saying don't touch, but the worker told the kids they could try on anything they liked. She didn't have to tell Clara twice. She was back and forth to that mirror a dozen times. There were many beautiful, ornate masks that were over 100 euro, but I steered the kids to the little more reasonably priced ones and these were the ones they ended up choosing. Robert found a fox and Clara's has a pretty shade of blue with some bars of music.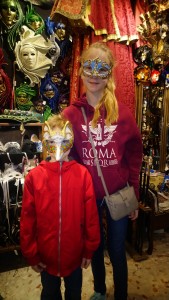 On the way back to the hotel, we came across this restaurant. It would have been a fun place to have his birthday lunch, but when I skimmed the menu posted outside and saw that the appetizers were 18 euro, we just kept on a walkin' and settled for a picture.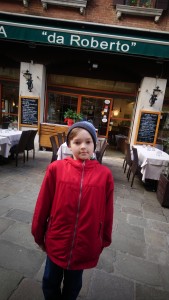 We went back to the hotel to collect Chris since he was about to overstay his welcome. We had to unwrap the mask that the lady had just painstakingly packed for our trip home to show Daddy and then we grabbed our bags and headed downstairs. We left the bags while we headed out for some lunch.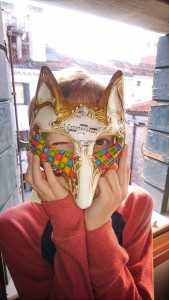 We stopped off in a candy store (for a second time in 24 hours). Google Captain Candy. The shop was filled with huge barrels of over-priced self serve candy sold by weight. We may have spent a bit too much on candy, but it was Robert's birthday, so I couldn't say no. And then we stopped in a shop for some gelato. And then lunch. It was just about to start raining and we had to get back to the hotel and get our luggage across the piazza to an airport vaporetto, so we headed back. That's when Robert said, "But I wanted to ride in a gondola!" Seriously kid?! I was just slightly peeved and had zero sympathy. I had really wanted to ride in one myself and was sure the kids would love it, but I wasn't going to force him to when it was his birthday. It was only around 2:00, but we needed to get Chris to the hotel and we still had an hour long boat ride to the mainland, not to mention the rain, so I was a bit peeved at the boy for not taking me up on the offer earlier.
Getting to the mainland from the island isn't cheap. I searched for the cheapest option, and a one-way vaporetto seemed to be the cheapest you could get at 15 euro a person. Yikes. There were a lot of stops between St. Mark's and the airport, but at least we got to sit. It docks right by the airport and our hotel wasn't too far. It was something like 6 euro a person to get on the bus, so we decided to walk to the hotel. But then the sidewalk ended and we were on a road with about a 45 mph speed limit and an almost non-existent shoulder with three suitcases, two carry on duffles and kids backpacks for a couple hundred yards. Oopsie! Chris may have been a bit frustrated with my frugalness at this point. But come on, we just spent 60 euro to get across the water! You want me to shell out another 20 to ride a half mile? And then the rain picked up a bit, so 20 euro was sounding like a deal. (But don't tell Chris I said that.)
We made it to our room at Best Western only mildly soaked. It was a nice enough room, but I was right. It was NOT an ok substitute for staying on the island. If you ever find yourself in Venice, you HAVE to stay on the island at least one night. The front desk pointed us in the direction of a restaurant for dinner, but it didn't open until 7:00. Some of us napped and the kids and I showered before dinner so we could get straight to bed when we got back.
We walked a block to the restaurant in the rain and it looked to be packed with tourists either just arriving or like us, getting ready to fly out of Venice. Getting out in the cold had aggravated Robert's cough and I hadn't given him cough medicine since that morning. He was still having occasional fits if he got worked up laughing or running or got out in the cold. As soon as we sat down, he started coughing like crazy. I moved him between me and the wall and tried to get him to cough into me to hide him away from others, but I was really embarrassed. I know people were wondering why we would bring him out with a cough that bad. After a few minutes it settled down and he was able to enjoy what would hopefully be our last meal of pizza or pasta for awhile. (We had just about had our fill by this point.) Robert chose one more birthday dessert because he hadn't had enough sweets that day and then we got to bed early in preparation for a really long day on Saturday.