We had managed to make it to 3rd grade with nary a word from Robert about Pokemon. It's always just been about cars and he flirted a bit with Ninja Turtles and Power Rangers in his younger days. But then Ali came along. Ali is a year younger than Robert. They ride the bus together and both of them are the only kid in their grade in the gt class they attend one day a week, so they've become really close.
Ali would bring his collection of cards to the bus stop in the mornings to show Robert, who was fascinated. And then Ali kept giving Robert cards. I finally decided that Robert should reciprocate, so we got him a set. Oh my goodness! I had NO idea what I was unleashing! This boy is obsessed. I think he literally cannot think of anything but Pokemon because he'll just randomly start telling a story and we sit there confused for a bit wondering what on Earth he's talking about until we say, "Wait, is this about Pokemon?" And inevitably the answer is yes. I finally told him no Pokemon in his writing homework because every sentence was about Pokemon.
But because he is my son and I dearly love him and I know that this isn't the end of the world and eventually I will look back fondly at these days, I have fully indulged him. He was having a hard time deciding on a Halloween costume, but when I suggested Ash Ketchum, there was no more debate. His destiny was to be a Pokemon trainer. I made his costume and I even took him to Build a Bear to get Pikachu as a treat when Clara and Chris were at the church father/daughter retreat one weekend.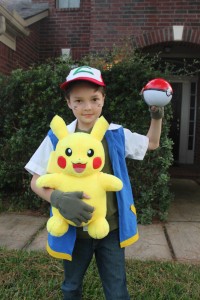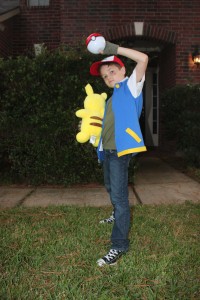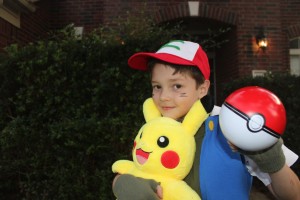 Halloween was a bit of a bummer again this year. I took Robert to a Trunk or Treat at the high school the night before because thunderstorms were predicted Halloween night. We hadn't been before, so I don't know if it's always that crazy or not, but it was packed! People may have been thinking the same thing as me. The lines to play games and get candy were all soooo long and it was shoulder to shoulder people. We just hung around for a few minutes, he got a little bit of candy and we called it a night. There were lots of high schoolers there and I kept hearing them yell, "Hey, it's Ash!" all night. I think he was enjoying the attention.
Halloween was on a Wednesday, so I let Clara walk Robert around to a few houses before we left for church. It was still early, so only a few people were home. He mainly just got a handful of Chinese cough drops from the neighbors. Ha! I love them. When we got back from church, the rain was just about to start, so they ran to a few more neighbor's houses and right when they got back to the house, there was a downpour.
There are no pictures of Clara's costume, because she decided she didn't want to dress up this year.

They can even wear costumes at the junior high but she wasn't interested. Makes me sad.