We had just started getting into a routine with the start of the new school year when we got a visit from Harvey. I'm trying to remember how things progressed and am going by timestamps on my pictures, so I could be off. The kids started school on Wednesday, August 16th. All eyes were on Harvey as it was forming in the gulf during the second week of school. Schools all over the Houston area were canceled on Friday the 25th to allow people to make preparations and evacuate as Harvey approached. We decided to stay put and ride it out. Chris was more than happy for me and the kids to go to Temple leaving him to hold down the fort, but after what happened when Houston evacuated during Rita in 2005 right after Katrina, I just get sick thinking about being caught up in such a nightmare. Plus, I feel like those of us further inland should keep roads clear for the people that live right on the coast since they are in much more danger.
Anyway, here's a timeline of Harvey and the days following. It made landfall in Rockport (about 200 miles from us), at 3:00 a.m. on Saturday, the 26th as a cat 4. We were up watching news reports and I remember watching live footage from some storm tracker guy that ended up riding out the storm in a carwash in Rockport. His footage was intense– debris just flying past him. My heart was racing just watching him go through it on his livestream for over an hour. All night our phones were going off with emergency alerts.
The storm quickly weakened but then just sat on us, moving back into the gulf to pick up more moisture and then back on land to soak us again for days. We never lost power and I don't recall the actual hurricane being too bad for us. In fact, these first few photos were taken Saturday morning. I knew we might be cooped up for a while, so I let the kids go run in the puddles during a break in the rain. As you can see, there's no flooding whatsover in our neighborhood at this point. I sent these pictures to reassure the parents that we were all perfectly fine. I knew that watching the news would be nerve wracking for them.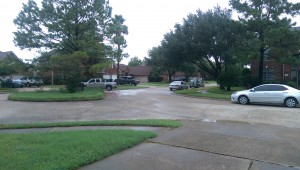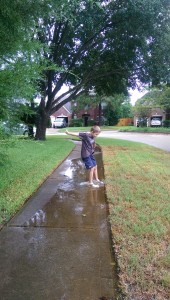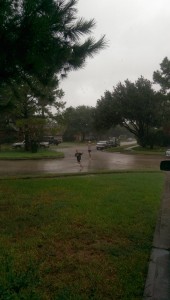 Sunday morning, the 27th, still no standing water in front of our house.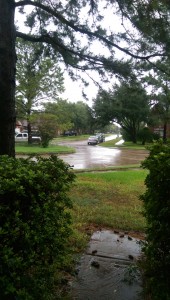 I believe Sunday is when officials started to sound the alarms that the reservoirs were filling up and were trying to figure out when and how to start releasing water. That's when I got a bit nervous, because it was all very wishy washy. It was hard to know who should evacuate. I kept checking the creek and reservoir levels near our house online. I'm not sure, but at this point I believe our window of opportunity to be able to drive out of our subdivision had either closed of would soon be. I found this Washington Post article that explains really well what was going on and why there was so much confusion for residents. Our house is just inside a 100 year flood plain and was predicted to be affected by the release. Our plan was to wait until the water started coming inside and then we would load up our kayak and mosey on out. Didn't know where we'd go since so many people were affected, but hey, it was sort of kind of a plan.
Officials started releasing water during the night Sunday night (early than they had announced) and advised people to wait and leave their homes when it was light out. I was so torn. I didn't get much sleep those few nights and spent a lot of time watching flood gauges rising and officials updating, all while my emergency alerts kept sounding. Thinking back, it was an extremely mentally draining few days even for those of us who didn't flood.
I walked around the neighborhood with our neighbor Jamie first thing on Monday morning. Our street was still clear, but the water was rising at the front of our subdivision. Jamie was also torn on whether or not to leave. Her two kids were with their dad, so she didn't have to worry about them, but she has several pets including a senior cat and snakes, so that made it difficult for her to leave for an unspecified amount of time. I think at this point I started feeling like we should leave. Some homes around Houston had huge amounts of water in them. They were already doing high water rescues and I just felt like we should get out. I think I started moving things upstairs and getting stuff off the floor of my closet and bottom cabinets. I put all of my photo albums and photos in garbage bags upstairs, but I didn't really do any packing. I'm pretty sure my mind was just so overwhelmed with the possibility of us leaving our home and coming back to complete destruction. I was just kind of frozen.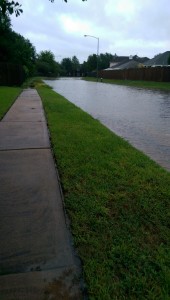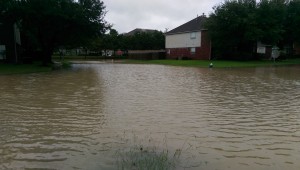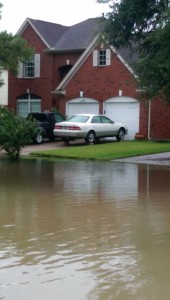 We moved the kids downstairs the night of the hurricane because it just made me feel better having them close to us on the first floor. They ended up extending their stay for the next couple of nights. You can tell they were really concerned. Hey, at least someone was getting good sleep.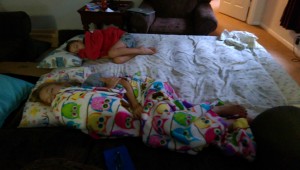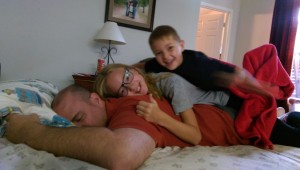 Sometime Monday afternoon I got a text from Jamie. Her dad wanted her out of her house so he had people with kayaks on their way to get her out. Her dad would be waiting at the gas station near our house and could give us a ride if we were interested. The gas station would be inaccessible soon and they were on their way, so we had to act fast. Chris left it up to me and I HATED the pressure, but I decided we should go. I knew I'd sleep better if we got out and so would our parents.
Clara and I packed up some clothes and got ready for us to leave while Chris got the kayak ready to go and turned off the electricity to the house. As we started to leave, the neighbors on both sides of us (who don't speak English) ran out with their phones and wanted us to talk to their adult children to explain what was going on. I totally thought the Chinese couple had left to stay with their daughter so I was surprised to see her run out. They saw us leaving with Jamie and thought maybe it was mandatory evacuations. Like I said, everyone was confused on whether or not we should go or stay. Our Russian neighbor ended up staying and my friend Hind and her family who live around the corner stayed. I believe they came through with the high water rescue vehicles later that day or the next.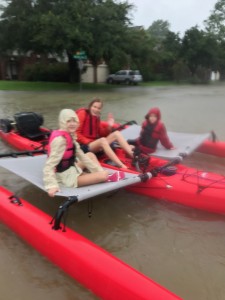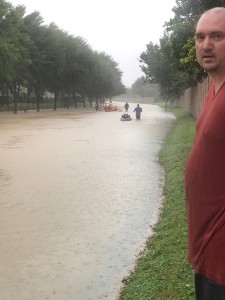 We walked for about 1/4 to 1/2 mile down the road where a truck with lifts was parked waiting for us. They kept calling their friends with the kayaks while we were getting packed up telling us we needed to hurry because the water was rising and they were about to have to get out. We made it just in time to a parking lot pictured below. The parking lot is next to a small lake that's usually very low and you can see the bridge that goes over the lake.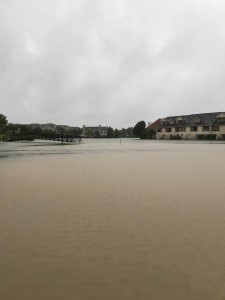 We left our kayak with one of the guys who had been out rescuing people and planned on going out some more. In fact, I think he went back and got some of our neighbors. It was a plus for us because we didn't know what we were going to to do with it on the other side. It was perfect for rescues because of the pontoons and trampolines. You could easily load it up with kids, pets and belongings with no danger of it tipping. The only downside was the weight and length. You can't just throw it on top of your car or in your truck bed like smaller kayaks. Chris gave him a business card with his phone number and said just let me know when your done with it and where I can come pick it up and if something happens to it, that's ok. We weren't sure if we'd ever see it again, but were glad it was being put to good use. About a week later we got a call and it was in Katy, so not too far of a drive.

When we got to the gas station, Jamie's dad and stepmom graciously offered to take us where we needed to go. We were all soaked and were very grateful for their offer. Houston was in such chaos and roads and subdivisions all over were affected by flooding so it was difficult to try and figure out where we could go. We decided to go to Chris' office first to get dry and come up with a plan. We found some towels and got changed into dry clothes. Well most of us anyway. Someone forgot to pack clothes for Chris.

Yeah, still feel bad about that one. It was late afternoon at this point and Chris' co-worker Kelly brought us some food and bedding in case we'd be sleeping there that night. We would've stayed with her, but she has cats and that would not have been a good idea for Chris. We really didn't need his asthma flaring up and adding to our adventure. He was able to get ahold of another friend and co-worker, Scott, who lives close to the office and he got us set up with a vehicle and a place to stay for the night. He graciously gave up his only bedroom for us that night and even had cots for the kids to sleep on. I slept so well that night. I guess not having water rising around you helps put your mind at ease. I really was at peace with the whole situation. We had no idea if we'd lose our house and cars, but I really didn't care. The only thing that made me sad was the thought of losing my photos. The kids did so well. They really seemed to get it. It was just "stuff". What mattered was we were all safe.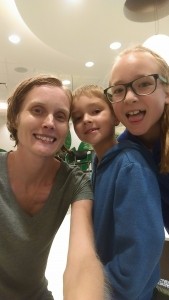 The next day, Tuesday, the guys went out to see if the roads were clear to our camper. He had no problem getting it. Well, mostly no problem. He didn't bring the keys with us when we left home in such a hurry. A window had been left unlocked though, so they shoved Robert through to open it up. We were so blessed and lucky those few days. I felt so taken care of. With the kayak and camper and friends pitching in to give rides, house us and get us a vehicle, we really didn't have too stressful of a time. It was so much worse for a lot of people.
These pictures were taken on the way to Vance and Jenna's. Their home is a little secluded and they have a long driveway for our camper, so they graciously took us in for the next week. (I took quite a few pictures while we were there, so I'll put them in their own post.) There were military high water trucks, civilians hauling boats and rescue vehicles from all over the country. It was so cool to see help coming in from all over. It really just made me feel good to witness. This truck was from Miami. There were also helicopters flying overhead all day that whole week.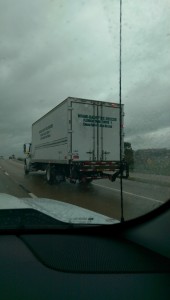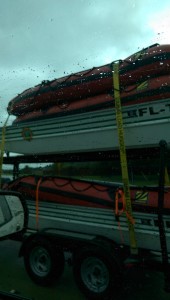 On Wednesday, our neighbor sent this photo of our driveway. When we left home on Monday, I believe the water was just getting to the end of our driveway. I don't remember if the water was actually receding by this point, but I don't believe it was expected to rise any further at least. You can see the sky is at last clear after 3-4 days of non-stop rain. In all, I believe our area got around 32-33 inches of rain. It was such a relief to see that we hadn't flooded! We could rest easy now knowing we just had to wait for the water to recede.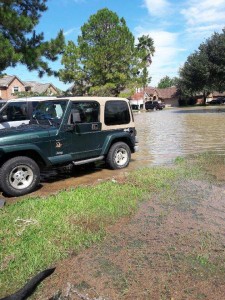 Chris was getting antsy just sitting around, so right after Viktor sent the last photo, he decided to try to get back to the house. He drove to the back of the apartment complex that butts up very close to our backyard, climbed the fence and jumped down into nasty standing water behind the neighbors' house, and then came through Viktor's back gate. He took this picture from inside the house, turned our electricity back on and brought some clothes back with him. He had to use the neighbor's ladder to get back over to the complex.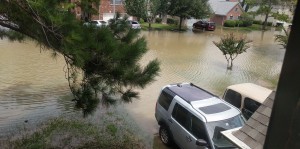 Someone sent us this picture from the intersection that we turn on to get to our subdivision. I'm not sure which day this is, but I think it's Tuesday or Wednesday. Out of the frame to the left is the gas station we were picked up at.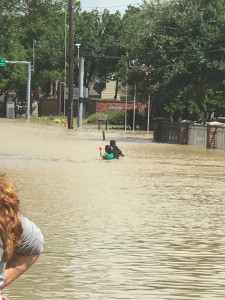 By Saturday, September 2nd, this is what our street looked like. I think Jamie had gotten back in on a kayak and sent us this picture.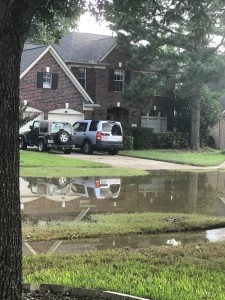 We were planning to go to church on Sunday, so we decided to see if we could get to the house beforehand. This picture is Sunday morning right by the parking lot that we took the boat to. You can see the water was still pretty high. We couldn't have gotten in if we had been in a shorter vehicle.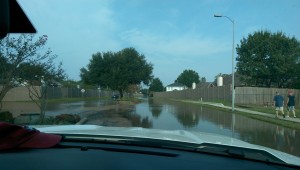 Ahhhhh! Home sweet home!!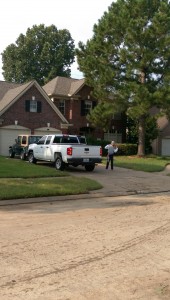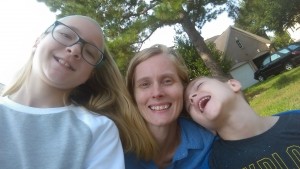 On the drive out of the subdivision, scenes like these were still all over the place. Flooded vehicles, downed fences, debris, flotation devices, water stations, etc.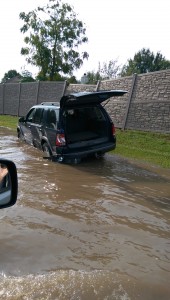 This next picture is of the lake that was flooded when we evacuated.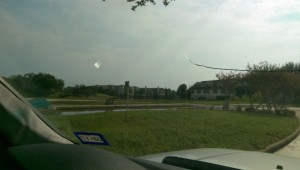 And this is the intersection with the gas station and the apartment complex across from it where the people were walking in chest high water earlier in the week. Most of the apartments near us had their first floor flooded as well as a handful of homes in neighborhoods in our school zone, so there were quite a few kids affected in the kids' schools. Our small neighborhood fared very well though. I don't think any homes flooded or if they did, only a couple with minimal damage.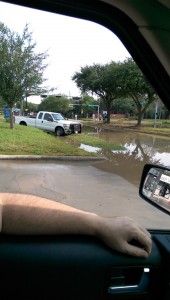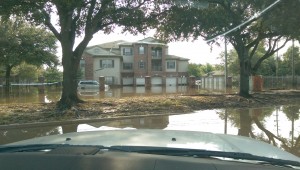 This ended up being the staging area that volunteers and the national guard worked from getting people in and out of the subdivisions and apartments near our house. In fact, if you look at the video in the Washington Post article I linked to above, they are filming here at this intersection while doing rescues from the surrounding apartments and homes.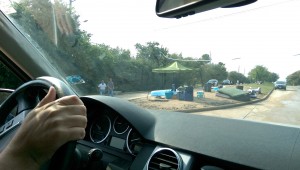 And here you can see just how close we came to flooding. The debris line came right up to our garage door, but not a drop inside. We were so very lucky. Feeling blessed and wanting to share our blessings with others, we took a family in that had flooded, but that's a story for another post.