After getting set up at Vance and Jenna's, we picked up groceries and then Jenna and I headed to Gallery Furniture with one of her teacher friends. Mattress Mack had opened up both of his furniture stores for displaced people, so Jenna wanted to go paint kids faces and read stories to the kids. They had gathered up a bunch of books to leave there as well.
We came in through the back loading and warehouse area that housed lots of dog crates and pens with pets in them. There was a steady stream of people dropping off donations and volunteers sorting everything coming in. People were interacting with their pets and taking them for walks out behind the store. Mack was also feeding the national guard and giving them a place to sleep those first few days, so the entire store was filled with guardsmen and civilians milling around. They were all welcome to make themselves comfortable and sit on all of the display living room furniture. A long atrium area was set up with tables running down the middle and individual stalls each with mattresses lining each wall. It was so cool to see him open up his businesses like he did during Harvey. He really is an amazing person.
Anyway, to say I'm not an artist is a massive understatement, but I did attempt to paint some faces. Jenna had a book with some ideas, so that helped. Sorta. Thankfully most people had the understanding that it's the thought that counts.

We even had a few adults come up and ask to have their faces painted. It was nice to put some smiles on people's faces. I think a balloon artist had been there right before us, so the kids really were getting to have some fun amidst the chaos.
Once we got back to the house, the body painting marathon began. Oh my goodness, they painted themselves and each other all week long!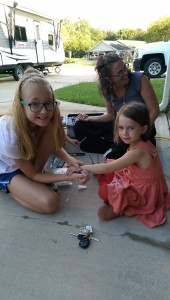 I was impressed with Robert's Yoshi he painted on his own arm.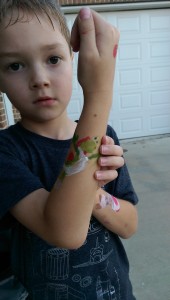 Clara was a really good sport all week and let Zoe paint necklaces and a crown on her on this particular day.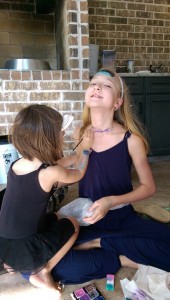 They found a frog that they passed around for a while, made lots of paper airplanes, ran all over the backyard and had a picnic with the neighbors. We spent a lot of time on the back porch when Chris was there because they have cats. I seem to remember the weather was pretty pleasant, so it wasn't bad.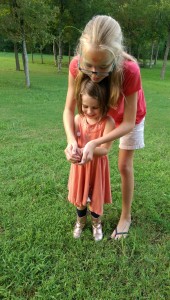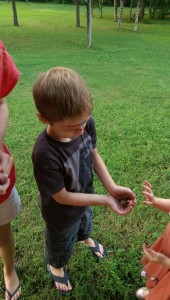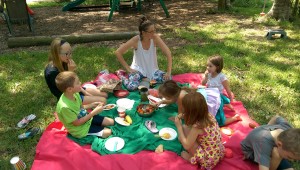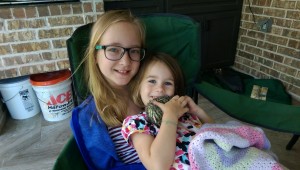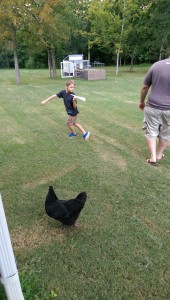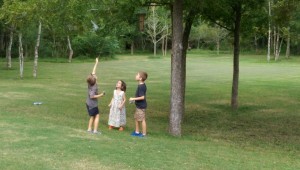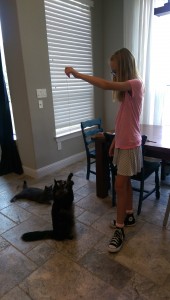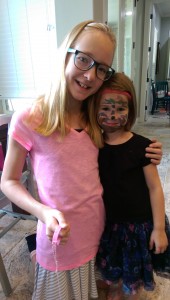 We spent Sunday night back in our own house and it felt really nice. On Monday, we went back to get the camper because we needed to get it to our house and cleaned up for our houseguests that we invited to move in while we were at church on Sunday.

We were so grateful for Vance and Jenna's hospitality that week.