Chris and I went to Orlando at the beginning of February for his work. They had a booth at a convention and I got to tag along, though I did have to work in the booth on my feet for four days. Not much of a vacation you say? Oh contraire. Did I mention Clara didn't join us? Six glorious, diaperless days filled with enjoying my quiet, not-cooked-by-me meals. Six days of getting into a car and just going, not having to buckle in a squirmy toddler. But I also endured six days of no baby kisses, no big grins and no "mama", so six days was about my limit. I was ready to see the little booger.
Chris' mom flew in from Albuquerque to stay with Clara. We were so thankful that she was willing to come for so long. Grandma enjoyed her time with Clara and Granddad was a bit jealous that he wasn't able to take time off and come also. She did awesome. It was my first time away from her, so I was a little worried, but she took her naps and slept through the night every night for Grandma. The only time she had a little meltdown was on day 5 after I talked to her on the phone. After I hung up, she kinda lost it, so we didn't talk on the last day.
The convention wasn't too bad. It only ran from 9:30 to 5:00, so the days went pretty quickly. I did ok the first day, but the second, man I thought my feet were going to explode. I was so tired, I was beginning to rethink agreeing to come on "my vacation". By the third day I was fine again. Chris and I got to go out to dinner by ourselves one night while eveyone else went to an awards dinner. It was nice; while waiting for a table, we met a couple from Ottawa that were there for the convention and ended up eating with them.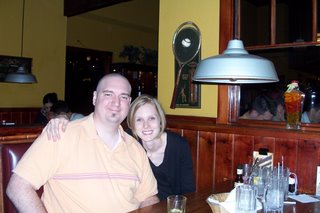 We all went to a pirate dinner show Saturday night. (Guess who's idea that was) It was a fun show, but the food was pretty bad and it was pretty expensive. Chris was hoarse after yelling and screaming for our section's pirate. He wanted so badly to be chosen to play a role, but alas, most of the people taken from the crowd and given pirate hats and a job to do were under five feet tall. Here he is with the boss after the show.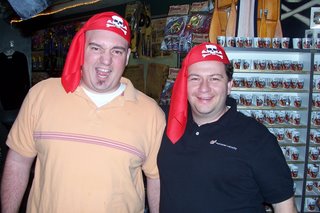 My pirate and Cap'n Rob
The best part of the week, though was on Sunday. Chris and I stayed a day later than everyone else and went to Disneyworld's Animal Kingdom. It was our first time to go, though Chris and been to Disneyland a few times. We rode on the rollercoaster Everest, which was a lot of fun. We also went on the Dinosaur ride, a safari and the Bugs Life 3-d show. By the time we did all that and had walked the entire park, we were pretty tired and went back to the hotel.
Anyway….. The real fun began Monday morning, the day we were leaving. Our flight was getting into Houston at 10:15 am and Grandma's was leaving Houston at 5:40 pm. Plenty of time to get home, enjoy lunch, swap stories and get Grandma to the airport, right? Wrong! I'm embarrassed to even write how badly I messed up our trip home. (Chris helped some too though). Ok, so after talking to Linda about when we were landing, I must've just had 10:15 in my mind. Now, I'm the type of person that double, nay, triple checks these things normally, but not this time. Nope, Chris was inside checking us out of our hotel when it hits me. Our flight doesn't leave Orlando at 10:15, it lands in Houston at 10:15. Our flight leaves at 8:40. Current time: 7:40. Uh-oh.
We book it to the airport and as we turn into the garage to return the rental car, we make a wrong turn and get into the lane for another car rental company. There's a guy directing cars and people are pulling in next to and behind us. We were completely trapped and unable to turn in the car. Chris went to take care of it, which was not an easy task and I went to check in and was just gonna leave him to take a later flight. I get to check-in and there is a very long line. So I ask if I can go ahead because my flight leaves in 20 minutes. Nope, you have to check in at least 45 minutes before your flight, no ifs ands or buts. Oh well, at least we can slow down now.
We were able to get on a 12:45 flight with no charge. Yay! We would have plenty of time to get Chris' mom to the airport 2 hours early. When we landed, we taxied for about half an hour, so we got home, Grandma threw Clara to me, Chris threw Grandma's bags into the trunk, we hugged and said goodbye, then she was off. Whew! This day should not have been this complicated. In the future, I vow to be totally anal about checking my flight times, alarm clock, alarm clock of person taking me to the airport, flight status, amount of gas in the car taking me to the airport, security measures in place, and anything else remotely related to air travel.