This is the view from the front door. You'll see that I had a hard time keeping Zoe out of the pictures. The hallway to the left goes to the 3 bedrooms and bathroom. There is a short hall after the entryway that has a door to the laundry room and garage. Between the entry and short hall, it's a lot of space and I haven't quite figured out what to do with it. The tall, narrow shelf from our old house doesn't really work for this space, but it will do.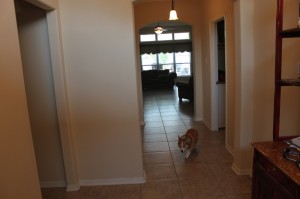 Living room view from the breakfast nook. And look! I have a fireplace! I'm so excited to have a mantle to hang our stockings from this Christmas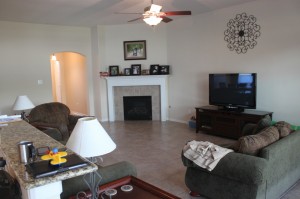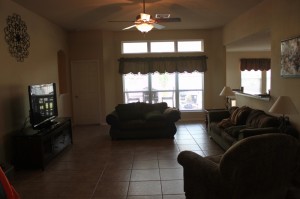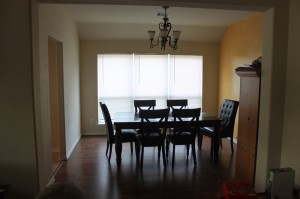 We have fewer cabinets here, but the pantry and island is larger. Funny thing is, I don't think I like the longer island. I'd prefer to have more counter space next to the sink and stove. I guess I just have to give it some time. It's hard to change cooking habits. Ok, am I the only one who doesn't like granite? I know it's all the rage, but I haven't liked it at all. I feel like I have to be so gentle with anything breakable I set down on it. I just cringe when stuff touches the counter. It's so loud! Plus, it has several places that have small chips and some kind of film or damage to the finish or something. I know granite is supposed to be luxurious and longlasting, but the laminate countertop in our old house was seven years old and didn't have a bit of damage. I miss my cheap laminate.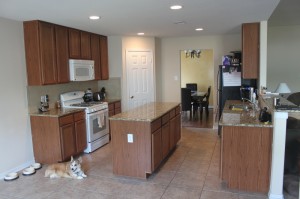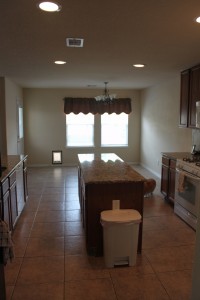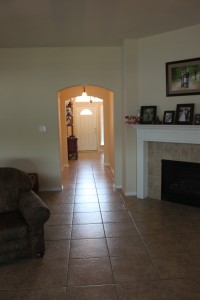 The house is mostly tile, which I am loving so far. The dining room is laminate and three of the bedrooms are carpeted. The tile does get dirty and hairy fast, but I love being able to sweep and mop and know that I got all of the dog hair and dirt. The grout in some places is nasty dirty, so I've been cleaning a small section at a time of the worst spots.