My mom and Myrt Myrt came for their yearly visit this past week. They got here around 4:00 on Monday. Each year we try to take them somewhere to eat that they haven't been before but it's getting harder to do that because they're getting most everything we have in Midland/Odessa now. They hadn't been to Freebirds before though, so Freebirds it was.
My mom wanted to get each of the kids something and I told her Clara has been wanting Kit's dog Grace to go with her dog Pepper she got for Christmas. She loves that dog. We're not too far from the American Girl store, so that's what we did on Tuesday. I don't have to tell you, Clara loved the store. Of course once she saw everything on display, suddenly she wasn't so sure she wanted Grace. She eventually decided to get Julie's pet rabbit, Nutmeg. Since we won't buy her any more dolls, she's decided she wants to save her money to buy Julie. Nutmeg and Pepper are getting along very well. He's been very gentle with his new friend and even lets Nutmeg ride in his pet carrier with him.
Bia wanted to get Clara a few new school clothes, so we did that while we were at the mall. Bia and Myrt Myrt have a bit of an obsession with Cheesecake Factory and since they don't have one of those in Midland yet, they go every chance they can get. What do you know, it was right next to the American Girl store. So we got a piece of cheesecake in lieu of lunch since we had a late breakfast. Then Bia took the kids on a train ride around the mall and then Robert played on the indoor playground for a while. This one was a huge castle.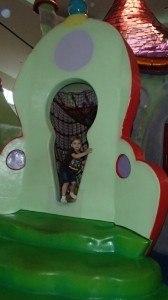 We got the kids home for naps while Bia and Myrt did a little more shopping. We had a quick sandwich for dinner and then the girls got all dressed up and headed downtown to see Wicked at the Hobby Center. After I introduced my mom and Myrt to the joy of musical theater last year when we saw The Lion King, I was so excited when I saw Wicked would be here during their trip this year. Since Chris and I saw it in London, I knew it would be ok for Clara. There is one small part that I wish wasn't in there, but other than that, it's completely family friendly. I think there was more inappropriateness in Beauty and the Beast with the french maid character and Lumiere and that's a Disney show.
I digress. It's been very rainy here this week so I wanted to make sure and be at the theater in plenty of time in case of bad weather and evening traffic. So we made sure to leave the house a little earlier than I had planned. We got there in plenty of time and found our seats. I thought they had opened the doors a little earlier than usual because the theater was almost full and it was still half an hour until curtain. Then the lights went down and the announcer said to turn off cell phones and the music started. I couldn't believe it. It started at 7:30, not 8:00 like I thought!! (weekday shows start at 7:30, weekends at 8:00) Why do I keep doing this? At least this time we made it in the nick of time. Most of the time, I miss whatever it is I had scheduled, like trains and airplanes.
Clara took Nutmeg to the show because she thought a rabbit would be quieter than a husky dog. Everyone loved it. I have the soundtrack so we'd been listening to it leading up to the show. Clara loved that she knew the songs. I had discussed some of the story with her beforehand so she would understand what was going on. She had lots of questions and the show is filled with great things to discuss with kids. (Just the show; don't read the book to kids. I understand it's highly inappropriate for kids.)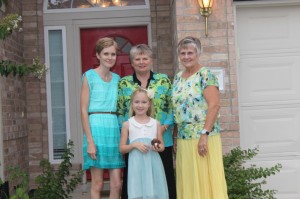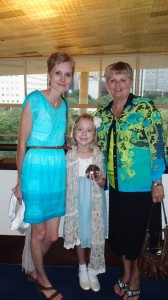 The next morning, Robert woke up with a gunky eye. Yay for indoor play places! Bia and Myrt left that morning for the next stop on their Texas tour and the kids and I headed back up to the old house after they left. We had our house painted last Saturday. The painters finished in one day and Chris walked through the house and paid the guy. Chris pointed out the trim in a couple of rooms that didn't look finished. The guy assured him it just wasn't dry yet. Well, when we went to the house after church on Sunday, lo and behold, the trim still looked just as bad. So Chris let the guy know he was going to need to come back and finish the job and he got really defensive. It was pretty clear it wasn't going to be easy to get him back out. We were hoping to put the house on the market as soon as it was painted. Soooo, all that to say, I spent about 3-4 hours finishing up the painting on Wednesday. All three bedrooms needed a coat on the ceiling trim and two bedrooms also needed a coat around door frames and outlets. I had to get the ladder out for our bedroom because the ceilings are so tall. I also went ahead and painted our downstairs closet since it was covered in marks and screw holes.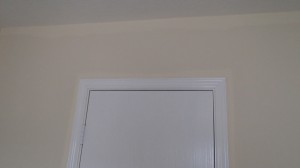 When we first got to the house, Robert had a big goop of green in his eye. I just wanted to get the house finished, so I put off making an appointment for him. He would come find me every little while because his eye was dripping. One time he came to me and there was a green blob the size of a lima bean hanging out of his eye. Gag. I'm sparing you the picture. So I called and made him an appointment for the next morning. Which meant I had to drive back up to The Woodlands.
We didn't get home until 8:00, but I completely finished everything that needed to be done at the old house and it's ready to list! So we went back up Thursday morning for Robert's appointment. Turns out he has a severe case of pink eye and the infection had moved into his eyelid. So he's on an oral antibiotic and an eye drop. The doctor said if he woke on Friday and it was worse that he might need to be on IV antibiotics. Yikes! Thankfully after a couple doses of antibiotics, he was looking much better. This picture was Thursday night after a couple of doses.