Sorry I haven't updated in a while. I've been sick three times in the last month. I never get sick. The last time I was sick enough to go to the doctor was for a sinus infection six years ago. I get the occasional cold, but they are usually pretty minor. So, I got a sinus infection about a week after we got back from Pecos that knocked me out for two days. I could barely get myself off the couch. And of course, Chris was on a business trip those two days. The kids managed to survive on a box of crackers and juice boxes for the most part. At about 11:00 p.m. the first night I was in tears begging them to please just go to bed. Clara was such a good big sister. She got Robert dressed for bed and then he fell asleep while she was reading him a story.
Thankfully I started feeling better right about the time Chris got back the second night around 7:00 and I kicked it into high gear because Dan and Linda were coming for their first visit to our new house the next day. The place was trashed but I managed to make it halfway presentable before they arrived. They took us to see Planes and we mostly hung around the house the rest of the time because I was still recovering and it was sweltering outside.
Both kids ran a fever the Saturday before school started but were fine the next morning. Robert did end up coming down with a cold and really bad cough not long after, so he was on breathing treatments for a week or so. Chris got sick after that I think and ended up back in the clinic because he wanted to be well for a car race he was working the next weekend. He took over the nebulizer once Robert was done and got some steroids so he was better in time for his four day race weekend in College Station. The day before he left, I came down with a massive sore throat with no other symptoms. I couldn't do anything I was in so much pain. I was just curled up in a ball on the couch. It hurt to talk, yawn and eat. I was not looking forward to being on my own with the kids while sick again, but I woke the next morning greatly improved. I was just super tired. So again, I spent several days completely exhausted while I recovered.
And then last week, I got sick again! I had a head cold for several days that started on Wednesday. I've taken two naps a day since it started. Yesterday was the first day I didn't take a morning nap and I finally felt like myself again by the afternoon. This morning we were able to ride our bikes to school after taking almost a week off. Clara is sneezing like crazy and completely stopped up and has a runny nose, but I'm hoping it's just allergies and we can keep it from turning into an infection. Aside from all the coughing, nose blowing, and sleeping we're doing around here, not much else has been going on. Most every weekend has been recovery time for one or more of us.
Clara is doing well in school. She loves her teacher and has made friends. I love the school because they actually communicate with parents. What a concept. I mean, I knew Clara's old school was really lacking in how much they communicated, but I didn't have anything to compare it with. I now see just how sorely lacking they were. I received more information in the first two weeks of school here than I did in two years at Clara's old school. And I'm not even exaggerating. They never told us anything. The website was never updated, no newsletter, nothing. The line to sign up for PTA was so long on Meet the Teacher night that I didn't bother standing in it since Robert was being a toot and I signed up later. At her old school, the one meeting I went to had about four parents, the principal and one teacher representative present. So I'm loving her new school year so far.
We walked to school the first week. The afternoons were brutal. Brutal I tell you. I took this picture right after we got home one day. It doesn't do justice to just how sweaty we were. You'll notice the bottom half of my shirt is soaked.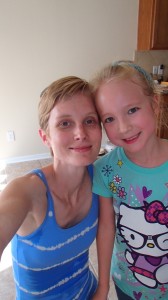 So I started bringing umbrellas for shade and I picked up this baby at the store and all was well. You'll notice little brother is not too happy about sharing his squirting fan. Robert is loving walking and riding to school because he gets to bring along a snack to keep him occupied. Clara's new school starts and ends later than her old one, so the timing has been perfect for Robert to get a nice nap right before going to pick her up which makes for a more pleasant outing.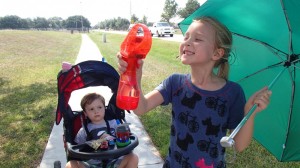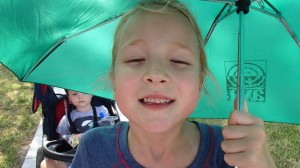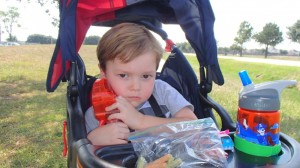 After that first week, we started riding our bikes. Those first few days my thighs were on fire! All told, between drop off and pick up, I'm riding 3.5 miles pulling a trailer with Robert. That's up from, um, about 0.0 the week before. It's been good for all of us I think. We're getting much needed exercise, I've met a couple of other moms that ride and walk their kids to school, and I think it's good for the kids (and myself) to learn to handle a little discomfort. I'll admit it's not been fun to walk home in 100 degree heat, but it sure has made me more grateful for the vehicles I have when I need them and I sure have learned to appreciate the blessing of an a/c  more. We're getting use out of a trail system that I'm very grateful to have and it's a nice relaxing start to the school day. I just think it's so much nicer than dealing with all of the traffic and the car rider line. I highly suggest you try walking your kids to school if you're close enough.
I snapped this pic of Clara and Travis after lunch a couple of weeks ago. I tried to get a picture of all of the kids, but there wasn't much cooperation going on.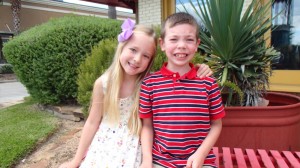 Oh, and one last update. The kids had dental appointments with a new dentist a couple of weeks back. The dentist referred us to an orthodontist for a consultation about Clara's extra front tooth and her two teeth that are ankylosed (these baby teeth are shorter because they never fully erupted). It's hard to explain, so you can google it if you'd like

 We know there is an extra permanent front tooth as well and both the extra teeth and the ankylosed teeth can cause spacing problems as she starts loosing teeth, hence the reason for the ortho consult. We may have a lot of tooth pulling in our near future

It was Robert's first visit and he did very well. Much better than I though he would. We didn't do a cleaning, but he was very cooperative and let the dentist take a good look. He has a crossbite, but she said it could correct itself as he gets older.