Chris' company moved into a new building in June. Construction wasn't quite complete, so only employees have been allowed in since it opened. They had an open house a couple of weeks back to showcase the new building to family members. They had a clown making balloon animals, a photo booth, fajitas and cake and tours of the labs complete with some hands on activities for the kids. The kids got colorful safety glasses to take home after wearing for the tour and they also got to take home a little tree growing kit.
Here they are on the balcony near Chris' office.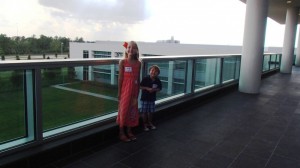 And this is a beautiful wall in the atrium, complete with water at the bottom. Chris' company offers an environmentally friendly drilling fluid, in case you were wondering why the oil derrick is shooting out leaves.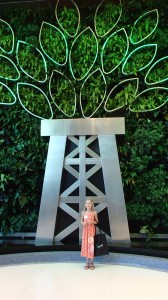 We stopped in to take a look at Daddy's office too.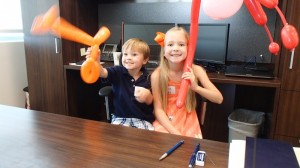 I had a talk with the kids on the way there about being polite, no running around, shaking hands and answering people when they talked to them. They were doing pretty well. We were talking to one of the Senior VPs, who I had met before and had met the kids at the air show last year, so thankfully this wasn't his first impression of our family. Anyway, he went to say hi to Robert and as he extended his hand to Robert for a handshake, Robert's finger slowly went straight up his nose. We chuckled and the VP quickly withdrew his offer, right as Robert was done picking and went to shake his hand. Oh my goodness, I was so embarrassed, but we all got a good laugh. Guess I need to add nose picking to the etiquette agenda next time.
We also saw Big Robert there. I pointed him out to Clara and she ran over and gave him a big hug. It had probably been a couple of years since she saw him last. He told Chris later that he didn't recognize her at first and was about to tell her she had the wrong person. Ha! Then he got a look at her and was like, "Oh my goodness, is that Clara!?" I guess she's grown a bit in the last two years.
All in all it was fun night and it's nice that they took the time and effort to do something fun for their employees' families. I think everyone really enjoyed themselves.