We had a Christmas themed birthday party for Clara today. The kids did Christmas crafts and decorated a gingerbread train and train station. Chris and I worked together this year on Clara's Christmas tree cake. Attendees included one friend from school along with his sister, a 3rd grade girl that also rides her bike to school and the neighbor's 1st grade grand-daughter that Clara plays with a lot. And three old friends from Spring who were so sweet to come all the way out here for Clara's big day. So it was an eclectic group with lots of shyness at first

I think they eventually all had fun. At least I hope so.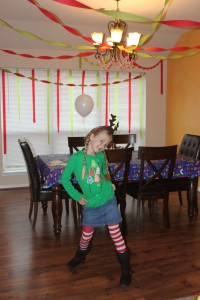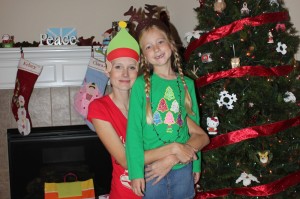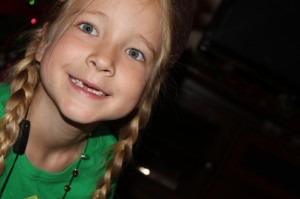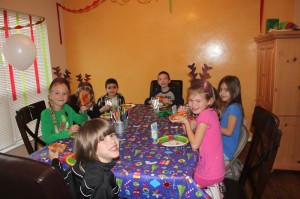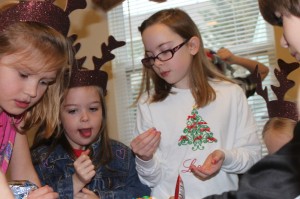 I might have used a gingerbread house that we had left after our party got canceled last year which would account for the no-so-great icing. It wouldn't go on well at all. That didn't stop them though. I think the gingerbread decorating was a hit. Ellie went to town with this red decorating gel. I need to take a picture of the finished product. It's something alright.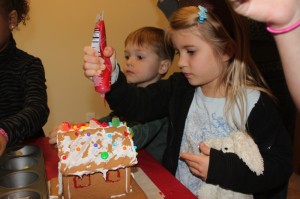 Say "cheese" Alaina. The one kid who cooperated for the camera.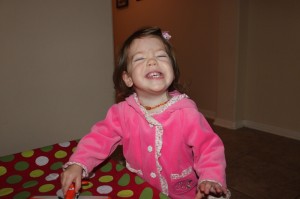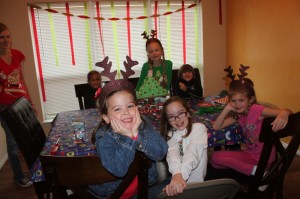 It was Chris' idea to have the multi-layered cake. I was just going to free-hand it again and have it lying flat. When he started coming up with all these grand plans including the mention of a Dr. Suess-like creation, I let him take over. He thought we needed to have a contest to see who had the better cake. I told him I would help him instead. I couldn't handle the thought of two cakes! I got little boxes of candy and wrapped them up so we would have presents under the tree. At the end of the party, the kids drew names and got to pick a present to take home. I made them wait until they got home to open them because some were better than others and I didn't want any fighting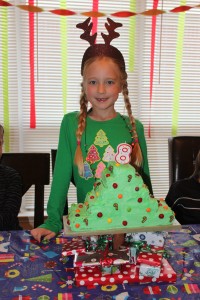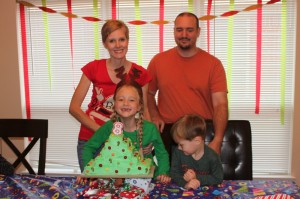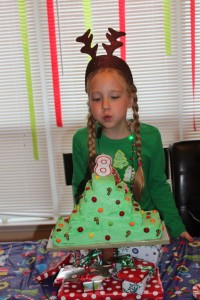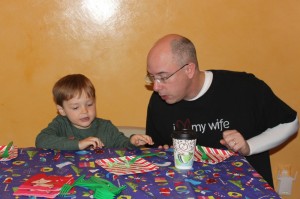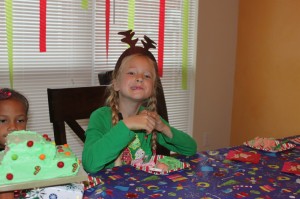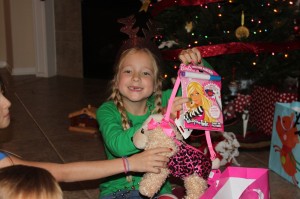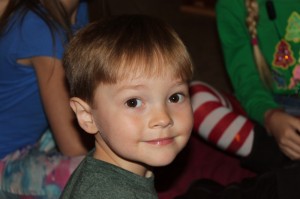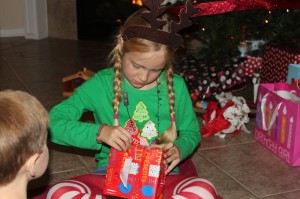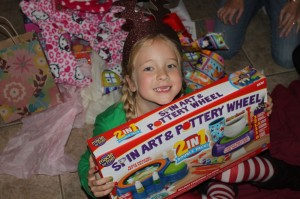 After the party and naps, I told Clara we could go get her Julie doll if she wanted. She wanted. She received a giftcard and a little money that put her right at the amount she needed to afford her and she was over the moon excited. She was so proud of herself as she stood in line with that big box and her pouch of money that she's counted and re-counted each time she's added another dollar to it.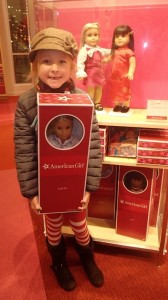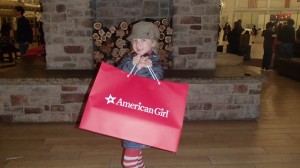 We stopped next door at Panera Bread and got a little something to eat since we hadn't had dinner and Julie couldn't breathe in that box. This girl is in heaven. She giggled and said how much she loves her and how much she looks like her and how she wishes Julie was missing her front teeth too and "thank you for taking me to get Julie, Mommy", and on and on the whole way home. She's had a pretty fantastic birthday and it's not even her big day yet! Tomorrow she (hopefully) gets her gift from us. Pierced ears! Chris and I want to use a professional piercer (for lots of reasons), but did you know that Texas law requires that minors have a government issued i.d. to be pierced? I'm not sure how the mall places get around it, but the guy I talked to at the piercing place said they're not exempt from the law. Maybe because they only do earlobes? Anyway, he said a school i.d. would work (which her school can't or won't do, not sure which), or one of the pictures with their names on it that you can get to identify them if they go missing. I have one that came with her school pictures last year, so I'm hoping that along with a birth certificate and my i.d. will work. We're crossing our fingers.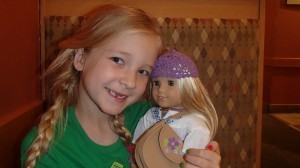 We got home just as Chris had put Robert down. This is the sight that met me when I went in to say goodnight.