Clara FINALLY got her ears pierced tonight. Oh my goodness, it was like a comedy of errors trying to get a couple of holes in those things! So here's what happened. I called a piercer a couple of weeks back, he didn't seem just real keen on piercing minors but said that he would. So on Clara's birthday, the 8th, I went to take her only to find out they were closed on Sunday. Not to fear though because I called another place that had really good online reviews and talked to the guy there and he seemed really nice and they were open. But wait, he was out of the right size earrings for her ears but had some ordered and they should be in on Saturday. Chris was out of town this weekend and I didn't want to take Robert with us, so I told Clara we would do them this past Sunday night. We ended up being at Pancakes and Pajamas a little too late and it was a school night so I told her we would go the next night. Monday came around and I went to call them to make sure he would be there and wouldn't you know it, this shop is closed on Mondays.
Now Clara's really starting to get disappointed and I didn't blame her. I asked her if she wanted to go to the other place, but she liked the idea of the man that I said seemed really nice and more willing to pierce kids. So yesterday I called early in the day to make sure he would be there, but nope, it was his day off. He would be there tonight at 5:00. Sweet! So we met Daddy at Smashburger for dinner at 5:30 because Clara's school was having spirit night there. I had planned on leaving straight from the restaurant and Chris would take Robert home. Of course I forgot her birth certificate at home and would need it at the piercing studio, so we had to swing back by the house before going.
Traffic was pretty bad, so we got there around 7:00 and it turns out the shipment hadn't come in, so he only had larger guage earrings and said he could call us if they came in in the next couple of days. Clara was just about in tears at this point. He saw how disappointed she was, so he said that I could go to Wal-Mart and buy the earrings and bring them back if I wanted. He said just to make sure and get surgical steel and not stainless. Ok, we decided to give it a shot. Drove all the way to Wal-Mart and they didn't have surgical, only stainless. I wanted to call him to see if 14k gold or titanium was ok, but I had left my phone in the car. Went back out to the car and asked and he said either would work. Went back inside and of course they are out of all of the ones we would have wanted. I didn't want to get anything with big 'ol fake diamonds. Sigh. As we walked out, Clara finally started crying. She's been anticipating this for soooo long. She's told her friends at school, "I'm getting my ears pierced today" about five times now and some of them don't believe her now.
So we went to the other Wal-Mart. We had to wait a while while the employee kind of ran around looking lost trying to help an angry customer, but she had some titanium ones that would work for us. Yay! So she went to check us out and she has been logged out (I'm guessing because she went over in hours), so she had to take us up to the self checkout employee and had us cut in front of everyone so he could check me out. Woohoo, we finally got a break!
So we took them back to Matt and it was 8:05 at this point. He needed to pull them out of the cartridges they came in and sterilize them and that takes about 30 minutes, so he said come back at 8:45. We got gas and then I drove a bit to find a Starbucks. I could not find a Starbucks! I finally turned around and headed the other direction and eventually found one to sit at for 10 minutes.
We got back to the shop at 8:45 on the dot. He made copies of all of our ids and then got the room ready. Clara was about to bust she was so excited. She said if she could do flips she would be doing one right then. First one went in no problem. There were no tears but she looked a little shocked and was really quiet. The second one bled quite a bit. He said that she got worked up after the first one and her adrenaline was pumping, which is why it bled. He got her all cleaned up and she was still being really quiet, so we had to ask her if she was ok and remind her to breathe. Ha! She was on cloud nine once she finally got to see herself in the mirror. I'm proud of her. I really thought there would be lots of tears and I had prepared my pep talk when it came time to do the second one. The piercer told her she did better than some adults.
So without further adieu, the long-awaited earrings. She's all grown up now. The first one was taken in the studio and that's the ear that bled.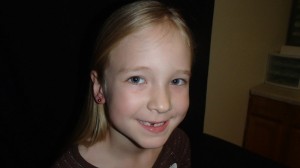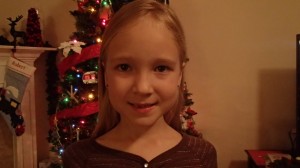 I'm really hoping I don't have to clean up nasty, crusty gunk tomorrow morning.