Today was quite special for Clara. The 2nd grade program was tonight and since Chris wasn't going to be able to attend, he decided to volunteer as a Watch D.O.G. today. It's a nation-wide program that her school participates in in which dads come up for the day and just kinda hang around. He got to sit in Clara's class for awhile, have lunch and recess with her class, they got their picture taken to go on a bulletin board with other Watch Dogs and they got to be on the school morning video announcements. He also visited some of the younger classrooms because they love when men come into the school. A big reason for the program is to just get dads involved in the schools and also to have men serve as role models for the kids since so many of them don't have a dad at home. All of the kids love having them up there and Clara was just beside herself. It's a proud moment to have your dad be a Watch Dog.
I asked Chris what all he did and he said he spoke to Clara's class for 20 minutes on how to make drilling mud. Ha! And got locked outside and then got scolded when he tried to come in through the gym door. He also got to see the program as they practiced it today, so that was a nice perk. I talked to Clara's teacher tonight and she said the kids loved him and were all really interested in his talk about his job. I was slightly shocked. She told him she'd love to have him back to show them how mud is made. Clara even checked out a book at the library today about drilling for oil, so he must have made an impression. Picture's a little blurry, but here they are.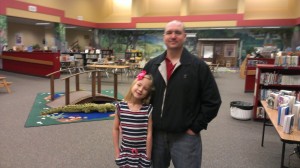 The theme of tonight's program was learning. Each 2nd grade class performed a different song. Clara's class sang a song called "There's a class for that" (that I now have stuck in my head after hearing her practicing it these last few weeks). Clara loved every minute and scored another dog tag for tonight's performance.