I wanted a little something to remember Zoe, so I found this art print on Etsy that fit the bill perfectly. There's lots of corgi artwork out there, but I really liked the simplicity of this one. Ignore the shadow and glare on the glass. The vet's office took Zoe's pawprint and we got it and a nice card signed by all of the vet employees in the mail yesterday. I thought it was a kind gesture.
On the morning Zoe died, we were preparing Clara for the possibility of us taking her to be put to sleep while she was at school. She wanted something to remember her by and asked if we could keep a lock of her hair. I smiled and told her there were tufts of her hair laying all over the house since she was blowing her coat. A little while later I looked on the mantle and saw this big 'ol tuft of soft white hair sitting there. I haven't had the heart to throw it away, so there it still sits.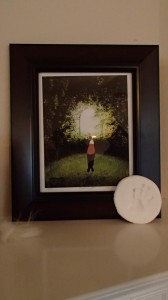 And for Clara, I found this sweet little corgi necklace on Etsy. She loves it, but the cheap chain broke the first time she wore it, so I have to get another one for it.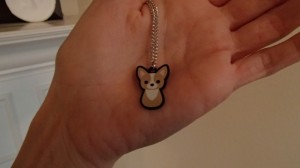 Clara was running around with Zoe's collar a couple of days ago. I told her to put it away because if Max heard it he may think Zoe was back. Chris asked me if I had heard Max go outside during the night. I hadn't, but we had a lot of wind and he said it kept blowing open the doggie door. He heard Max get up and go outside to check things out. Ugh, it brought tears to my eyes thinking he may have thought Zoe was back.