This has been an eventful week at Clara's school. In celebration of Dr. Seuss' birthday, they're having literacy week celebrating a different book each day. Monday was wear a hat for The Cat in the Hat. Tuesday was crazy sock day for Fox in Socks. Yesterday was wear green for Green Eggs and Ham. Today is a costume parade and tomorrow they wear pajamas for The Sleep Book. There was also Muffins with Mom yesterday, Literacy Night at school tonight and the book fair is this week. Whew. That's a lot of stuff.
She decided to be Matthias, a mouse monk from the Redwall series. Chris has been reading the first book to her and when he suggested Matthias, she got super excited. I tried to get her to go with Alice thinking her dress might still fit, but alas, the sleeves were too tight.
She didn't take the sword to school of course since kids now get suspended for making pop tart guns and bang noises with their finger guns, but she did make her shield and took it with her.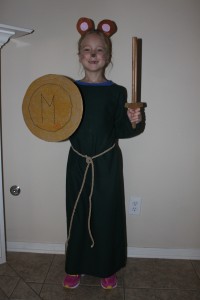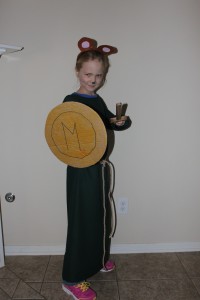 We couldn't forget to get a picture of her awesome tail. Getting into the car she asked me what mice do with their tails when they sit. She had to make sure it wasn't hanging out the car door.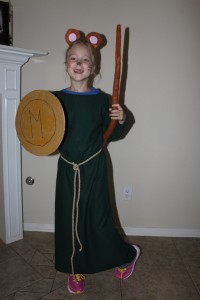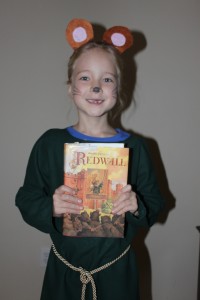 I've said this before, but how did I create such a confident child? As I dropped her off in the car line, I didn't see a single other kid dressed up. I watched her skip happily to the door, smiling and waving goodbye, apparently oblivious to the fact that she was dressed like a mouse from the dark ages. I was kind of embarrassed for her. I seriously don't think I would have gotten out of the car at that age until I saw at least one other person dressed up. Hopefully there were more dressed up when she got into the gym. She said her costume parade wasn't until the afternoon so I hope she wasn't just supposed to bring it to put on right before. Oh well, she wasn't worried so I guess I should follow in her wise footsteps.