We joined the Couringtons and Becky's parents and a handful of siblings for camping on Saturday on Lake Somerville. Chris' co-worker Vance and his family came out for the day on Saturday and Jason got there Saturday night. All of the nearby state parks were full, so we stayed at Yegua Creek which is an Army Corp of Engineers park. We stayed here when Clara was one and endured a horrible night of wind. It was one of my very first blog posts.
It was overcast and windy a good deal of the time and cold, but there were times when the weather would cooperate and allow for some good playtime. Because of Robert's ear infection, we were told to have him rest for the first couple of days. It wasn't too difficult to lure him inside the camper for a movie since it wasn't too nice out. We'd let him out for a short time and then herd him back inside for a movie or nap.
Our campsite sat on a curve in the road with the perfect little hill to ride bikes or scooter down, so the kids spent a lot of time doing just that. Robert's first attempt on his bike was a little nerve-wracking for Mama to watch, but he did well and didn't have an ounce of fear. He just needs to work on looking at the road ahead and not down at his feet. The kids also spent a great deal of time making a "town" all down the street with sidewalk chalk. The adults would go around and pick which buildings our kids did. We decided Clara probably added Target and Kate's contribution was the hospital

Jason took Zef and watched a movie in the theater for a little while.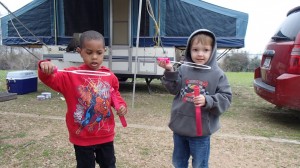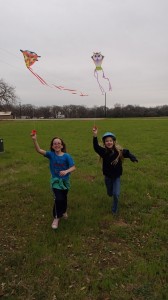 We gave Jason this little cast iron skillet for Christmas. When we saw it in Academy, we couldn't not get it for him. He tested it out for the first time on this trip. Worked great to make his little half ounce steak and is the perfect size for a single egg. We all waited our turn for our own custom ordered egg. The boys sat around the fire cooking in our four dutch ovens all weekend.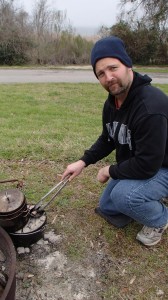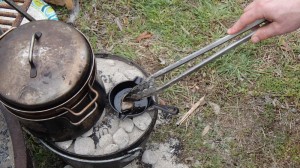 And Zef laid in his chair by the fire like a good boy all weekend.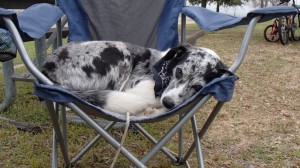 Max is still acting weird and didn't really perk up while camping like I thought he might. He just sat and observed and didn't want to go for walks. That could have been because of the stickers though. He didn't want me to leave his side. If I went in the camper, he wanted in and if I walked out, he wanted out. Here he's watching the girls add to their chalk city from afar.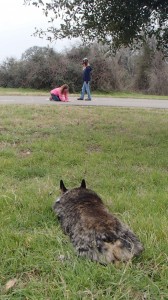 Robert has had a huge pimple on his nose for a couple of weeks. The physician's assistant wasn't sure what it was, but went ahead and prescribed an antibiotic that would also help with skin infections. It had gotten huge and pus filled and then would peel off, scab and start over. I hadn't messed with it because I was afraid of staph. It finally burst while camping, so Chris squeezed it some more and a lot came out. We put some neosporin on it and convinced him to wear a band-aid for the rest of the day.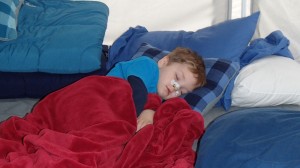 We had everyone over to our fire on Sunday night for s'mores and cobbler. The kids participated in JDog's Cobbler Camp and helped make their individual cobblers to go into the dutch ovens.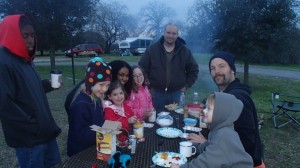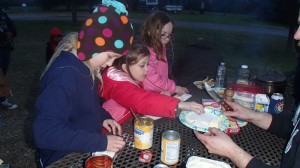 Clara's s'more face.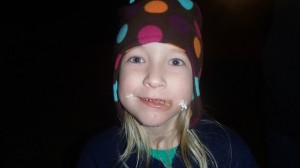 Clara enjoying her Monday morning scrambled egg.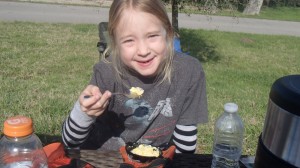 The weather had finally warmed up on Monday and Becky's mom took a group of kids down to the water to fish. I came along with Robert since we decided he was finally rested up enough to get out more.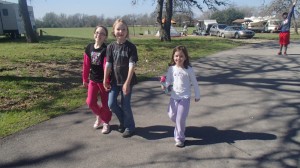 Karen is a saint. No really. She's the saint of patience. I guess having 20+ kids will teach you not to sweat the small stuff. She helped get a hook out of one grandkids' pants, untangled fishing line, helped cast, watched the youngest grandson and dog, kept everyone away while people were casting, cut a line and then restrung it, showed my child how to fish (since I'm clueless), etc, etc, etc. Seriously, my head was spinning just sitting there watching. Karen's my hero.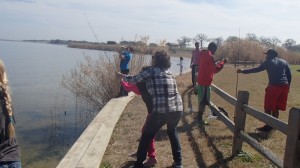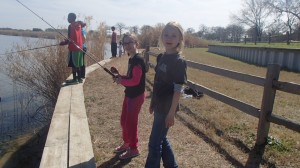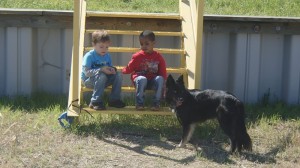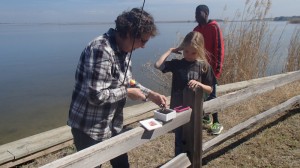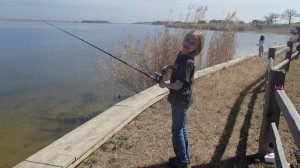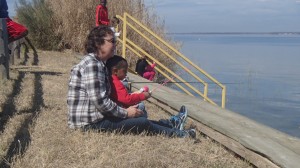 She's also human and a Nana, so when the grandkids asked if they could go play on the hill of sand and mom was back at camp getting stuff packed up to leave, she said, "Sure, why not?" My kids approved of the hill climbing and fishing was officially abandoned.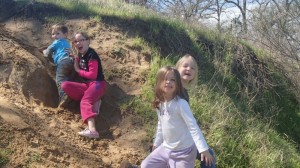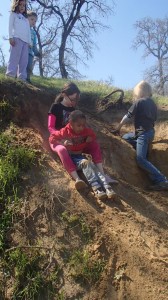 We got back to the campsite and Jason and Zef were ready to head back home. The Couringtons and Quinns left not long after and it was just us left.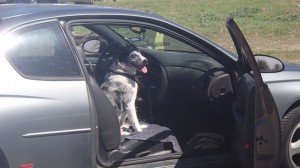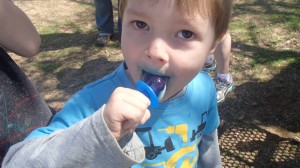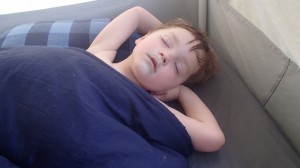 We napped and when we woke, I noticed Clara didn't look so great. Her eyes were puffy, her face was red and she had started getting a runny nose and cough. I think as the weather warmed up, the allergens came out in full force. By the evening, her face was itching and she looked miserable. I gave her Benadryl before bed.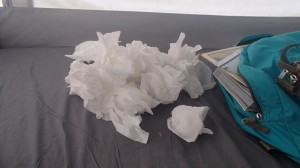 This was her pile of kleenex from during the night Monday night. She still looked and sounded awful come Tuesday morning and the park ranger had warned us of a cold front coming in Tuesday night with lots of wind, so we made the decision to leave early. Clara, Linda and I have a girls' weekend planned this weekend that includes The Wizard of Oz musical downtown, so I didn't want her getting any worse. We got home around 5:00 last night. She slept with a humidifier and already she looks better. Hopefully we'll keep it from turning into an infection.
So it's kind of a bummer we had to leave early, but we got in lots of time with our friends and had fun, so that's all that matters. Spring Break has just turned out to be a hard time for this allergic family to spend too much time in the great outdoors, so next year I think we'll be limiting camping to the weekend for this time of year.