Grandma came to town on Friday afternoon for our weekend of girly fun. On Saturday, we took Clara to the American Girl store so that she could buy Julie's matching pajamas for herself. She's been saving since Christmas for them. We had planned on having lunch in the bistro, but I didn't realize reservations were required. They would have put us on a wait list, but we weren't planning on sticking around the mall, so we decided to go next door to Panera Bread instead.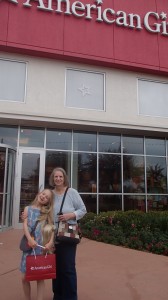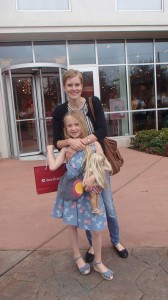 Right after we ordered and sat down, Clara realized she was missing one of Julie's shoes. Looking at this picture we had just taken as we left, it was on her foot, so it was lost between there and Panera in the span of about 5 minutes. We looked for it and even asked if anyone had turned it in, but no luck.
After lunch we stopped in at a miniatures store in an antique mall to look for things for Clara's dollhouse. There was a sign on the door when we got there that they would be right back, but it was about half an hour before she showed back up. We spent the time peering in the windows all around the store marveling at all the tiny things. We were so excited to finally go in.
Poor Clara kept getting in trouble for touching stuff. To be fair, it was a bit irresistible, but there was a lot of antique, very expensive things in there. We spent a looong time in there and picked out a Victorian era living room set, an old wood stove, ice box and sink, along with some wallpaper for those two rooms.
That evening was The Wizard of Oz at the Hobby Center. It was raining when we left and we knew that several streets around the theater would be closed for an event on Sunday, so I was a bit apprehensive about the drive and making it there on time. Dinner didn't go quite according to plan, and then I remembered I didn't bring cash for parking and when we got in the car, we didn't have enough gas to get us there and back. So I was a little frazzled getting us there, but we did fine and got there in plenty of time.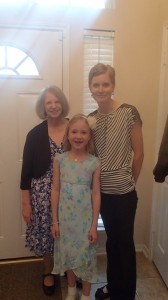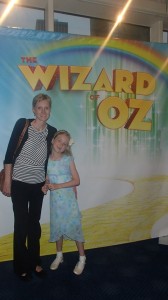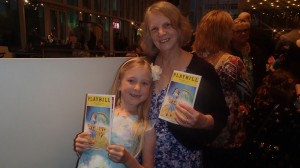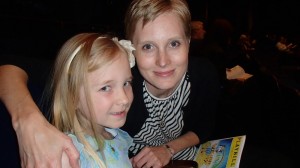 We all enjoyed the show but agreed it wasn't as great as others we had seen. The set wasn't nearly as spectacular as other shows. Still a fun show though. Toto was awesome; he didn't miss a single cue.
The next day we were up bright an early for church and then came home to start work on the dollhouse. Clara was getting ancy to do something, but Linda and I were having to do a lot of brainstorming on exactly how to go about the process. It seems easy until you actually start planning out steps and figuring out what order to do things in. She wasn't real happy when I told her we wouldn't have a finished room that day. We finally decided to prime and wallpaper only the first floor. Here Clara is gluing the stairs and priming the movable walls. I've painted the stairs and ceiling and cut the paper and sprayed it with a sealant. I should be able to glue the paper on tomorrow. I'll post pictures when I get the first floor done. I hope it goes on ok. Eeek!