I've almost finished the first floor of the dollhouse. Here it is after priming the walls. We had taped everything off before I decided to just concentrate on the first floor. We primed and sanded the walls and painted the ceiling and I eventually decided to paint the outside edges the same color as the ceiling and stairs. I'm glad I did; it gives it a little more polished look.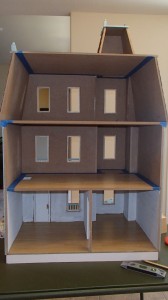 Next was the wallpapering. I did a happy dance as the first piece went on perfectly! I couldn't believe it. I just knew it would be full of bubbles and creases. the hardest part was cutting around the door. You are supposed to wallpaper before putting on doors and windows, but since it was a little difficult to get the door on right, Dan and Linda did it beforehand. I think it turned out just fine. The kitchen was also a little hard to do because of all of the corners.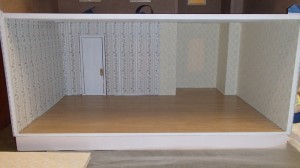 After the paper was up, I cut out the windows, put in the glass and glued the window frames in. I haven't glued in the staircase or wall yet, just set it up to get pictures. I will probably do baseboards too eventually since I didn't get the paper all the way to the floor in the living room.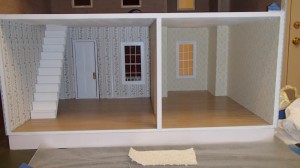 And then I moved in. We decided to move the wall over a bit on the first floor to accommodate a kitchen and dining room in one space, so the living room is a little small. We haven't gotten a table and chairs yet, but they'll go against the window. We hadn't been able to find an old fashioned kitchen sink, so I finally bought a inexpensive unfinished one to paint. I've put a couple of coats on it and it doesn't look so great. We'll see if I can sand it and get a little better coat on it.