Chris and I went on a belated anniversary dinner date on Sunday night while Linda stayed with the kids. We went to Taste of Texas which is a very nice restaurant nearby. We splurged and both ate way too much. Our waitress asked if we were there to celebrate something and we told her it was our anniversary. Then she asked how many years. When I said 16, her eyes about bugged out of her head. She thought we looked way to young to have been married that long and asked if we got married right out of high school

Not quite, but almost.
We received a free dessert and chose this trio of creme brulee, key lime pie and raspberry cheesecake. Yum! And since I didn't take any pictures, enjoy this picture of a picture that our waitress took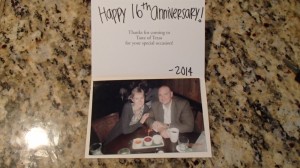 Wednesday was Chris' birthday. I have no pictures from then either. We taped some Happy Birthday crepe paper and balloons across the front door so he would have to come through it to get inside. He rang the doorbell instead. So we came to the door while he just stood there, unable to figure out how he was going to get through the door. Chris doesn't do "silly" very often, but he was a good sport and walked back to the grass and then ran full speed to crash through the barrier, much to the delight of his eager offspring.
For his birthday, I gave Chris a groupon to take some friends to an indoor karting place. It's not normal go-karts. This is like go-karts on steroids apparently. They also have blacklight mini golf and lasertag and my plan was for the four of us to play mini golf on his birthday. He was really tired though and I called the place asking if they were super busy with Spring Break and they said they were. It was about an hour long wait in the evenings. I was bummed we didn't do anything, but we did go grab something to eat. We went to a little sports bar/grill and again ate way too much and then next door to a frozen yogurt place to add more to our already full bellies.