Chris surprised the kids with a trip to the zoo on Saturday. His friend from work was taking his family and invited us to join. My two took very good care of Gabriel, who's not quite two. Yes, he's a big boy.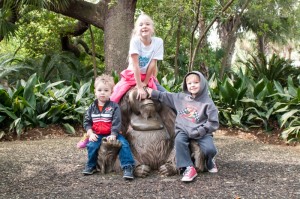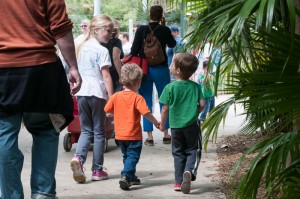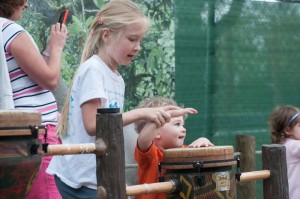 I didn't join them because I was volunteering at The Giving Gown Foundation's Boutique Day. It's a neat organization that collects formal dresses, shoes and accessories and gives them away to high school girls who would otherwise be unable to afford to attend their prom. It's held at Bammel and is headed up by several of the ladies there, so I know lots of women who help out with it. Everyone I know who's helped with it, has loved it. I mentioned it to the ladies at the new church we're attending and they were interested in helping as well. Their women's service day happened to be on Saturday, so they added Giving Gown to their roster of things you could sign up to help with and I think they all enjoyed it.
This year they served around 500 girls and they have several thousand dresses to choose from. I've helped set up beforehand and tear down in years past, but this is the first year I helped out when the girls were actually there. I took a girl around and helped her choose and try on dresses and then find shoes and accessories. The whole process was about an hour for just one girl and they bring in the girls by the busload, so you can imagine how many volunteers it takes to pull this off. The girls also get lunch and attend a short class on self-esteem and beauty and they all seem to really enjoy their special day of pampering. They all looked so beautiful in their dresses.
On my way home, I decided to stop in at the dollhouse shop for the last of the wallpaper I need to finish it up. For once, the shop owner was actually in her shop when I got there. I went around to the corner of the shop where the wallpaper is kept in drawers and got to work choosing. About five minutes later, I heard the owner talking to someone and then they walked out and she shut the door. I figured she'd be right back.
Yeah, well, about five minutes passed and no sign of her, so I stood up and went to the door and she had locked me in! I opened it and the owner at the shop across the hallway saw me, looked over and asked, "Did she lock you in?" Um, yep. He assured me she would be right back. Yeah right, her 'right back' the first time we went there was more than 30 minutes. Turns out she's either the manager or owner of all three buildings that incorporate the antique mall her shop is in, so I think she goes missing a lot collecting rent and such. Anyway, he was very nice and offered to write me a receipt and let me pay him and we were about to when she walked back in to find us in her shop. She realized what she had done and was soooo embarrassed. She said it was a first. It was a first for me to.