We started the morning off yesterday with first day of summer cinnamon rolls, which were a hit.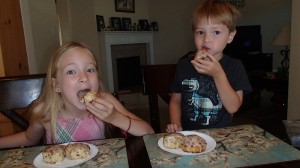 Then we picked up Clara's friend Abby and headed to the Miller Outdoor Theater for a children's performance of The Magician's Nephew. It's the first book in the Chronicles of Narnia. It was written after The Lion the Witch and the Wardrobe, but is the story of how Narnia was created. (By the way, there is conflicting opinions on which order the books should be read, chronologically or in publication order. Lewis himself said either way is fine. I'm in the LWW first camp. I think discovering Narnia through the eyes of the Pevensie children is much more magical.) I loved the book; I think it's one of my favorites of the seven.
Anyway, back to yesterday. When we parked, Robert jumped out and said, "Nice cap." I couldn't figure out what he was talking about and didn't see anyone wearing a cap, so when I finally asked him what he meant, he pointed to this beat up old car's tire and said, "Nice cap." Ha! We had to take a picture to show Daddy.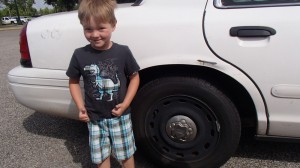 The Miller Outdoor Theater, located in Hermann Park by the zoo and Houston Museum of Natural Science, is a free venue. There is covered seating and a hill above that you can sit on for the performances. Chris and I attended a concert here years ago. You can bring in chairs, blankets and food. We got there early because I wasn't sure how quickly the summer children's performances fill up and I wanted to make sure we weren't in the sun on the hill. The show lasted about 45-50 minutes and the kids enjoyed it. Even Robert sat still the entire time.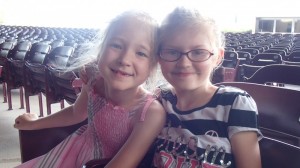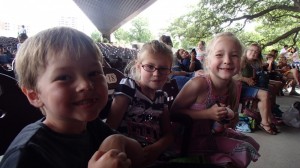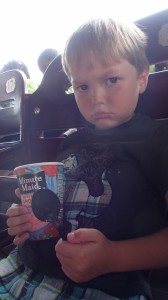 Afterwards, Clara and Abby wanted to get all of their autographs. Clara also wanted pictures with all of the actors. This actress played two roles, Aunt Letty and Jadis (the White Witch).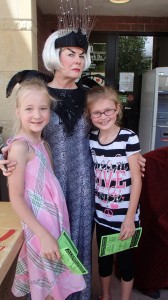 This is Digory, the young boy who, along with Polly, witness Aslan creating Narnia.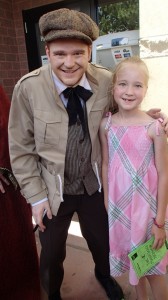 This is Uncle Andrew, the crazy magician who's discovered how to enter another world. He was my favorite character. He also played Aslan and was sweating profusely in his robe while signing autographs. Clara asked, "Where's Aslan?" and her mind was blown when I said he played both parts and wanted to see the names in the program. She couldn't figure out how he had time to change. She was disappointed that she didn't get a picture with Aslan. She's loved Aslan since the time we read The Lion the Witch and the Wardrobe several years ago.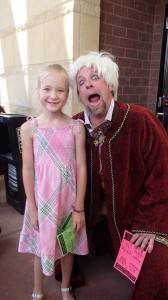 And this is Polly. Both of the girls really wanted a picture with her.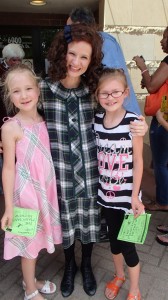 After getting our autographs, we ate a quick lunch in the park and then explored a little. I've never walked around this part of Hermann Park. We came across this art exhibit/play structure that was really cool. The kids loved running in and out of all the little rooms.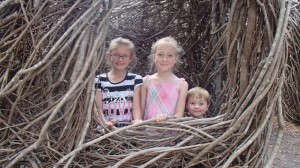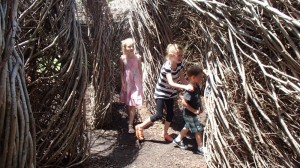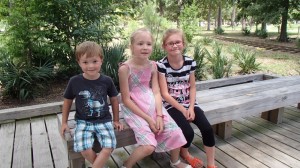 We were all plenty hot, sweaty and tired by this point, so we headed home. The girls didn't want the fun to stop, but I wanted to nap, so I was a mean mom and took Abby home. Robert ended up taking a 3 hour nap when we got home. I don't remember the last time that happened.