We went to the zoo with one of Chris' co-workers and his two kids on Saturday morning. They moved here about a year ago and hadn't been to the zoo yet. Because it was the first Saturday of the month, we got in an hour early with our zoo membership. That was the first time we'd taken advantage of that perk, and it was soooo nice, especially being summertime. We got there and were able to park in the front row with virtually no crowds that first hour, when it was nice and cool. We made our way through most of the animals we wanted to see before the zoo even opened and then rode the carousel and explored the children's area.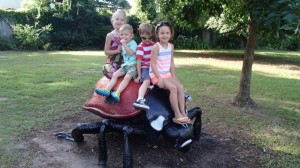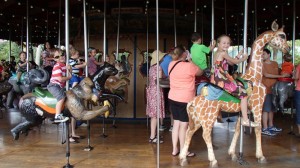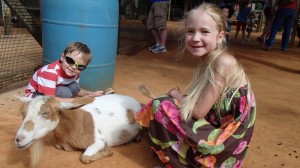 This goat cracked me up. He never moved, even when he wasn't being brushed.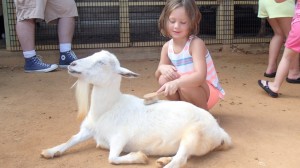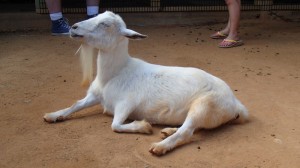 We were hot and sweaty so we stopped for a cold treat. Several of us got dippin dots. Wyatt, who's three, put a spoonful in his mouth. Never having had them before, he flipped out. They were stuck to his tongue, so he started flicking his tongue in and out trying to get them off. When that wasn't working, he was pulling them out with his fingers. Oh man, it was hilarious. I'm terrible, I know.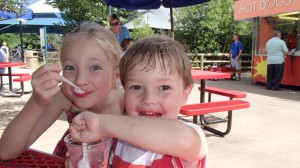 Then we went to the Extreme Bugs exhibit that's running at the zoo all summer. I wasn't sure how my kids would do since they get freaked out by stuff like this and the other two seemed a little iffy about the idea of giant bugs, but they all did great and ended up loving it!
The exhibit was a bit like being in Honey I Shrunk the Kids. The entrance to the exhibit was a tall, white picket fence, where we then walked into a backyard filled with huge bugs. This can of bug spray misted us with water when we first walk in.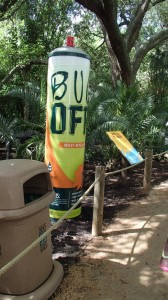 The first bug we came across was a grasshopper and as I asked Clara to go stand by it for a picture, I saw her take a deep breath and blow it out quickly and she said, "Ok" under her breath, trying to psyche herself up. That's my girl. She's trying really hard to overcome some of her fears, like watching Scooby Doo

(We've told her for years now that it's always a mask. It's never, ever, ever a real monster.) Most of the bugs moved and some were interactive. She loosened up quickly and had no problems standing by this huge emperor scorpion.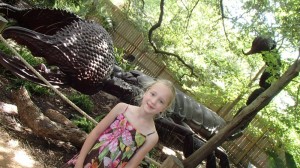 This firefly was fun. The kids each took a turn cranking on the battery to get him to light up.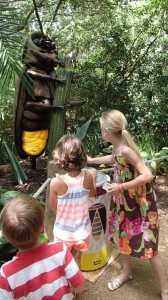 There were toy soldiers and other toys littering the backyard.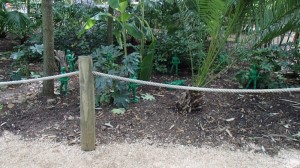 This beetle had several different buttons you could push to move various parts.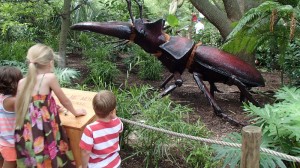 And this moth moved his wings up and down.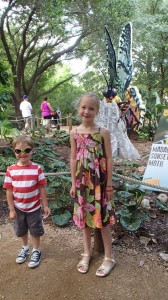 The praying mantis was my favorite and he moved up and down.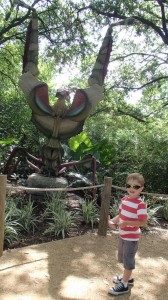 The spider moved up and down on his web, working on his web.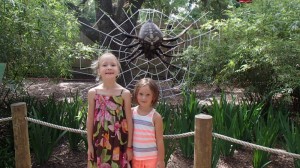 And this hairy tarantula was the biggest of all the bugs.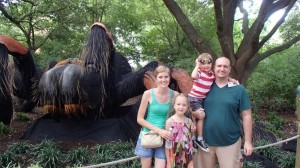 Someone had set up a picnic with freakishly tall apples. Look at them, they're bigger than the cups. As is the rest of the food. Either that, or someone was drinking out of teeny tiny thimbles.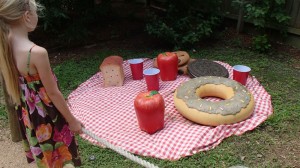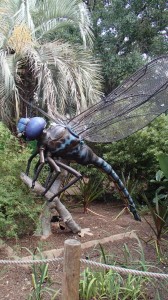 I loved the exhibit and am glad we went. It was a lot of fun and runs all summer. Tickets were $3.95, so it would be a little spendy if you were also buying tickets to the zoo.
We made a quick stop at the lemurs on the way out because I had heard there was a couple of baby lemurs that had just ventured off their mama's back for the first time a day or so before. Lo and behold, they were front and center as we walked up.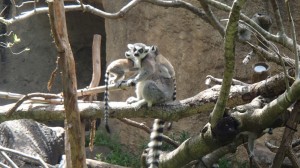 Then Chris, who's a sucker for the gift shop, let the kids pick out a t-shirt. I'll have to take a picture of Robert's. It's pretty funny. And inappropriate. And awesome.