I wanted to spend one day at the beach on this trip. Chris didn't really want to and thought the water would be too cold for the kids to swim in anyway. I told him that I didn't want our children growing up thinking Galveston is what a beach is. I mean I love Galveston. It has a certain charm, but it can be gross. It's not it's fault; that's just the way God made it. We told the kids that Galveston is like our old dog Dingle. She was kinda dumb and stinky, but by golly she was our dumb stinky dog, so we loved her despite her dumb stinkiness. That's what Galveston is for Houstonians. But even though I loved Dingle, I sure do appreciate the beauty of a massive great dane or saint bernard or a beautifully groomed afghan hound. So to the beach we went

I had no idea where the best beach for families was, so I finally decided on Laguna Beach, partly because of the tide pools. We got there way too early to check in to our hotel, so we parked and walked down to the beach. It was a long way down.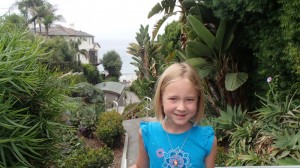 We were met with this beautiful view. See kids, some oceans have blue water. The kids didn't have on swimsuits so I told them they could just stick their feet in. Yeah right. They both ended up soaked.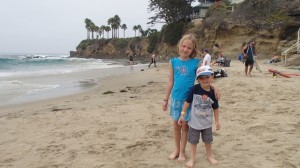 The water was freezing! A sign at a dive shop said it was 69 degrees. So I didn't have any problems just going in foot deep. We're not used to the huge waves that broke right on the beach, so the kids got a surprise every once in a while, hence the reason Robert's shirt is soaked all the way up to his chest.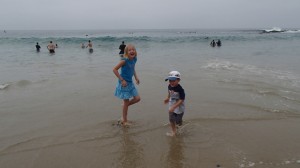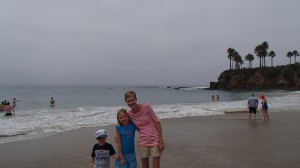 We walked over to a rocky area to look for little critters in the tide pools. They had the rocks closed and it wasn't low tide anyway, but we did find a few spots where we could watch stuff scurry around. We spotted several anemones and little hermit crabs.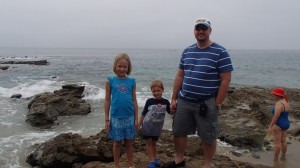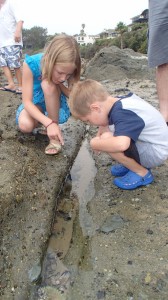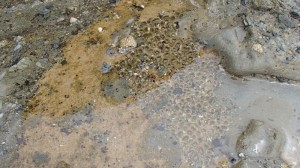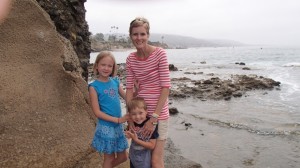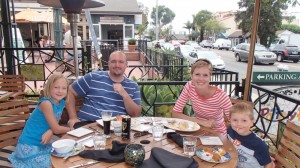 After lunch we got on swimsuits and went down to the beach behind our hotel.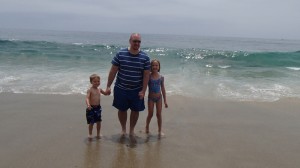 Yep, still cold.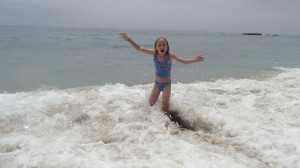 I love this next picture. Clara's expression. Robert's face and the way he's turning to run from the wave. They loved every minute of it and Clara could not stop squealing. It was tough keeping them close by. It was deceiving how far you could get out without being knocked over by a wave. And then as the water receded, it had such a strong force that it sucked you back in. Robert tumbled and got sucked back as I held on to him. Clara fell twice when she got hit by a big wave, hurting her bottom both times and coming out crying. I won't lie, it made me pretty nervous.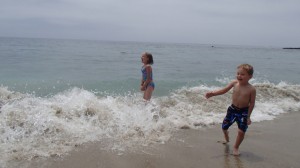 See, I just wanted a picture and was minding my business standing on sand, feet nowhere near the water when this wave hit me all the way up to my backside. Chris was pretty amused.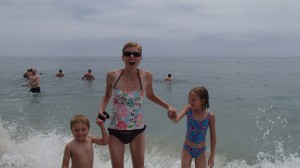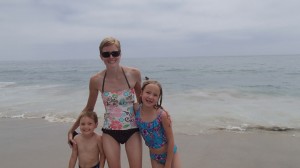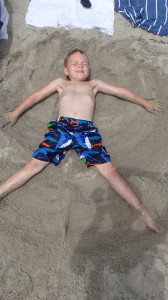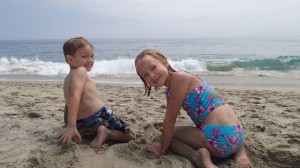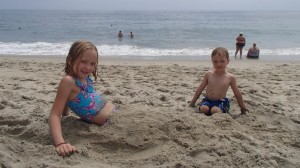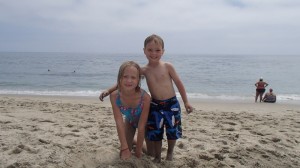 Our hotel was really neat. The stairs and walkways winded their way down to the beach like a labyrinth.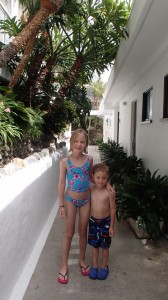 We finally got checked in and Robert and I got in a good nap.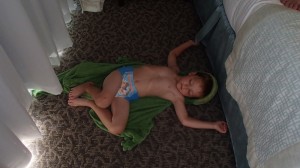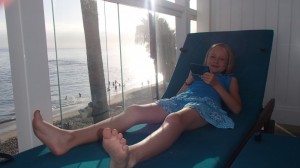 Here's the view from our balcony. Not too shabby.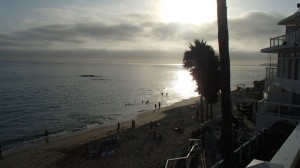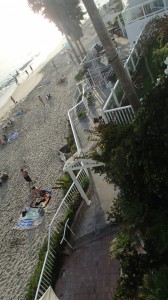 I took the kids down for a walk at sunset and they got all wet again.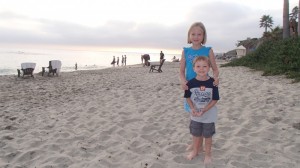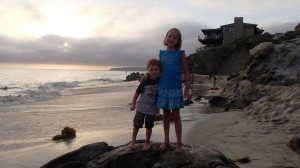 If you look close, you can see Chris standing on our balcony.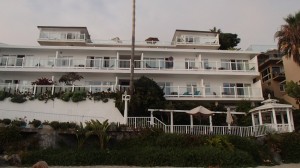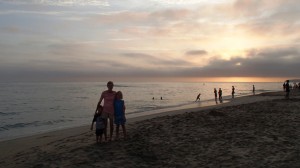 I wanted to take one more walk on the beach the next morning, but the kids didn't have a very good track record of staying dry and we were leaving soon, so I didn't chance it.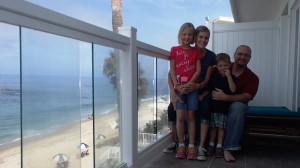 I loved the hotel, but there was one major problem with our room. The a/c wasn't working well. It was just a portable unit and we had it turned on hi but it just wasn't cooling the room down. I thought for sure it would cool off when the sun went down. We opened the door and it was nice and cool outside, but it never cooled off our room much. We ended up sleeping with our balcony door opened all night with the sound of waves crashing, which I thought was kind of nice.
We loaded everything up and got on the road for a long day of travel ahead. Our plane landed a little after 9:00 pm. As soon as we stepped off the elevator into the parking garage, we got hit with the Houston humidity. Ahhhhh. It felt good, like walking into a sauna. I always love that feeling after traveling. It feels like home.
It was a wonderful vacation. The kids were awesome and cooperative for the most part. We all had a blast. And I can't wait for our next travel adventure. Now that Robert's older, I hope to go more places. Although I haven't done a lot of travel, I absolutely love it and hope my kids do too.
Now where to next? Grand Canyon? Caribbean cruise? New York?