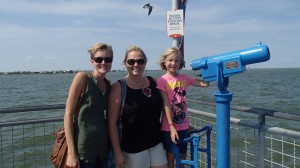 Oh my goodness, this post looks hysterical! It looked bad while I was creating it, but after I published it, it looks totally different and much worse. Hello! Where did my paragraph spaces run off to? I'll try to get it fixed soon.
Chris moved my blog. Or something. Not sure what exactly he did, but it's all different now. I can't seem to figure out how to put text above the first picture and it uploaded pictures side by side for some reason and I can't fix them either. So I apologize for this weird post.
Linsey had a workshop in Kemah the week we got back from California, so the kids and I met her one afternoon and we walked around the boardwalk and had dinner with her and a co-worker. She doesn't like carnival rides much, but we talked her into riding the ferris wheel. She thought we were going to get dumped right out and held on tight. I'll be nice and refrain from putting the best picture I got on here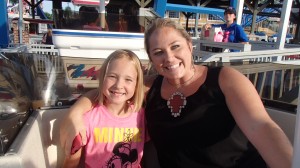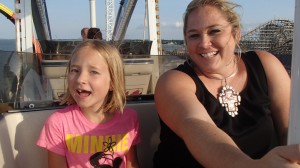 A few days later, one week after getting home from vacation, the kids and I drove to Pecos. My mom was still watching Brody and Cooper and their new puppy Shooter while Linsey was out of town, so my mom had a houseful. The kids got to swim over at Myrt Myrt's house a couple of times and they were in heaven. They played so well together and there was hardly any fighting. They got to play with Linsey's new puppy, who has very sharp puppy teeth by the way, and Cody and Tanya's new litter of puppies. Linsey got back into town on Tuesday and hung out with us and stayed the night before going home on Wednesday afternoon.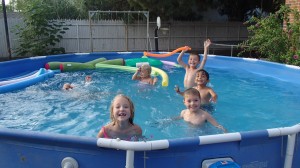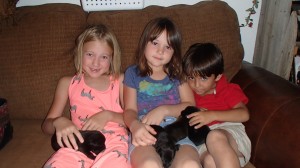 We wanted a picture of all the grandkids and they were mostly uncooperative. This was the best picture I could get before finally telling them they could act silly. There was a lot more cooperation at that point. Further down you can see the precise moment that Brody and Robert hit heads. And then it was all over. And now I can't seem to write between any of the pictures. This is so weird.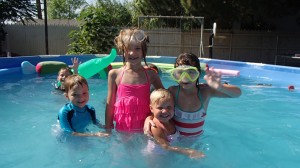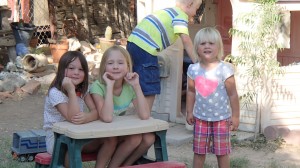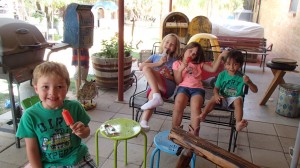 We left Friday morning for the long drive home. Minutes into the trip I realized our DVD player car adapter was broken and I didn't bring anything else for the kids to do. There was a moment of panic, but we survived. Barely. Clara did have some books to read and we stopped at an Alco in Sonora maybe? and got some things to pass the time. We took a detour and stopped in Temple to see Dan who was in the hospital after having had knee replacement surgery the day before. We hadn't been able to see them all summer since he had his first knee replaced at the beginning of the summer and they've been working to get Nanny moved in. Linda went to pick up her mom so that we could visit with her too. We hadn't seen her since Christmas.
We stayed for about an hour and then finished the long drive home, getting home exactly 12 hours after leaving Pecos. Talk about a long day. The next day was Leah's birthday party. It should have been about an hours drive. On the way there, police were diverting traffic away from the highway we needed to cross so I had to turn around and figure out the best way there. Turns out there wasn't a good way and we had to backtrack a lot to get there.
It ended up taking us 1.5 hours to get there. And then I didn't bring her swimsuit. They swim every year, so why I didn't bring her suit, I have no idea. Thankfully they had an extra for her. I hung out and chatted and then left Clara to spend the night with Leah. They've been wanting to have a sleepover forever, but it's difficult to find a time when we can get them together, so this worked perfectly. For me at least

She went to church with them the next morning and then Chris, Robert and I drove up after church to meet them for lunch and bring her home. We ended up going over to their house to visit and didn't leave until 8:30! I felt so bad for taking up their entire Sunday afternoon. It was lovely catching up though, so I don't feel too bad

The next day, the PTA president called and asked if I could come up to the school the next day to help out with some stuff and asked if I might be interested in being secretary. She has been unable to reach the secretary all summer. So I said I would think about it. We spent most of the day working. I told her I would be secretary around 2:00 and then attended my first meeting at 4:30. That Thursday, Chris and I dropped the Audi off at the dealership to be looked at by an insurance agent. A while back we had some major storms come through. The roof started leaking, but we couldn't tell where the problem was. It completely soaked the floors and the center console, leaving the console inoperable. That's where the radio, a/c and navigation controls are. We immediately got it into the garage and turned on a dehumidifier when it happened, so we managed to minimize any water damage or odor. So, we were leaving it there to have someone come take a look at it. After dropping the car, we headed to The Woodlands for Chris' knee surgery. His knee started bothering him a month or so ago when he started doing a little running, so he had an MRI right before we left on vacation. He saw a surgeon when the kids and I were in Pecos and scheduled surgery for the 14th. He knew he had a torn meniscus from being hit by a car in college, but he also had a lot of cartilage damage. Damage is rated 1-4 and Chris had several 3s and a 1/2 in. diameter spot that was a 4 which means no cartilage at all. So that's what was causing him such pain. The treatment for that spot was to poke little holes in the bone which causes stuff to ooze out and form a barrier. (I know, really technical). It's not ideal of course, but hopefully it will work to ease his pain. Chris hasn't injured that knee any other time, so this was probably damage done from his accident 20 years ago. He will probably eventually need knee replacement, but hopefully this will allow him to hold off for a long time. He had to check in for surgery at 10:15. When they called him back for pre-op, I took the opportunity to take the kids over to the mall for a quick lunch and to pick up a surprise for Chris from the Lego Store to work while he was home recovering. I made sure to tell Robert not to say anything and we would give it to him after his surgery. When we got back to Chris, he was in his gown, all hooked up in bed. I guess the kids didn't know what to expect. They both seemed to be taken aback a little seeing him like that. We talked to him for a bit and then Robert said, "We didn't get you any legos, Daddy." I gave him "the look" and said, "You weren't supposed to tell him!" And he leaned over and whispered very loudly in my ear, "I'm just tricking him." Oh my goodness, we had a good laugh with that one. That boy's a mess. Surgery went well and we got home around 3:00. The insurance company called us back the next day and said they couldn't see any water damage in the car and would be denying the claim. Chris argued with the guy for awhile and told him there was no damage because we made sure to get it in the garage and dried out so it wouldn't be damaged. He asked the guy if we need to just leave it in the driveway and wait for the next rain and not do anything. He said, "Well, no….." So Chris told him to run it through the car wash and call him back. The guy called back not 10 minutes later. He and someone from the dealership sat in the car and then had a hose put on the roof. He admitted he was skeptical. Then a few minutes later it just started pouring into the car, all over the two of them. Ha! Serves 'em right

Turns out there are drains inside all sunroofs that drain water down the frame and out by the tires. Ours were clogged. So insurance, after deductible of course, covers the damage done by the water to the console, but not the sunroof drains. So between that and surgery, it's been an expensive week. We laid low the days following his surgery and then Sunday afternoon I met Linda halfway between here and Temple and sent Clara to stay with them for a few days before school starts. They fit a lot into their few short days. A little shopping, some painting, a jumping place, cookie baking, and visiting Nanny's new place, just to name a few. Chris stayed home on Monday and we took Robert to see Planes 2. He was ready to go back to work on Tuesday, but not quite ready to go without pain meds, so I dropped him off at work on Tuesday and Wednesday. I met Linda again on Wednesday to pick Clara up. We had a quick lunch at Subway before coming home. I had to get her back on Wednesday, because on Thursday I drove Chris back up to The Woodlands for his post-op checkup. His car was ready too, so he drove it back. Turns out he wasn't quite up for driving and his knee was hurting after that. And then last night was Meet the Teacher at Clara's school. I got to school at 4:00 yesterday to help set up and stayed until 8:30 to help clean up and count money. It's amazing how much work it takes when you don't have enough volunteers. We even had our kids working. I quickly called Chris to come get Robert on his way home because he was being very not helpful. We didn't stop for those four hours straight. I left long enough to spend 20 minutes meeting Clara's teacher. Some of the mom's didn't go meet their kids' teachers until after it was over at 7:00. So that has been our August in a nutshell. Looking forward to the new school year when things settle down!